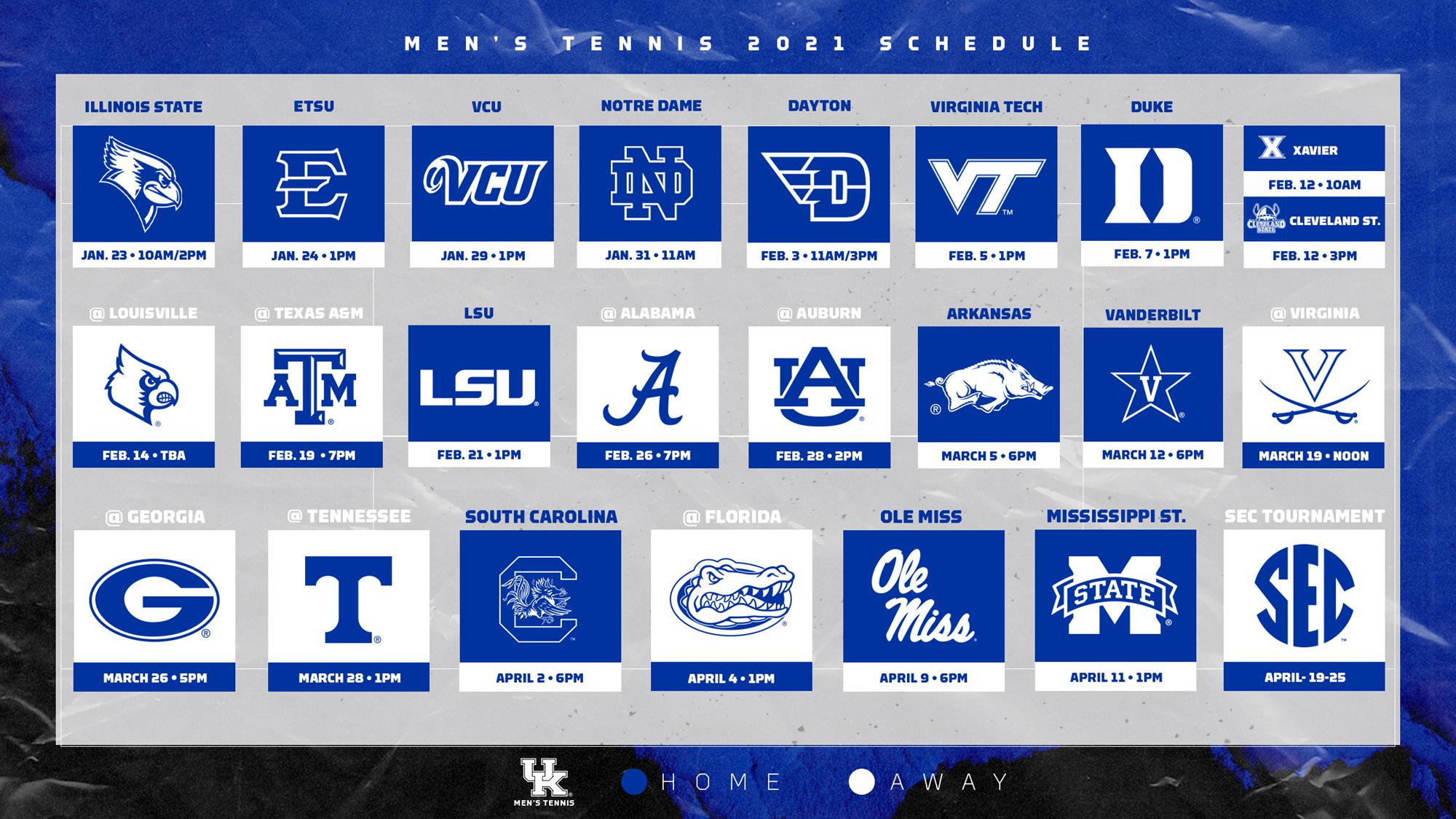 January 11, 2021 - 05:22 PM
UK Men's Tennis Unveils Spring 2021 Schedule
LEXINGTON, Ky. – Following a successful slate of tournament competition last fall, the University of Kentucky men's tennis team unveiled its spring 2021 schedule on Monday.
 
The Wildcats are lined up for 25 dual matches in the regular season, split between 17 contests at home and eight on the road. Twelve non-conference matches will be followed by 12 Southeastern Conference tilts, with one additional non-conference matchup taking place midway through league play.
 
The SEC Championship is planned for April 19-25 in Fayetteville, Arkansas.
 
Kentucky will open the spring with 11 straight home matches over a three-week span, including three doubleheaders. Play will commence with back-to-back matchups with Illinois State on Saturday, Jan. 23, beginning at 10 a.m. ET.
 
The Wildcats' first road test will be on Valentine's Day against the Louisville Cardinals in the teams' first meeting since 2011. Kentucky holds a 42-3-1 head-to-head advantage since 1925, including a perfect 26-0 mark since the Cardinals' inaugural varsity men's tennis season in 1982-83.
 
Kentucky will stay on the road for the following match, opening SEC play at Texas A&M on Friday, Feb. 19. In conference play, the Cats will see LSU (Feb. 21), Arkansas (March 5), Vanderbilt (March 12), South Carolina (April 2), Ole Miss (April 9) and Mississippi State (April 11) at Hilary J. Boone Tennis Complex and the Aggies, Alabama (Feb. 26), Auburn (Feb. 28), Georgia (March 26), Tennessee (March 28) and Florida (April 4) on the road.
 
UK will circle back to finish non-conference play at Virginia on Friday, March 19.
 
The Cats earned 24 combined singles and doubles wins last fall, including 18 at the Commodore Invitational in Nashville, Tennessee.
 
In a 2019-20 season that was cut short due to the COVID-19 pandemic, Kentucky produced a 12-5 (3-1 SEC) record. At the time the season was canceled, the Wildcats were in the midst of a three-match winning streak, beginning with two victories over ranked opponents and ending with two wins on the road.
 
Kentucky's best 2020 win came in a 4-3 thriller at then-No. 17 Alabama.
 
For the latest on the Kentucky men's tennis team, follow @UKMensTennis on Twitter and Facebook, @kentuckymenstennis on Instagram, and on the web at UKAthletics.com.