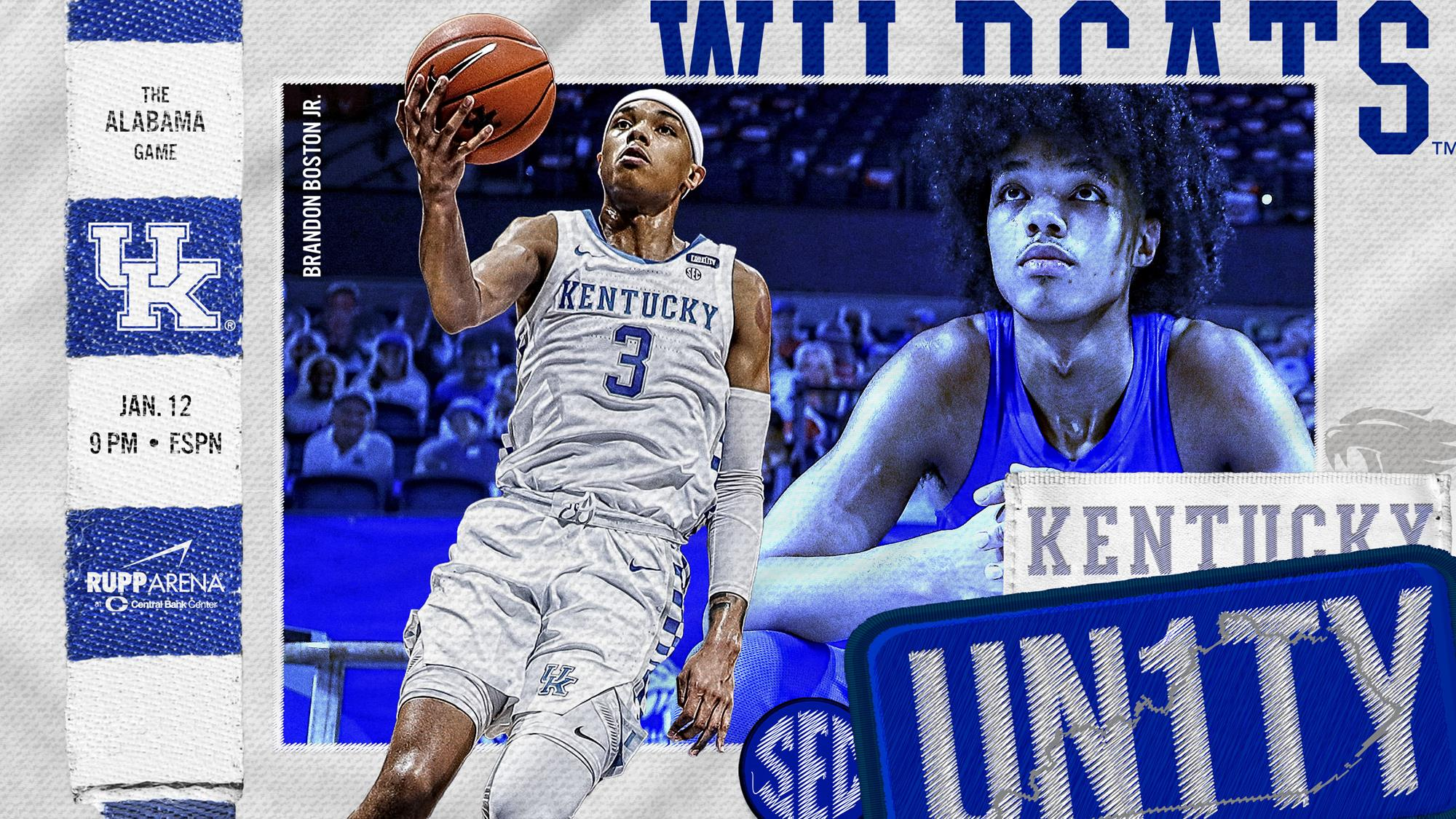 January 11, 2021 - 03:41 PM
Cats, Tide Meet with SEC's Top Spot on the Line
Early in the Southeastern Conference portion of the schedule, there are just three teams that remain unbeaten in league play. One of those, South Carolina, has played just one league game. The other two, Kentucky and Alabama, are set to face off on Tuesday night at Rupp Arena.
Kentucky is now 4-6 overall and a perfect 3-0 in the conference. The Cats are coming off perhaps their best win of the year, a 76-58 triumph at Florida on Saturday.
The current three-game win streak has the Cats feeling much better about themselves, according to senior forward Olivier Sarr.
"It feels better, you know, it feels great," Sarr said. "We stayed positive during the tough time, but you can feel guys are feeling more confident. We are all feeling more confident, more comfortable. It just feels great."
As for what the Cats have done better recently, Sarr thinks it's simple.
"I think execution. I think everybody can see that we're executing way better," Sarr said. "Our offense is looking way better. We're sharing the ball. We're having fun out there and it makes a huge difference in the game."
 
Kentucky vs. Alabama

Tue., Jan. 12 – 9 p.m. ET
Rupp Arena
Lexington, Ky.
Game Notes: UK | UA
UK Athletics App

Coverage

TV: ESPN
Radio: UK Sports Network
Watch
Listen
Live Stats

UK
Stats
UA
4-6
Record
9-3
3-0
Conference Record
4-0
68.5
PPG
78.9
67.1
Opp PPG
71.5
.428
FG%
.421
.405
Opp FG%
.415
38.2
RPG
41.3
.311
3PT FG%
.322
.308
Opp 3PT FG%
.316
11.9
APG
13.3
6.7
SPG
8.4
6.1
BPG
3.9

Alabama is 9-3 overall and 4-0 in the SEC. Included in that record is an impressive 71-63 win at Tennessee earlier in January. Sarr knows that the Crimson Tide will pose a big challenge for the Cats.
"We're getting ready. Obviously, we'll see and talk about it more at practice (Monday), but they're doing really good so far and it's a great team," Sarr said. "A lot of good players. We've got to be locked in on defense and lock in on the scouting report. We'll get better until tomorrow for the game."
Freshman forward Isaiah Jackson knows that the Alabama contest is important, even this early in the conference slate.
"I feel like it's very important," Jackson said. "Every game that we've played this year was a war. So, it'll continue on. This one is a war too. We're preparing every day for practice and then practice to prepare for every team we face including Alabama. We'll come in fighting."
Sarr expects Tuesday's game to be a tough one.
"It's a great battle test," Sarr said. "We've been good so far in the league and their team too. I think it's going to be a battle. It's going to be a war. It's going to be a great test for us."
Jackson hopes that the Cats can continue their recent strong play against Alabama.
"We're on a run right now," Jackson said. "We're just going to try to keep it going."
Tuesday night's game will give one team a leg up in the early conference race. The Cats hope the momentum from Tuesday's win, and the current three-game winning streak can help them stem the Tide.
Brooks Breaks Out in Return at Florida
GAINESVILLE, Fla. – Just a day earlier, assistant coach Jai Lucas issued caution about Keion Brooks Jr.'s first game of the season: Don't expect too much for a player who has missed the last three months with a left leg injury and practiced full-go for the first time just two days earlier.
If expectations were low before Brooks' 2020-21 debut – one in which he seemed to transform the Kentucky offense and lead the Wildcats (4-6, 3-0 Southeastern Conference) to a 76-58 win at Florida (5-3, 2-2 SEC) on Saturday at Exactech Arena – what should they be now?
It was hard to find many faults with Brooks' much-anticipated return Saturday in Gainesville, Florida. From the time he entered the game just over five minutes into the action and quickly threw down a dunk, hardly a moment passed without Brooks' fingerprints on Saturday's 18-point win, UK's biggest in Gainesville since 1998.
Brooks scored 12 points on 6-of-8 shooting, grabbed six rebounds and dished out a game-high four assists in 25 efficient minutes. More importantly, he seemed to be the missing piece behind what's been a struggling UK offense as the Wildcats pulled away from Florida in the second half with three different runs of 10-0 or more.
"He gave us a whole different element to the game," teammate Davion Mintz said. "Keion was amazing today. It was super fun. I'm speechless, really. It was amazing."
Brooks had four points, two assists, a rebound, a steal and a block in the first four minutes of the second half to lead a charge that Florida would never recover from.
It was a triumphant return for the only returning scholarship player who played last season but had not played in a game in 10 months. His last came on this very same floor, a game in which he helped engineer a magical 18-point second-half comeback victory in the 2019-20 regular-season finale.
That game was supposed to the spark for a postseason run, but just days later the SEC and NCAA tournaments were canceled due to the COVID-19 pandemic.
"I've always believed in my ability to come back and play well," Brooks said. "I was constantly working out, staying in great shape. I have to give a huge shout out to our strength coach Rob Harris. I don't even like to call him a strength coach. He's way more than that. Not only did he do a great job of keeping me in shape but I spent a lot of time with him, so he was always in my ear making sure I was staying positive. The conversations we had, he really helped me get through what I was going through."
Brooks, who averaged 4.5 points and 3.2 rebounds a season ago, seems to have taken a big leap from his freshman season. He stretched the offense with his ability to facilitate, took the Gators off the dribble and showed off his athleticism with three dunks.
When Brooks soared from just inside the free-throw line for a one-handed slam with 10:54 to go, Kentucky was well on its way to the sixth 3-0 start of the 12-season John Calipari era. The dunk was part of a 13-0 run that put the game out of reach for the Gators.
"He and I got emotional (when the doctors cleared him)," Calipari said. "I hugged him. I said, 'We've got to figure out how we slide you in.' He looked at me and said, 'Coach, I trust you. You do whatever you think is best for this team.' And I told the team that."
"You saw the kind of athlete he is. You see that he's way physically stronger than he was. Way more patient mentally. The game has slowed down for him."
UK shot 55.6% and dished out a season-high-tying 18 assists in Saturday's victory.
Brandon Boston Jr. bounced back from recent adversity with his best all-around game as a Wildcat: 13 points, four rebounds, and career highs with four steals and two assists.
With 13 points, Mintz scored in double figures for the fourth time in five games. Olivier Sarr added 10, and Devin Askew and Isaiah Jackson each pitched in with nine points.
Jackson also had four of the Wildcats' seven blocks to help Kentucky limit Florida to just 37.5% shooting.
"He can just do stuff other guys can't do and so there are points in the game he needs to be in there," Calipari said.
UK has now won five straight in the series and three straight in Gainesville for the first time since three consecutive wins from 2002 to 2004.
After the worst start in nearly 100 years, Kentucky has reeled off three straight games to set up an early-conference showdown with Alabama on Tuesday for sole possession of first place in the SEC.
"I know there was probably some people that put dirt on the coffin," Calipari said. "We pushed the coffin open and said, 'You ain't putting that dirt on this.' "
Sole Possession of First Place on the Line
With the way the nonconference season went, not a whole lot of people had this Jan. 12 game between Kentucky and Alabama circled as a marquee matchup. But with both teams undefeated in league play — Alabama at 4-0 and UK at 3-0 — the matchup will determine who leaves Lexington in sole possession of first place in the Southeastern Conference.
As promised, Alabama head coach Nate Oats has brought an up-tempo, fast-paced style of play to Tuscaloosa in his second season at the helm. Through games on Jan. 10, the Crimson Tide ranked 15th in the country in tempo and fifth in average possession length, according to KenPom. com. Coupled with the 11th-most 3-point attempts in the country and it's clear Alabama can put up some points. The Tide scores 78.9 points per game. In league play, that number is up to 83.3 points.
Alabama has four players averaging double figures, led by Jaden Shackelford at 13.1. Guard Jahvon Quiverly is just behind him at 13.0 points per game but has missed the last two contests with an undisclosed medical condition.
UK has won 11 of the last 12 meetings and hasn't lost in Lexington since 2006.
UK Named NCAA March Madness Team of the Week
Kentucky's recent resurgence earned the Wildcats NCAA March Madness Team of the Week honors.
UK was chosen by NCAA March Madness reporter Andy Katz as the top team in the land for games taking place last week. The Wildcats went 2-0 with victories over Vanderbilt at home and on the road at Florida.
On Tuesday vs. Vanderbilt, Kentucky rallied from a nine-point second-half deficit and pulled out a thrilling 77-74 win when graduate guard Davion Mintz hit a game-winning 3-pointer with 47 seconds left. That gave UK its first back-to-back victories of the season.
The Wildcats officially made it a winning streak on Saturday at Florida with their most complete performance of the season. With sophomore forward Keion Brooks Jr. in the lineup for the first time this season, UK beat Florida by 18, 76-58. Brooks was sensational in his return with 12 points (6-of-8 shooting), six rebounds, and a game- and career-high four assists in fewer than 25 minutes.
The win in Gainesville, Florida, was UK's biggest margin of victory at Florida since 1998. It's also UK's first three-game winning streak at Florida since winning three straight in Gainesville from 2002 to 2004.