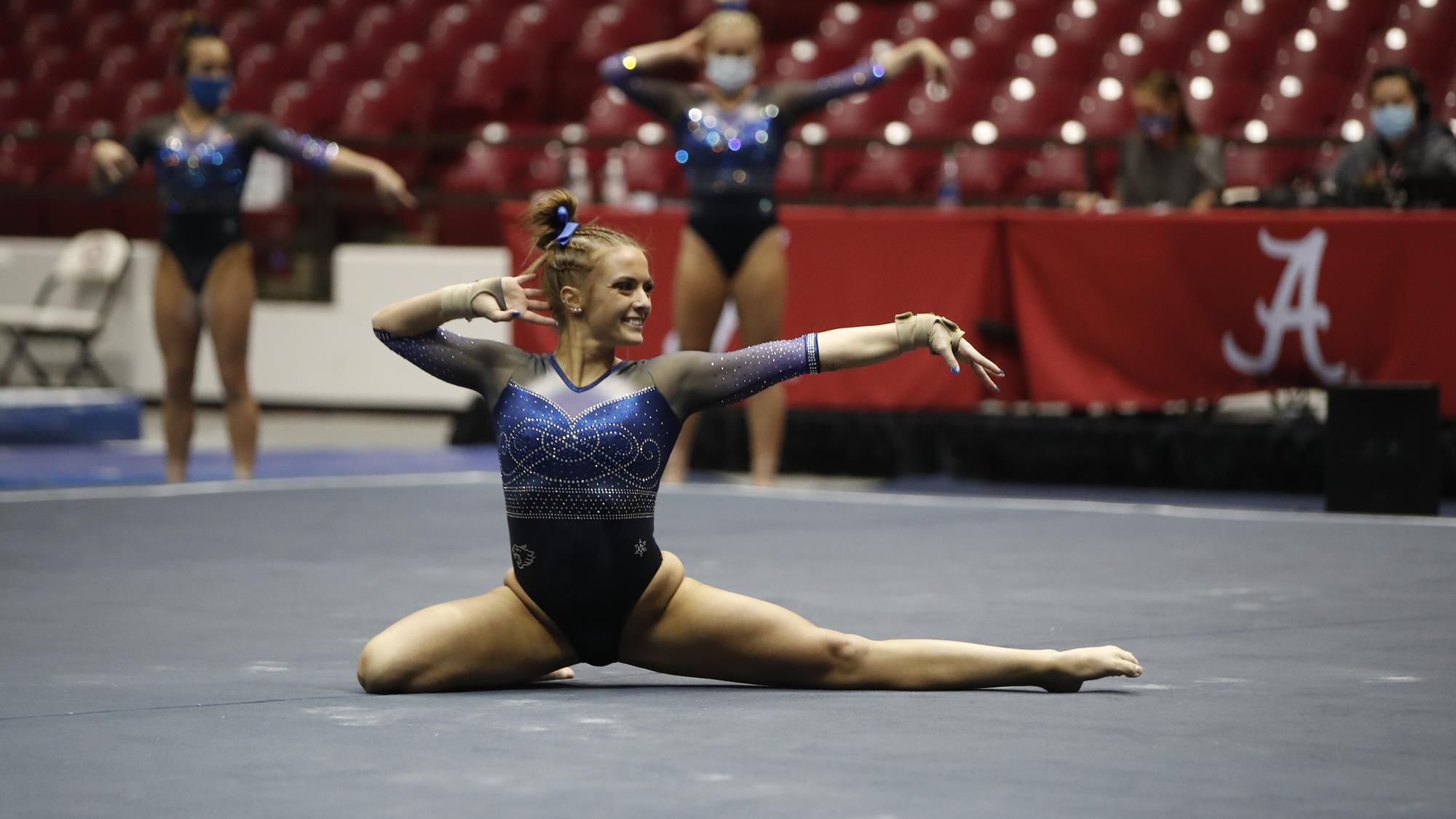 January 9, 2021 - 03:16 AM
Angeny, Nixon Earn Event Crowns in UK Loss at Bama
TUSCALOOSA, Ala. – Despite leading the competition entering both the third and fourth rotations, the No. 12 Kentucky Wildcats opened the 2021 gymnastics season with a 196.850-195.825 loss on the road to the No. 6 Alabama Crimson Tide.
 
Juniors Josie Angeny and Cally Nixon combined for three first-place individual finishes, while the Kentucky freshman class made a strong showing of its own in its collective collegiate debut.
 
"We were solid through three (events) and were leading the No. 6 team in their house going into the last event," said head coach Tim Garrison. "We didn't finish well, and it cost us the meet. The only way we can learn to handle that kind of pressure is to be in that position. We look forward to meeting the challenge in the future."
 
Kentucky began the night by way of the best season-opening uneven bars rotation in program history with a 49.100. Angeny, serving in the first of three anchor spots on the night, tied with Alabama's Makarri Doggette for her first ever victory on the apparatus with a career-high 9.900. Sophomore Shealyn Luksik tied a career-high 9.875 for a third time, followed closely by a 9.850 from fellow sophomore Raena Worley and a 9.775 from freshman Hailey Davis.
 
The Wildcats started to fire on all cylinders after moving on to vault, with all five counted routines landing at 9.825 or better. Nixon led the way with a career-high 9.900 and her second career victory. Arianna Patterson posted a 9.875, while Angeny and freshmen Bailey Bunn and Isabella Magnelli garnered 9.825 apiece.
 
With an addition of 49.250, Kentucky led Alabama 98.350-98.325 midway through the meet.
 
Kentucky's third event equaled the one prior as its best of the night. Worley, the only member of the Cats' floor exercise rotation who was not making her event debut, anchored the Cats with a 9.900. Davis and sophomore Anna Haigis each notched a 9.875 as Angeny and Bunn both scored 9.800.
 
Entering its turn on balance beam with a 147.600-147.575 lead, Kentucky started the final event with three straight falls. Magnelli righted the ship with a 9.800, while Angeny concluded the Wildcats' performance with a 9.900.
 
Angeny was deemed the night's all-around champion with an overall score of 39.425.
 
"I am so impressed with our newcomers, as well as our upperclassmen, stepping into vacated lineup spots," Garrison said. "I'm looking forward to watching our growth this season."
 
Kentucky will get its shot at revenge against Alabama at Memorial Coliseum later this month. In the meantime, the Wildcats are set to make their home debut versus No. 14 Auburn (0-1) on Friday, Jan. 15, at 7 p.m. ET, live on SEC Network.
 
To purchase tickets to 2021 Kentucky gymnastics meets, click here. To purchase a fan cutout of a person or pet, visit UKAthletics.com/FanCutouts. For the latest on the Kentucky gymnastics team, follow @UKGymnastics on Twitter, Facebook and Instagram, as well as on the web at UKAthletics.com.