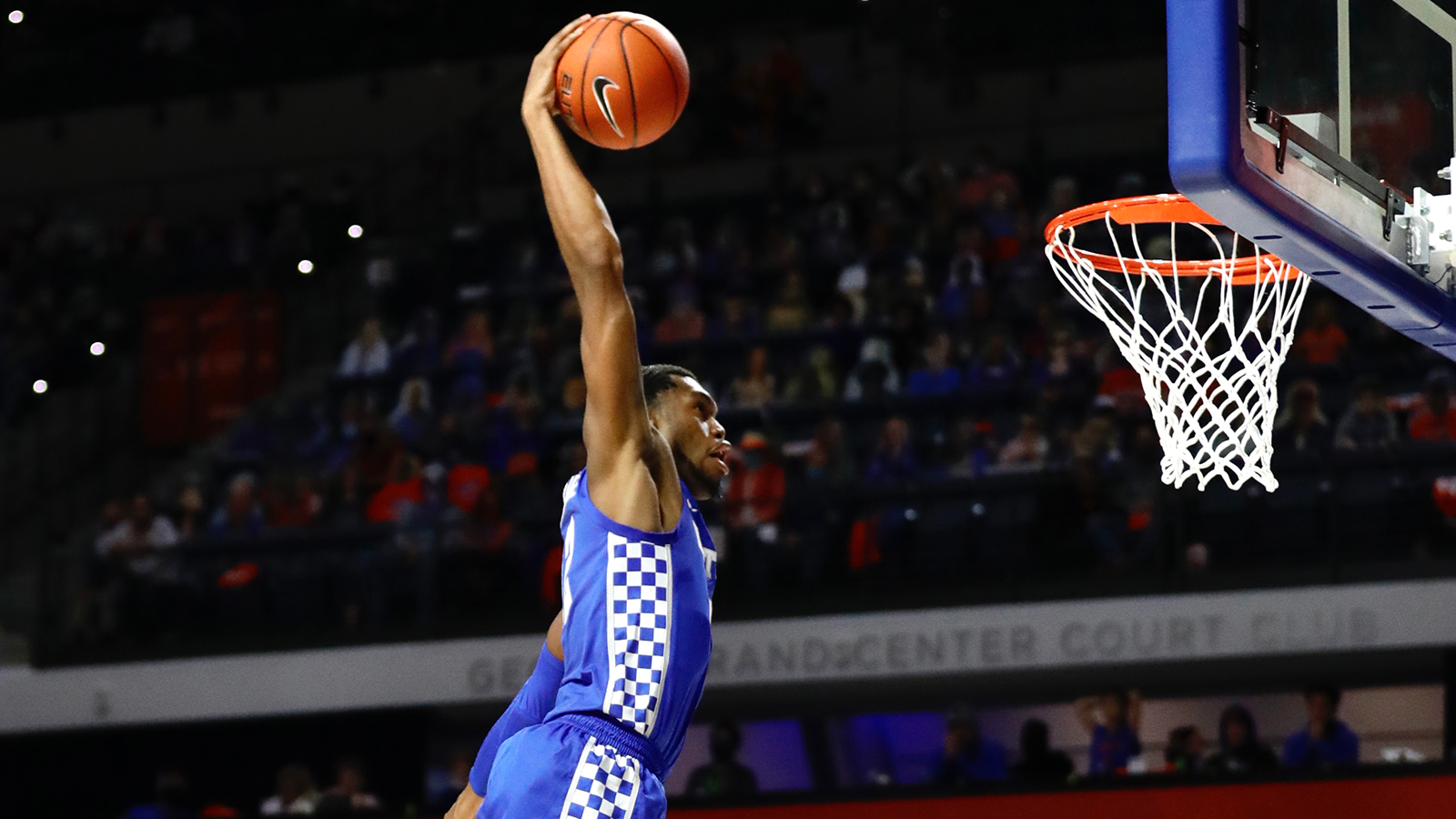 January 9, 2021 - 09:37 PM
'Leader' Brooks Makes Cats Better in First Appearance
Kentucky and head coach John Calipari had been patiently waiting for the team's only returnee with any significant experience, Keion Brooks Jr., to return from injury.
On Saturday, Brooks played for the first time this season. And for Calipari and Kentucky, it was worth the wait.
Playing in the same arena where he last saw action (last season at Florida), Brooks made big contributions all game long as the Cats rolled to a 76-58 win over the Gators in Gainesville.
Brooks, who missed the first nine games of the season while battling an injury, hit six of his eight shots from the floor to score 12 points in 24 minutes of action. He tied Isaiah Jackson for the team lead in rebounds with six, and Brooks led the Cats in assists with four. And, for good measure, he had a blocked shot and a steal.
Throughout his injury and the rehab process, Brooks continued to believe in himself.
"I've always believed in my ability to come back and play well," Brooks said. "I was constantly working out, staying in great shape."
Calipari was not totally surprised with Brooks' effort on Saturday.
"The only thing he wasn't able to do with us (in practice), was anything that was with contact," Calipari said. "So, he was practicing, conditioning and I told him I said, 'You better get ready because we are going to know something in the next couple of days. You better condition.' And he has been. He's really disciplined, conscientious. It's just nice to have a steadying force."
Guard Davion Mintz was very pleased with Brooks' contributions on Saturday.
"You watched the game, you saw it. He gave us a whole different element to the game," Mintz said. "Keion was amazing today. It was super fun. I'm speechless, really. It was amazing."
Did Mintz see Brooks' performance coming in practice?
"Yeah, Keion has been having good practices. He's been easing in," Mintz said. "Not to discredit his practices, but it was nothing like the game. The game, he just turned it to a different switch. That was amazing. We were kind of just testing him, seeing what he could do. We knew he'd play well, but we didn't know that he would come in and make the big impact that he did."
The word that kept being tossed around after the game when talking about Brooks was leader.
"He's a leader by example," Calipari said. "He's not a confrontational guy. That's not who he is. You saw the kind of athlete he is. You see that he's way physically stronger than he was. Way more patient mentally. The game has slowed down for him."
Mintz agreed.
"Keion Brooks makes an impact on this team and it was huge," Mintz said. "With him being out there makes everything much easier. You do have another leader out there, someone who has been through knowing what they're doing."
Brooks agreed with his head coach and his teammate. When asked what he brings to the team, he didn't hesitate.
"My leadership. I just try to bring energy and hopefully my energy is infectious to my teammates," Brooks said. "They also did a great job of sticking with me the whole time I was hurt. I didn't want to go out there and let them down, not playing to their standard, not being as engaged as they are, not having as much energy as they would have. That works both ways. My leadership was really dependent on them and them allowing me to be a leader. It went well tonight."
Whether it was his play, his leadership or a combination of the two, there's no doubt that Kentucky was a better team with him on the floor on Saturday. That's a trend the Cats hope to carry forward.