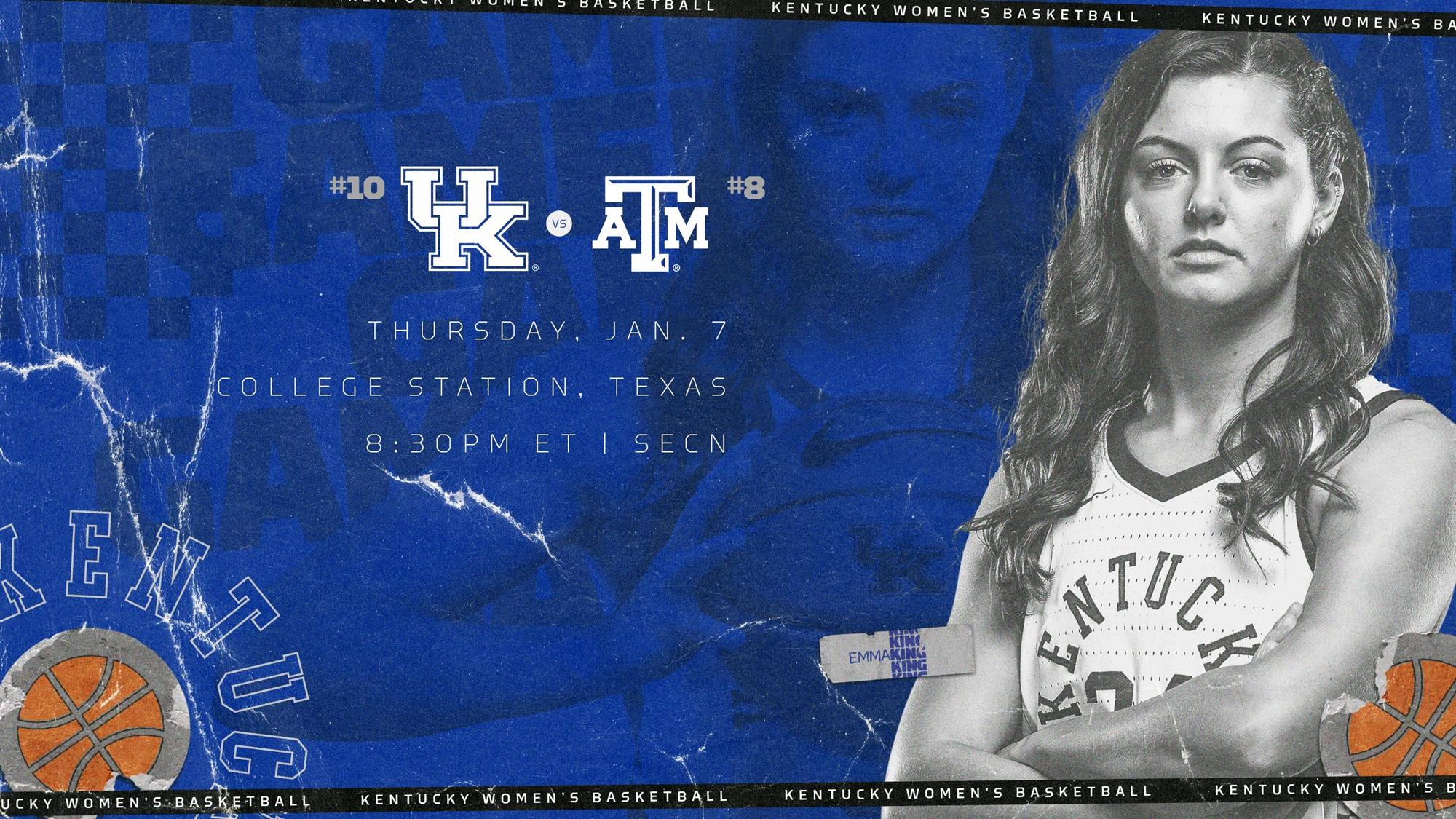 January 6, 2021 - 09:21 AM
Wildcats Face Third Straight Top-15 Opponent, Travel to No. 8 TAMU Thursday
LEXINGTON, Ky. – After earning consecutive top-15 wins vs. Southeastern Conference opponents for the first time in program history last week, the No. 10 University of Kentucky women's basketball team continues its difficult stretch of games by traveling to No. 8 Texas A&M on Thursday for an 8:30 p.m. ET tip inside Reed Arena.
 
The game vs. Texas A&M will be televised on SEC Network with Eric Frede and Tamika Catchings on the call. The action can also be seen through WatchESPN on computers, smartphones or tablets. Darren Headrick will have the call on the UK Sports Network on 630AM WLAP in Lexington. Live stats and free live audio will be available online at UKathletics.com.
 
It was an impressive week overall for Kentucky, who began its first week of league action under first-year head coach Kyra Elzy with back-to-back wins over top-15 ranked opponents. After starting with a 75-64 win over No. 10 Arkansas, the Wildcats claimed an overtime thriller Sunday at No. 12 Mississippi State, 92-86. The Wildcats won both games in different ways, defeating Arkansas with its best defensive performance of the year, while it claimed the win against Mississippi State with an impressive offensive performance.
 
Against Arkansas, UK held the Razorbacks to a season-low tying five 3s and a season-low in points. Arkansas was limited to less than 20 points in every quarter for the second time on the year. Against Mississippi State, UK scored 92 points, going over 90 for the second time this season. The Wildcats recorded 15+ assists for the sixth straight game and won the rebounding margin for the sixth straight game. UK hit 10 3s against Arkansas and followed with a season-best 14 against Mississippi State – the first time this season it has hit 10 or more 3s in consecutive games. The Wildcats had a season-high eight blocks against Arkansas. In all, five different UK players scored in double figures during the week.
 
The consecutive top-15 wins has given the Wildcats and junior guard Rhyne Howard national praise. Howard, who led UK in scoring in both games with 24 against Arkansas and 33 against Mississippi State, has been named the espnW National Player of the Week, Naismith Trophy National Player of the Week, College Sports Madness National Player of the Week and SEC Player of the Week. Elzy was named the espnW National Coach of the Week and overall the Wildcats were tabbed the first-ever USBWA National Team of the Week.
 
Howard is leading the Wildcats this season by averaging 18.8 points per game with 7.3 rebounds per game and a team-best 23 3-pointers made. Howard is second on the team with 29 assists and 14 steals. Junior guard Chasity Patterson is averaging 13.8 points per game and leads UK with 32 assists and 44 steals – her steal total also leads the nation. Sophomore forward Dre'una Edwards is averaging 13.5 points per game with a team-best 8.8 rebounds per game and team-high 10 blocks.
 
Texas A&M enters Thursday's game with a 10-0 record and ranked No. 8 in the latest Associated Press Top 25. The Aggies started league play with an impressive 92-67 win at Florida after their league opener vs. Tennessee was postponed due to COVID-19 issues within the UT program. The Aggies have defeated both ranked teams they have played this season, taking down then-No. 19 DePaul 93-91 and then-No. 25 Texas, 66-61 – both away. As a team, Texas A&M is averaging 83.2 points per game and limiting opponents to 60.6 points per game. The Aggies are hitting 50.8 percent from the field and 41.4 percent from long range with a +9.9 rebounding margin and +1.9 turnover margin.
 
TAMU has four players averaging over double figures this season, paced by Aaliyah Wilson who is averaging 13.5 points per game with 5.4 rebounds per game and a team-best 22 steals. N'dea Jones is averaging 13.3 points per game with 10.0 rebounds per game and is hitting 58.1 percent from the field. Ciera Johnson is averaging 11.1 points and 7.8 rebounds per game while Alexis Morris is averaging 10.1 points per game.
 
Thursday will be the 12th all-time meeting between Kentucky and Texas A&M in women's basketball with all 12 meetings coming after the Aggies joined the Southeastern Conference. UK trails the all-time series 5-6 against the Aggies, but leads the series 3-2 in College Station. Kentucky had lost four straight in the series before earning a 76-54 win in Lexington last season. It was the largest margin of victory for either team in the series. Seven of the 11 meetings have been decided by 10 points or less, including four by 4 or less. This will be the 10th all-time meeting that both teams have been ranked in the top 25. UK is 5-4 all-time in those games. This will be the second game in the series with both teams ranked in the top 10. The first meeting was Feb. 18, 2013 in College Station. UK was No. 9 and TAMU was No. 10. Kentucky won the game 70-66. 
 
For more information on the Kentucky women's basketball team, visit UKathletics.com or follow @KentuckyWBB on Twitter, Instagram and Facebook.
UK ATHLETICS COMMUNICATIONS AND PUBLIC RELATIONS
WOMEN'S BASKETBALL QUOTES
HEAD COACH KYRA ELZY PRE-TAMU NEWS CONFERENCE
TUESDAY, JANUARY 5, 2021
JOE CRAFT CENTER – LEXINGTON, KY.
HEAD COACH KYRA ELZY
 
On how it feels to be espnW National Coach of the Week…
"I am so honored that I received the award, but it is definitely way bigger than me. I've talked about it, but this staff is so amazing – Coach Amber Smith, Coach Niya Butts, Coach Lin Dunn, Daniel Boice and our support staff. It definitely wouldn't be possible without them. Quick thing, I received the award, then I get a text message, it was from Amber Smit and she said, 'National Coach of the Week, here is your list of recruits to call, please make sure you call these recruits and check back in with the staff.' So, you know, way to keep you humble, right?"
 
On if you called all of those recruits…
"Yes. Coach Amber (Smith), I don't know how the roles have changed, I recruited her and coached her at the University of Kentucky, and now she has become my boss. But yes, I do get my checklist done so that she won't fuss at me, so I have to remain coachable."
 
On going to No. 8 Texas A&M…
"Well, Texas A&M, they're extremely tough. Coach Gary Blair, he is a legend, a living legend in this business, and they are extremely talented with a lot of depth. They look to push in transition, they're hunting paint points, they play out in the ball screen as well as anybody in the country. So, we will definitely have our hands full, and obviously, Ciera Johnson in the paint, you know, she is a physical post that creates problems for us. You know, just going in, we will continue to focus on our transition defense, our one-on-one defense, keeping people out of the paint, and obviously we are working on our post defense to make sure that we're prepared."
 
On if there is a difference between SEC Rhyne Howard and non-conference Rhyne Howard…
"Well, I don't think there is a difference. Obviously, she is playing extremely well right now with a lot of confidence. But the thing about Rhyne Howard, I've said it over and over and over again, she is the best player in the nation and she showed why. Her ability to score is just uncanny, she has ice water in her veins, and she can score at all three levels. But, what I think that people don't appreciate about her as much, her ability to pass the basketball, her IQ, and she just does things so effortless that people don't think she is playing hard all the time, but then you look at the stat sheet and she has eight assists, 10 rebounds, seven steals, so the body of work… and she has the ability to play the 1-5 and defend the 1-5, and that is what makes her special."
 
On how traveling for road games this season differs from traveling for road games in a normal season…
"Great question. Traveling right now during COVID, obviously it is very strict. Our medical team has done a great job of keeping us healthy. Courtney Jones (athletic trainer) has worked tiredly to make sure that we are safe. But, as far as traveling, we have assigned seats, there is no eating on the bus, there is no eating on the plane. So, it does take away from some of the comradery of being able to sit with your friends. When we get to a hotel, everyone has their own assigned rooms and they can't be in each other's rooms, which takes out some of the fun of it, but what I love about this team, they know the sacrifice that they have to make in order to hit the floor."
 
On where Treasure Hunt is in practice and will fans see her more this year…
"Treasure (Hunt) continues to progress, and our freshmen are very talented, our future is extremely bright. But, it is a change of pace, coming from high school to college, learning to play at the intensity on both ends of the floor, the physicality of the game, and it is just a learning curve for everyone. So, they continue to progress. Treasure Hunt is skilled offensively, she's still trying to learn our defensive system, which will come in time, but I am extremely happy with all of their progress."
 
On how the players and the coaches are fostering comradery through a pandemic season…
"Our team chemistry is undeniable, just great. This team just gels, they love each other, they are sisters and they are competitive. They want to win, and they're going to look out for each other. We have said from the beginning, we have to be resilient, we have to be tough, and we have to stay together. It's only us in the trenches, and they really take that to heart. But, you know, they spend a lot of time together off the basketball court because they're here, they're together in practice, and they're friends off the court, which I think translates to them on the court."
 
On what Blue Magic means…
"Yes, a lot of Blue Magic. You know, Blue Magic, that could mean for a great win. You know, we want to earn everything that we have, but there is something about Big Blue Nation and the Blue Magic that comes with it, and that we want people to be a part of it, so let's continue with the Blue Magic."
 
On what you learned from the road game at No. 12 Mississippi State that can help you in your road game at No. 8 Texas A&M…
"Great question, you know, what I learned about this team is they are tough and resilient. Not all of the calls went our way, we missed some layups, so, there were times in that game that we could've folded, but we hung in there, we faced adversity, and we just had players make big play, after big play, after big play, when we had to have it. Obviously, Rhyne (Howard) came up huge offensively for us, but let's talk about KeKe McKinney, her leadership on the floor. She made some huge defensive stops, but she hit open shots. Jazmine Massengill came in, turned the corner, hit some shots, hit a huge 3 when we needed it. But, I can go down the list, Olivia Owens, how about what she did in the paint, her post presence and her physicality. So, what we can learn from that is, we're still a work in progress, there are still a lot of things that we need to get better at, however, when our backs are against the wall, we are going to stick together and face adversity and never give up."
 
On what Kentucky did poorly in last game that you'd like to correct going forward…
"You know, Mississippi State is a great team. Nikki McCray-Penson has them playing very hard. But, they were dribble driving. You know, we did not stay in front of our man. We did build a wall, but we gave too much ground where they were getting easy points in the paint, and they capitalized on it. And, that's something that you work on when you go back to practice. So, all of the things that we did not do well, you know, you go back, you reevaluate yourself as a coach, you reevaluate your team, and then you work on it in practice. That's why I say, we are a working progress, it's still early in the season, we are still learning as we go, and we will continue to put in the work we need."