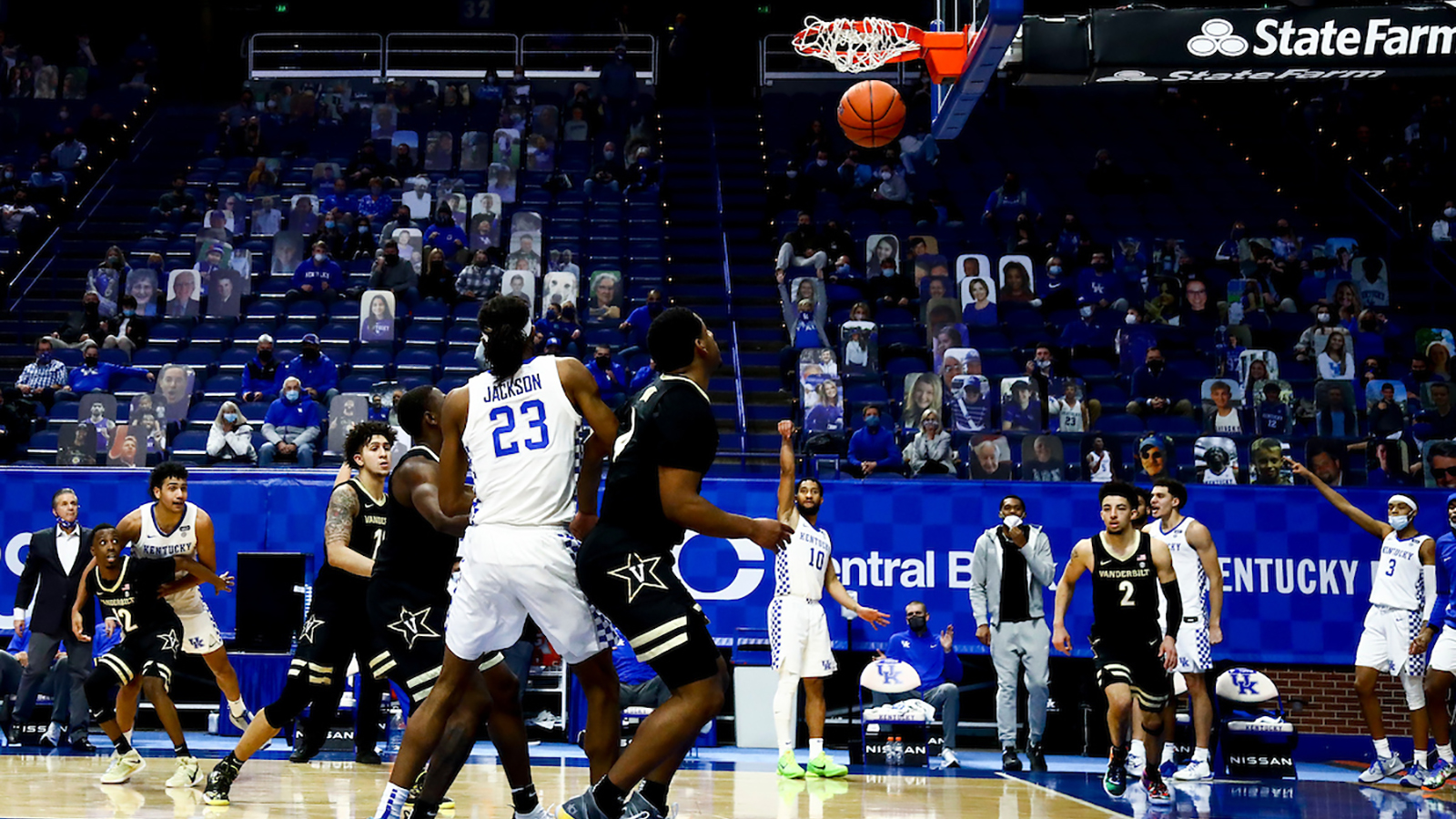 January 5, 2021 - 09:12 PM
Mintz's Late Three Lifts Kentucky Past Vanderbilt
LEXINGTON, Ky. — Davion Mintz had seen this script before. 
Two Olivier Sarr game-winning shots go in and out. Late-game droughts doom opportunities for quality wins early in the season. A tough break here and there.
"Buzzard's luck," the Wildcats were calling it, albeit much of it self-inflicted, resulting in one of the worst starts in school history.
Perhaps, as John Calipari had suggested and hoped, it's beginning to even out.
After a double-overtime comeback victory at Mississippi State last weekend snapped a six-game losing streak, the Wildcats (3-6, 2-0 Southeastern Conference) squeezed out another down-to-the-wire win with a 77-74 victory over Vanderbilt on Tuesday night in Rupp Arena. Mintz hit a game-winning 3-pointer from the left corner to preserve another come-from-behind win over the Commodores, the sixth time Kentucky has rallied from a halftime deficit to defeat Vanderbilt (4-4, 0-2 SEC) during its nine-game winning streak in the series. 
The Wildcats, billing the beginning of conference play and a new calendar year as a "fresh start," will take wins any way they can get them as they try to climb out of their deep early-season hole.
"What we've been through this season, I don't care if it's a middle school team. A win is a win," Mintz said. "It was huge for our confidence. We're super desperate and we're going to go out there and play like it."
Kentucky's confidence hung in the balance as Vanderbilt's Trey Thomas and Maxwell Evans each had shots for the game-tying 3. Evans' shot, on line, bounced off the front of the rim and to the back and hit the rim a third time before falling off the cylinder. Given how things had gone so far this season, everyone in UK white held their breath as Evans took the shot.
"Phew," an exasperated Sarr said, who had to watch from the bench after fouling out with a game-high 24 points, seven rebounds and two blocks. "At that point it was like, please let us win. Don't go in. We fought through. We stayed the course. We believed."
It even felt like a bit personal of redemption for Mintz, whose game-winning shot from the corner reminded him of a similar attempt he had vs. Xavier, while playing for Creighton two seasons ago, that he missed.
"My heart was dropping," Mintz said of Vanderbilt's potential game-tying shot that would have spoiled his game winner. "They kind of experienced what we have been going through for a while."
Mintz, who finished with 11 points, was able to atone from his previous miss two seasons ago while the Wildcats attempt to do the same with their season. 
UK overcame 70 points and 10 3-pointers from four Vanderbilt players alone — Scotty Pippen Jr. (18 points, eight assists), Dylan Disu (18 points, 10 rebounds, three 3-pointers), Jordan Wright (18 points, eight rebounds, three 3-pointers) and Myles Stute (16 points, four 3-pointers) — to rally from a nine-point deficit late in the first half. It's sixth time during the nine-game winning streak vs. Vanderbilt that Kentucky has trailed the Commodores by nine or more points. It was the fifth straight game the Wildcats trailed Vanderbilt at halftime, all resulting in wins. 
This time it ended the first two-game skid in Rupp Arena of the John Calipari era and prevented the first three-game losing streak in Rupp's 45-season existence.
"We're getting better," Calipari said.
Two areas of particular improvement Tuesday were the turnovers and free throws. The Wildcats, who entered the game averaging 16.1 turnovers per game, one of the worst marks in the country, made just two turnovers this game, tied for the lowest program mark since committing two turnovers vs. Cincinnati in a 24-11 win on Dec. 20, 1983. That was before the shot clock. 
UK also made 26 of 32 from the charity stripe, both season highs.
Sarr drew 11 fouls and was 14 of 17 from the line. He seems to have regained his confidence with a combined 38 points over the last two games. The Wake Forest transfer had just three total points vs. North Carolina and Louisville.
"I think I needed to focus on fighting and competing and just playing my game out there," Sarr said. "No pressure. Just being locked in and having fun at the same time."
Kentucky also got valuable contributions from Dontaie Allen, Jacob Toppin and Devin Askew, who played most of the critical minutes down the stretch to preserve the victory.
Coming off his breakout 23-point game at Mississippi State, Allen scored 14 points with five rebounds and two key 3-pointers. He has combined for 37 points, nine rebounds, nine 3-pointers and just one turnover in 64 minutes the last two games. 
Calipari said Allen had some defensive breakdowns he must improve on, but as long as he continues to score and open up the court for the offense like he has, he will continue to play.
"If that's the case and it's even-steven, I'm probably good with you," Calipari said. "I'm telling you, he deserves to be on that court."
Askew pitched in with 11 points, his second straight game in double figures, and Toppin added six points, six rebounds and key defense down the stretch on Pippen, Vanderbilt's engine.
"JT is at the right spot at the right time in every game," Sarr said. "On defense, he takes pride in guarding the best player. He did an unbelievable job. He is doing the dirty work and it has been enough for us."