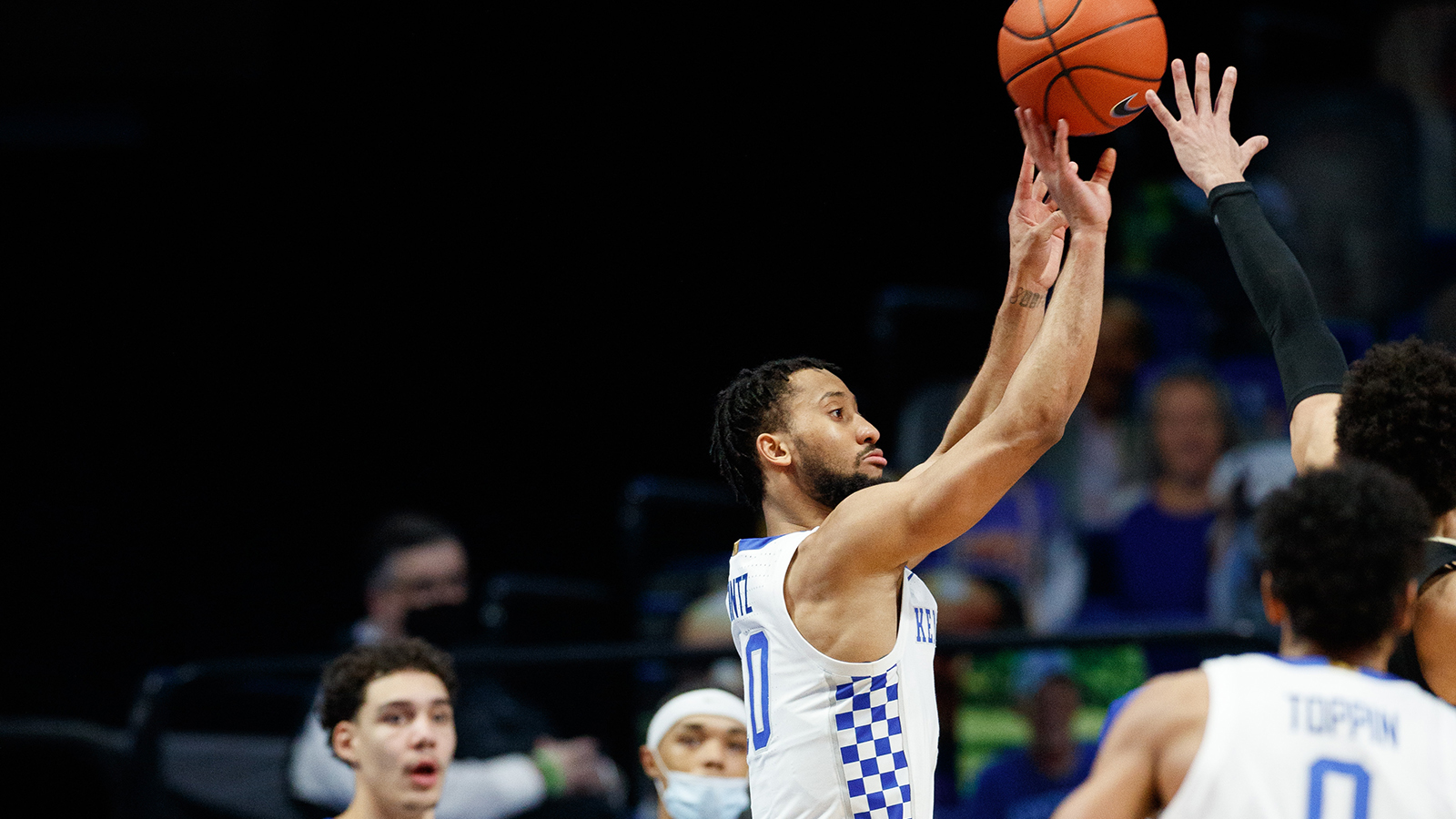 January 5, 2021 - 10:36 PM
Cats Fight, Execute Late to Beat Vandy
As the 2020-21 Kentucky basketball season has progressed, the law of averages seems to be evening things out, in the Cats' favor. Or maybe it's just that the Cats are getting better and gaining more experience in pressure situations.
Either way, Tuesday's game against Vanderbilt may have proved all of those things to be true. With the game tied and under a minute to go, UK head coach John Calipari drew up a play to get graduate student Davion Mintz an open three-point shot in the corner.
Two or three weeks ago, that shot may not have dropped. UK's Olivier Sarr has seen a couple of clutch shots late in games rim out, against both Notre Dame and Louisville.
But on Tuesday night at Rupp Arena, the shot by Mintz was perfect, and it ended up providing the margin of victory as the Cats topped the 'Dores 77-74.
Of course, this being the season that it's been so far, Vandy nearly tied the game in the waning seconds. Maxwell Evans' three-pointer hit the rim three times before caroming away and ensuring a Kentucky win.
As for what turned out to be the game-winner, Mintz knew that the ball was coming to him, and he was ready.
"It felt amazing. Coach was drawing it up and I knew where he had placed me. I knew it would be open. Devin put it on the money and it was 'bottoms'. It felt amazing."
Calipari was pleased with how the Cats ran the play that was called, getting Mintz the open look.
"The last play, execution," Calipari said. "You know why? They're worried about their team instead of themselves. Everybody's got a role."
While Mintz was the one that hit the shot, there were two other key pieces to that play. It started with an outstanding screen by Jacob Toppin and continued with a perfect pass from Devin Askew.
"Without that screen, there was no shot," Mintz said. "Execution on that play was perfect."
Calipari is also finding out more about his team, especially in the first two SEC games, which have both been nail-biters. After surviving Mississippi State in double overtime on Saturday night, the Cats were once again in a game that was tight until the very end. Both times, the Cats have come out victorious.
What is the UK head coach looking for out of his players down the stretch in a close game?
"Whoever fights, I'm leaving in the game," Calipari said. "I need fighters. Just like we did at Mississippi State. I need fighters. And if I play five guys the rest of the way, that's what we're going to do."
In addition to Mintz, Kentucky got a lot of fight out of Sarr on Tuesday night. The big man scored 24 points and grabbed seven rebounds in the win. After having two games in which he struggled, Sarr seems to have found a formula that works for him.
"I think I just need to focus on fighting, competing, and just playing my game out there," Sarr said. "No pressure, being locked in but having fun at the same time."
As for that fight, Calipari knows it needs to be there as the schedule starts to get even tougher.
"We're going to have to fight now. We got the top of the league coming up, the best teams in the league, here they come. But in January, we're 2-0. I'm happy for the kids. It's a good win."
Mintz, the maker of the big shot, thinks things are turning in the Cats' favor.
"It's trending, we're going in the right direction," Mintz said.
Whether it's the law of averages or just the Cats getting better, it has added up to a perfect start to 2021 for Kentucky.