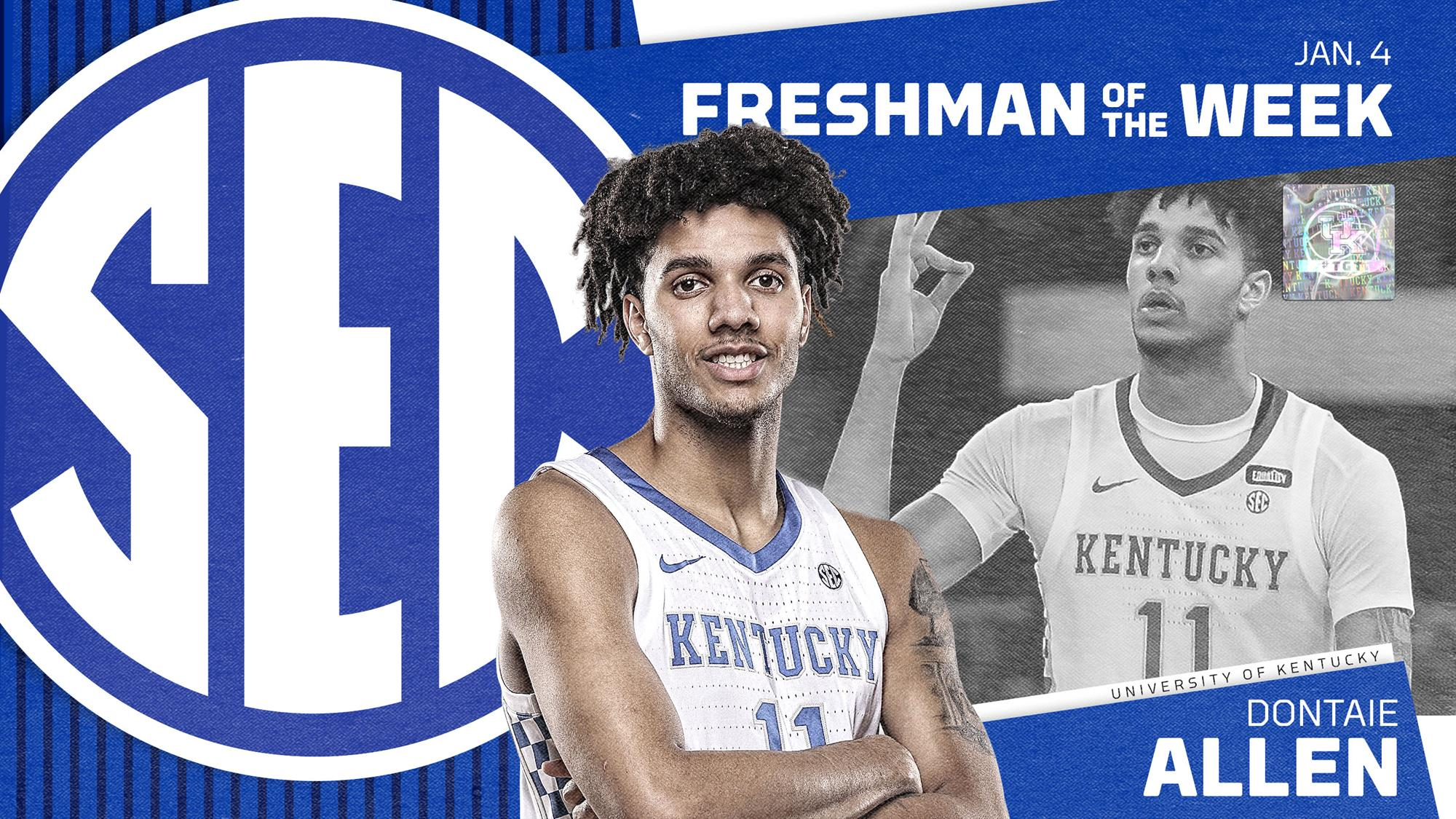 January 4, 2021 - 01:47 PM
Dontaie Allen Tabbed SEC Freshman of the Week
BIRMINGHAM, Ala. – Following a breakthrough performance at Mississippi State on Saturday, Kentucky redshirt freshman guard Dontaie Allen became the first Kentucky men's basketball player to earn Southeastern Conference Freshman of the Week honors this season.
 
After logging just a minute over the previous three games, including two in which he did not even check in, the Falmouth, Kentucky, native sparked a nine-point second-half comeback in double overtime at Mississippi State with a career-high 23 points.
 
He played 32 minutes and made 8 of 13 shots and 7 of 11 from 3, plus added four rebounds and a blocked shot. All of those numbers were career bests.
 
Allen is the sixth freshman in program history to make seven or more 3-pointers in a game (done seven times overall) and the first player to drain at least seven since Immanuel Quickley had eight against Texas A&M on Feb. 25, 2020.
 
Kentucky has dominated the weekly SEC awards under John Calipari. UK has won more weekly SEC honors (109) than any other school during the Calipari era, including 84 SEC Freshman of the Week honors and 25 SEC Player of the Week awards.
 
Allen is the first Wildcat to win either award this season.
 
Trailing 50-41, Allen hit two 3-pointers during a 10-0 run to turn a nine-point deficit into a 56-55 UK advantage. He also hit a 3 with 1:34 remaining in regulation to tie the game, as well as a 3 during the first overtime that nearly won the game. The sharpshooter scored five consecutive points in the second overtime to extend a one-point lead to 76-70 en route to the comeback victory.
 
Entering the game against Mississippi State, Allen had registered just 20 minutes of action with seven points over four games played.
 
"I don't think it was pressure only because I put in the work," Allen said after Saturday's game. "I didn't know when my opportunity was going to come. Obviously, it could have come today, next week or next month. Nobody knows, so I was just keeping my head down and just working hard. I am thankful for the opportunity I had tonight."
 
The win snapped a six-game losing streak for the Wildcats, which was tied for the second-longest in program history. It pushed UK's record to 68-19 all-time in SEC lidlifters and was the 10th in 12 openers under Calipari. Most importantly, it got Kentucky off to a 1-0 start in league play.
 
"That's what you're supposed to do when you get a chance," Calipari said Saturday. "I'm so happy for (Allen). I said before the game, to the staff, 'I hope he goes big because we need to win.' We needed a win."
 
Kentucky returns to action for their first home game in 24 days when Vanderbilt visits Rupp Arena at the Central Bank Center on Tuesday. Tip time is set for 7 p.m. ET and the game will air live on SEC Network.
 
For the latest on the Kentucky men's basketball team, follow @KentuckyMBB on Twitter, Facebook and Instagram, and on the web at UKathletics.com.