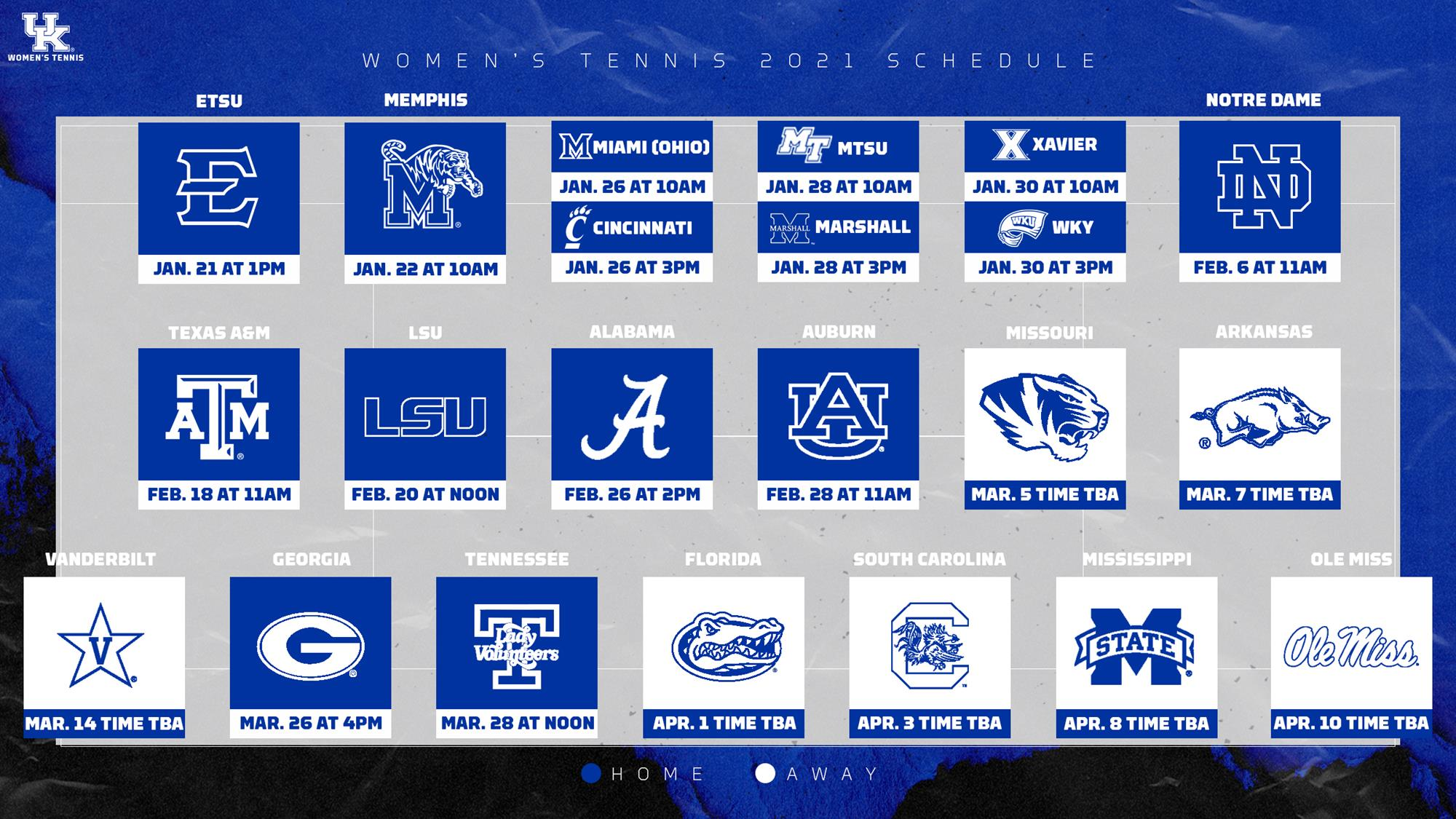 January 4, 2021 - 11:18 AM
Kentucky Women's Tennis Unveils 2021 Schedule
LEXINGTON, Ky. –  The University of Kentucky women's tennis program will begin its 48th season later this month, as head coach Carlos Drada announced the program's official spring schedule Friday morning. The schedule is comprised of 22 regular season matches, including 15 home matches and seven road matches, while the team will meet nine non-conference opponents and 13 Southeastern Conference opponents.
 
The Wildcats will begin a long-anticipated season on Jan. 21, hosting 13 straight home contests at the Hilary J. Boone Varsity Tennis Complex. The first nine of those matches are against non-conference foes, and the first eight of those matches are scheduled to be contested in a matter of nine days (Jan. 21-Jan. 30).
 
Kentucky will host East Tennessee State to open the season on Jan. 21, followed by Memphis on Jan. 22. Then, UK will hold three doubleheaders in a matter of six days, beginning with Miami (Ohio) and Cincinnati on Jan. 26, Middle Tennessee and Marshall on Jan. 28, and Xavier and Western Kentucky on Jan. 30. The Wildcats will round out their non-conference schedule with Notre Dame on Feb. 6.
 
Kentucky will stay at home for the first four conference matches, hosting Texas A&M on Feb. 18, LSU on Feb. 20, Alabama on Feb. 26 and Auburn on Feb. 28.
 
UK will then travel to Missouri on March 5, Arkansas on March 7 and Vanderbilt on March 14.
 
The Wildcats will turnaround and host Georgia on March 26 and Tennessee on March 28, their final regular-season home matches of the spring.
 
Kentucky will close out the conference campaign with four straight road contests, including at Florida on April 1, at South Carolina on April 3, at Mississippi State on April 8 and at Ole Miss on April 10.
 
The 2021 SEC Tournament is scheduled for April 19-23 in Tuscaloosa, Alabama, where all 14 teams are guaranteed at least one match.
 
The full schedule can be found here.
 
Kentucky's 22 matches are just two short of what the program scheduled last season. The Wildcats recorded a 9-6 record in 2020, including a 2-2 mark in conference action, before the season ended because of the COVID-19 public health threat. All seven roster members from last season are returning for the 2021 season, with the addition of five true freshmen.
 
For the latest on the Kentucky women's tennis program, follow @UKWomensTennis on Twitter and on Instagram, on Facebook and on the web at UKathletics.com.