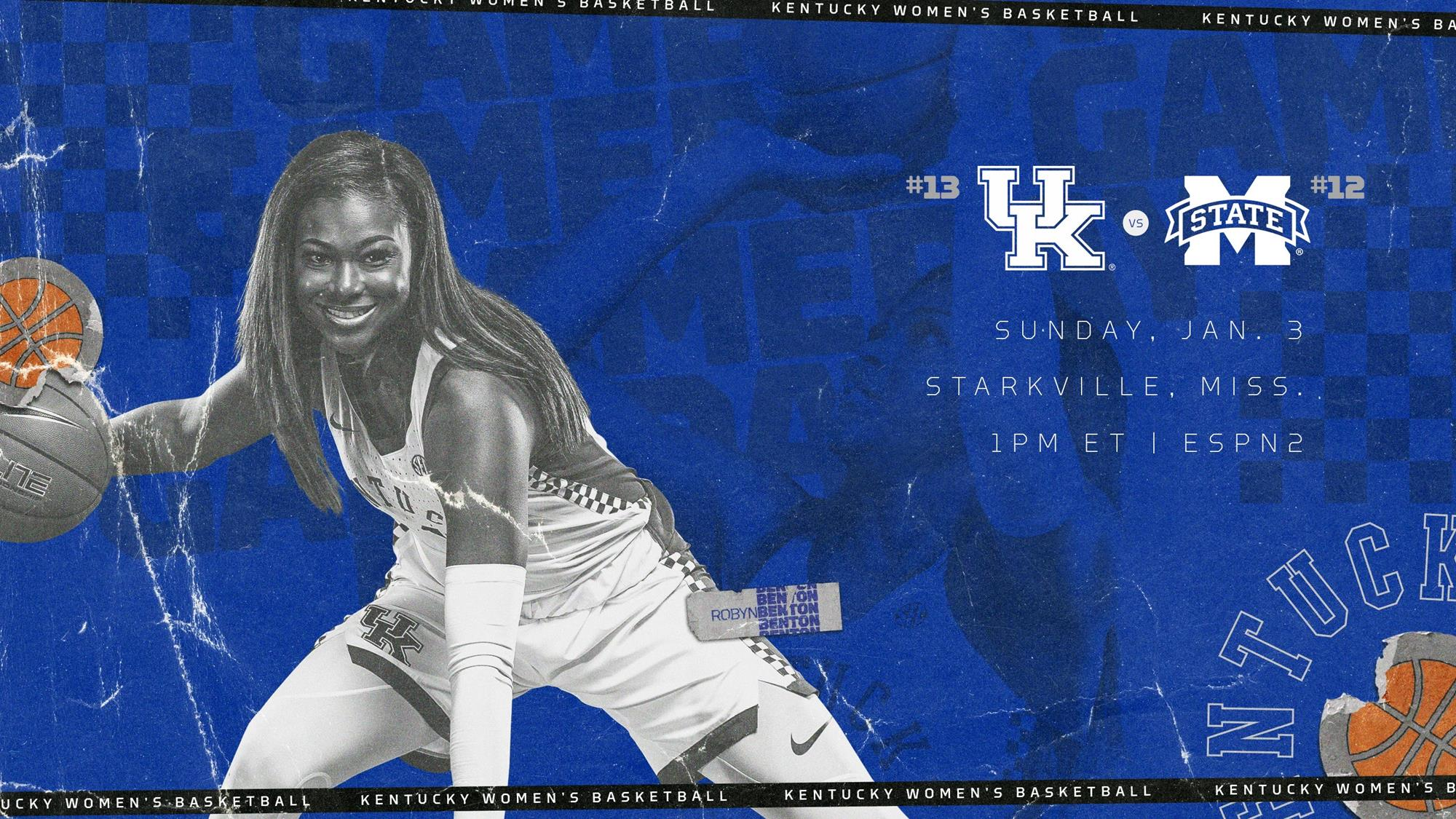 January 2, 2021 - 10:09 AM
No. 13 Kentucky Travels to No. 12 Mississippi State Sunday
LEXINGTON, Ky. – The No. 13 University of Kentucky women's basketball team continues its stretch of four-straight top-15 ranked opponents to open Southeastern Conference play Sunday as it travels to Starkville, Mississippi to face No. 12 Mississippi State at 1 p.m. ET.
 
The game vs. Mississippi State will be televised on ESPN2 with Eric Frede and Tamika Catchings on the call. The action can also be seen through WatchESPN on computers, smartphones or tablets. Darren Headrick will have the call on the UK Sports Network on 630AM WLAP in Lexington. Live stats and free live audio will be available online at UKathletics.com.
 
Kentucky (8-1, 1-0 SEC) began league play Thursday with an impressive win against No. 10 Arkansas – its second win of the season against a top-15 ranked opponent. Junior Rhyne Howard was the leader for Kentucky, scoring a game-high 24 points with 10 rebounds, adding four assists and four 3s made. It was the second double-double of the season for Howard, who has led UK in scoring twice this season and in rebounding three times. Senior forward KeKe McKinney scored 10 points with seven rebounds in the game, playing a team-high 37 minutes, while junior guard Blair Green scored 10 points with a career-high three blocks. Green and junior guard Jazmine Massengill were amazing for Kentucky in the fourth quarter as Green scored eight of her 10 points in the final stanza, while Massengill scored all five of her points in the final quarter.
 
It was the Kentucky defense that really stole the show Thursday as UK limited Arkansas to a season-low tying five 3-pointers after the Razorbacks entered the game hitting over 10 3s per game. UK also limited Arkansas to a season-low 64 points. The Wildcats won the rebounding battle and had a season-high 22 second-chance points and had a season-high eight blocks.
 
Overall, UK is averaging 78.9 points per game this season while limiting opponents to 57.0 points per game. The Wildcats are hitting 46.3 percent from the field and 32.8 percent from long range. Kentucky has a +8.2 rebounding margin and a +5.9 turnover margin. Howard leads UK with 16.7 points per game and 6.9 rebounds per game. Two other Wildcats are averaging over 14 points per game with sophomore forward Dre'una Edwards earning 14.2 points and 8.6 rebounds per game, while senior guard Chasity Patterson is averaging 14.1 points per game and leads the nation with 42 steals.
 
With the start of conference plays comes one of the most difficult stretches in program history for Kentucky, who will begin league play with back-to-back-to-back-to-back games against top-15 ranked teams. Initially, UK was supposed to travel to Tennessee this weekend but that game was postponed due to COVID-19 issues within the UT program. The SEC rescheduled UK to play at No. 12 Mississippi State on Sunday instead. Next week, UK will travel to No. 9 Texas A&M and host No. 5 South Carolina. If all four teams remain in the top 15 of the AP rankings at the time of each game, it will be the first time in program history that UK has faced four straight AP top-15 ranked teams. UK has faced three straight several times.
 
Kentucky enters league play ranked No. 13 in the AP Top 25 and No. 11 in the USA Today/Coaches Top 25. The Wildcats have been ranked all season long and peaked at No. 9 in both listings before falling to top-25 ranked DePaul in Chicago. UK is led in scoring this year by three players who are averaging over 15 points per game, starting with preseason All-American Rhyne Howard, who is averaging 15.5 points per game with 6.3 rebounds per game and a team-best 15 3-pointers made. Sophomore forward Dre'una Edwards is also averaging 15.5 points per game with a team-best 8.9 rebounds per game and eight blocks. Senior guard Chasity Patterson is averaging 15.4 points per game with a team-best 25 assists and 40 steals. Her 40 steals and 5.0 steals per game both rank No. 1 in the nation.
 
Mississippi State enters Sunday's game with a 6-1 record, including a 1-0 start in SEC play after a 69-62 win at Georgia on Thursday. State attempted 29 free throws in the game, hitting 21 and added six 3s. Madison Hayes led the team with 13 points, going 4-of-5 from the field and 2-of-3 from long range, while Jessika Carter had 13 points with five rebounds. Rickea Jackson scored 11 points with two rebounds, two assists and a block.
 
Carter and Jackson are both averaging double figures this season with Carter earning 16.7 points and 7.9 rebounds per game, while Jackson is averaging 16.6 points and 4.3 rebounds per game. Sidney Cooks has hit a team-best 13 3s this season while JaMya Mingo-Young leads the team with 36 assists and 12 steals. State is in its first season under head coach Nikki McCray-Penson, who took over this offseason after three seasons as the head coach at Old Dominion.
 
Sunday will be the 51st all-time meeting between Kentucky and Mississippi State in women's basketball with the Wildcats owning a 28-22 record. The series is tied 10-10 in games played in Starkville. UK's last win in Starkville, was Feb. 18, 2016 when the Wildcats handed the Bulldogs a 83-60 defeat. The Bulldogs have won two straight in Humphrey Coliseum since. The Bulldogs had won four straight in the series before UK took down No. 6 Mississippi State last season in Memorial Coliseum, 73-62. The Bulldogs got revenge by defeating UK 77-59 in the semifinals of the SEC Tournament. Kentucky is 5-7 all-time against Mississippi State ranked teams. This will be the seventh time the two teams have met while both are ranked and the third with both ranked in the top 15. UK is 4-2 in those six games with both teams ranked, including 2-0 with both in the top 15.
 
For more information on the Kentucky women's basketball team, visit UKathletics.com or follow @KentuckyWBB on Twitter, Instagram and Facebook.