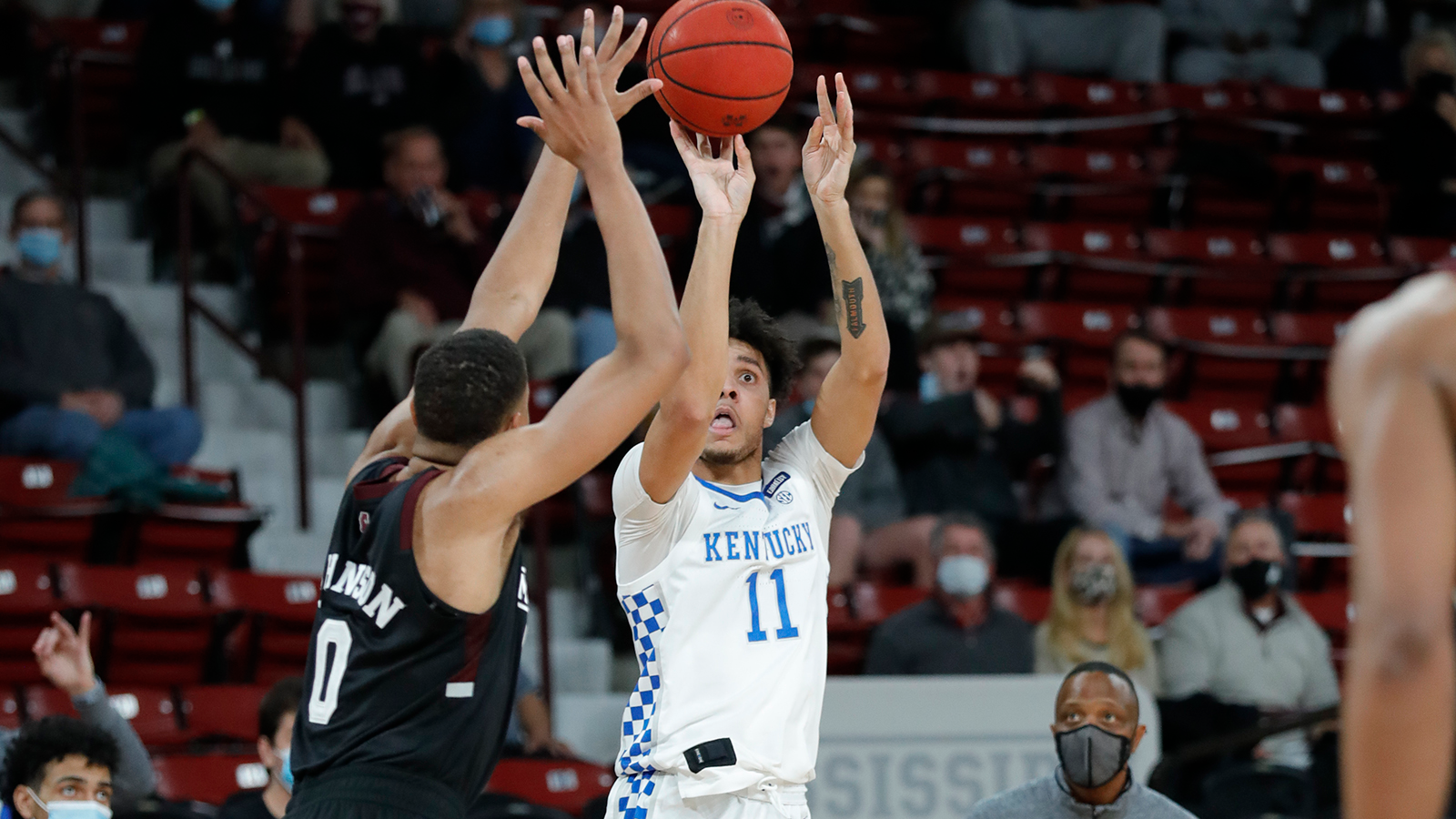 January 2, 2021 - 10:04 PM
Hard Work Pays Off as Allen Takes Advantage of Opportunity
Through seven games, the Kentucky basketball team had struggled to shoot the ball from long range. The Cats had made 30 of 120 from behind the arc for just 25 percent. UK was making just under 4.3 shots from three-point range per game.
Enter Dontaie Allen. The 2019 Kentucky Mr. Basketball had seen limited minutes so far this season but was known as a scorer, and a shooter, coming out of high school.
Allen was given an opportunity on Saturday. And he did way more than make the most of it.
The Pendleton County native hit eight of 13 from the field, including seven of 11 from behind the arc, on his way to a career-high 23 points as Kentucky snapped a six-game losing streak by topping Mississippi State 78-73 on Saturday in Starkville.
UK head coach John Calipari was excited to see Allen take full advantage of the chance he earned.
"Well, when you do that, you kind of prove your point and that's what you're supposed to do when you get a chance," Calipari said. "I'm so happy for him. I said before the game to the staff before the game, I hope he goes big because we need to win."
It wasn't just the fact that Allen was making shots for the Cats. He also changed the dynamic of UK's offensive attack.
"He changed us offensively because he spread the court," Calipari said. "He changes our team. The reason we couldn't score, guys couldn't make shots. And it doesn't matter what you run."
Allen, who was forced to sit out last year while rehabbing a knee injury, has waited a long time for his chance. And when he got it, he knew he was ready.
"I don't think it was pressure only because I put in the work," Allen said. "I didn't know when my opportunity would come. Nobody knows, so I was just keeping my head down and working hard. I'm just thankful for the opportunity I had tonight."
Calipari knows that Allen has put in the work and is now able to reap the benefits.
"We've had guys who have had to wait their turn and prove themselves," Calipari said. "Dontaie's attitude was so good, never changed, always a great kid, coming in, spending extra time and now he had his chance. And now, all of Kentucky is going crazy."
And Allen's performance on Saturday may lead to a fresh look to the UK rotation as the season continues.
"There's been signs of this," Calipari said. "But you're playing behind some guys that, you're proving now that they should be playing behind (Allen). Him being able to do that, he's earned more minutes and some guys are going to end up having to play less."
Allen, who grew up watching Kentucky basketball, took time in the postgame to address children in the Bluegrass who aspire to be in his shoes one day.
"To all the kids, if there's kids listening in the state, it comes down to work," Allen said. "If you put in the work, you can do some great things."
Allen's hard work, and his opportunity to play against Mississippi State on Saturday, added up to a special night in Starkville for the Falmouth, Kentucky, native.
"The @dontaieallen11 game" pic.twitter.com/JMfGgcgWex

— Kentucky Basketball (@KentuckyMBB) January 3, 2021