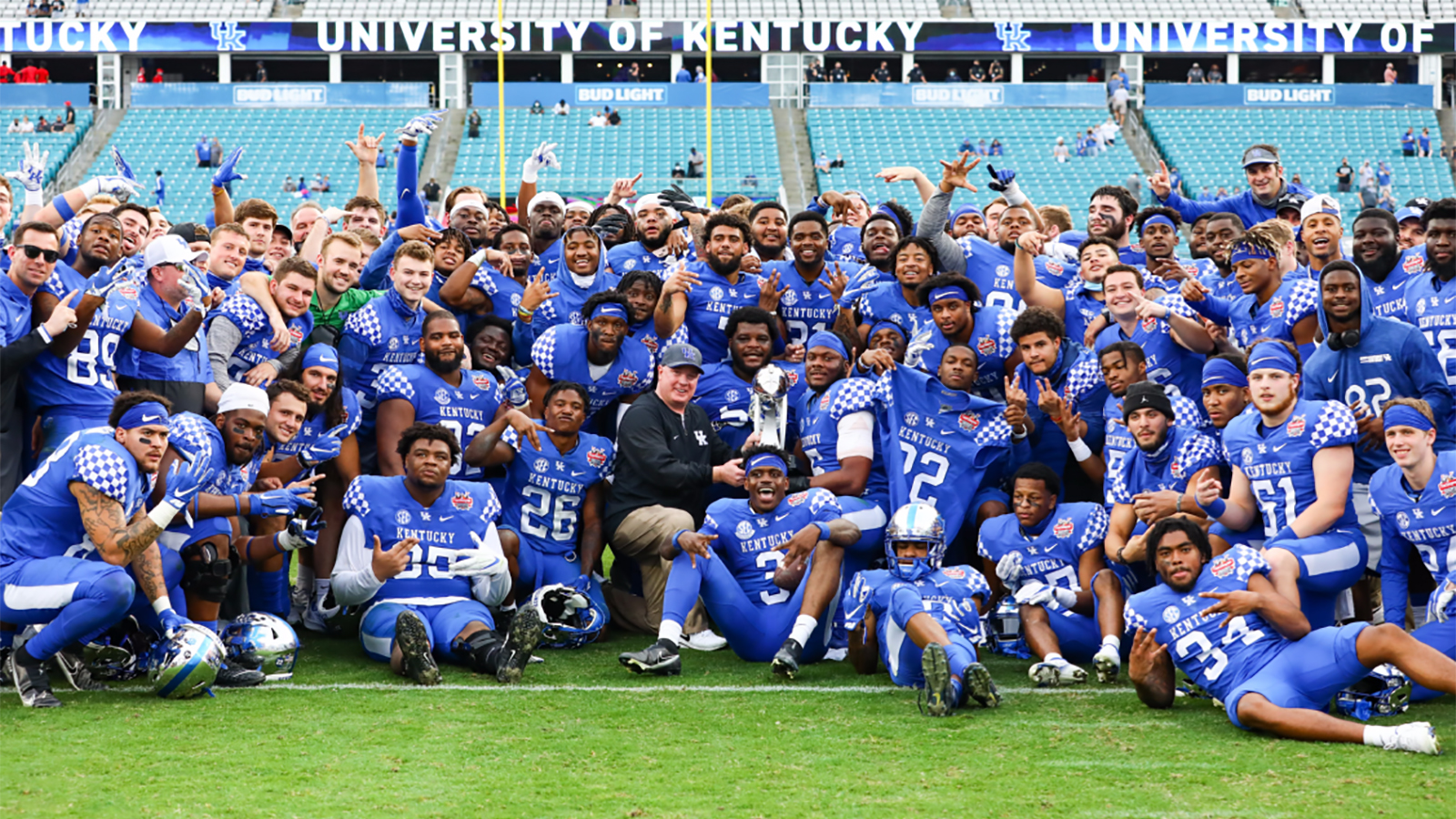 During the Mark Stoops tenure at Kentucky, the Wildcats have developed an identity. UK has become a hard-nosed, blue collar team that hangs its hat on playing strong defense and running the ball behind a physical offensive line.
As the Cats closed a tough 2020 season in the TaxSlayer Gator Bowl on Saturday, they turned to that formula again to top N.C. State 23-21, the third straight Kentucky bowl game win.
"Very proud of our football team," UK head coach Mark Stoops said. "Proud of our coaching staff. Proud of our seniors who led us to three straight bowl victories. That's really a big accomplishment."
Kentucky used its physical running game again on Saturday, carrying the ball 48 times for 281 yards in the victory. That's 5.9 yards per carry, which is a formula the Cats have been able to use with great regularity the last few seasons. Senior Asim Rose, better known as A.J., rushed for 148 yards and junior Chris Rodriguez Jr. added 84 yards and a pair of touchdowns for the Cats.
Stoops was pleased with the offensive effort and was especially happy to see Rose have a big game.
"It was really big. I was really happy for him and proud of A.J.," Stoops said. "He's been there, he's been consistent. Really happy for him, really proud of him. He's been here for a long time, he's helped us win a lot of games. He just always worried about his game and himself and I'm happy he went out that way."
It was perhaps a fitting ending for Rose, who may have played his last game in a Kentucky uniform on Saturday. He was quick to credit the guys up front.
"It was a great way to end, if this was my last game," Rose said. "Offensive line did a great job today. They were moving people around all day."
But Kentucky also relied on its big-play defense, which also answered the bell in this game. The Cats forced three turnovers, all interceptions, and UK was able to convert those miscues into 13 points.
Junior linebacker Jamin Davis led the UK attack with 13 tackles and a key interception in the fourth quarter.
"In the back of my mind, we just wanted to refuse to lose the game," Davis said of his pick that helped seal the win. "We just wanted to keep our backs against the wall and don't let anybody take it from us. We've been preached to all year that if the ball is in the air, it's our ball."
For Davis, Saturday's win was an appropriate ending to a trying season.
"It was extremely emotional," Davis said. "You've got to keep going regardless. It was pretty emotional. It's been a pretty rough season for us."
It was a season during which Kentucky dealt with COVID-19 and everything that goes with that, lost linebacker Chris Oats as he continues to deal with an ongoing medical issue, and dealt with the death of offensive line coach John Schlarman, who died during the season after a two-year battle with cancer. Stoops felt that winning this game was important to ease some of the emotional turmoil that the Cats have dealt with all year long.
"I think it's very important," Stoops said. "It's been well-documented the toll it's taken on all players across the country. And to see our players step up and want to (play in the bowl) and travel back and forth, during their break, after really being mentally exhausted and still laying it on the line, all the way to the fourth quarter, says a lot."
Rose knows that the Cats have a team filled with special players who have brought this program forward in significant ways over the last five seasons.
"It just shows that the guys that come here stick with the program," Rose said. "Five straight bowl games since I've been here. Throughout it all, this was a great win. I'm ecstatic, I can't put it into words."
While Rose may have no words to describe his postgame feelings, the two words that got the win for Kentucky on Saturday were rushing and defense, a formula that continues to work for Stoops and the Cats.