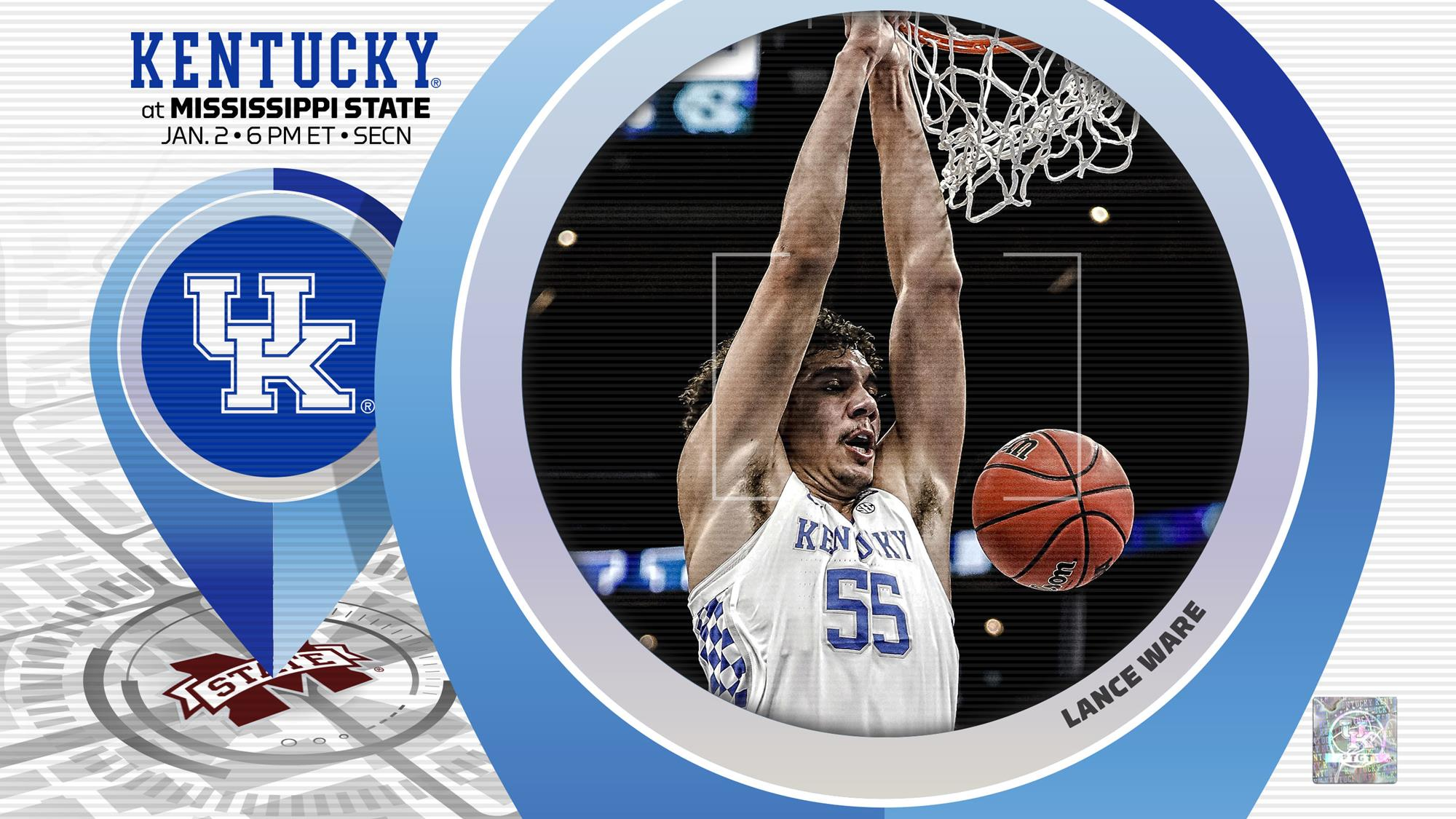 December 31, 2020 - 03:12 PM
Cats Looking for Fresh Start as SEC Play Begins
With the beginning of a new year and the onset of conference play, the time is right for a new start for the Kentucky basketball team. The Cats discussed that on Thursday as they previewed Saturday's SEC opener at Mississippi State (Sat., Jan. 2, 6 p.m. ET, SEC Network).
Assistant coach Joel Justus addressed the media and said that the coaching staff and the players are focused on a few items.
"We have daily conversations with all of our players," Justus said. "And I think that's a big thing that (UK head coach John Calipari) is on right now, our entire staff is on right now, is we're looking to build each one of our guys. That's important. Early in the season, whether you're undefeated or you're in a situation like we are right now, we're looking to build up each one of our guys every single day, every single rep."
How do the Cats go about doing that?
 
Kentucky at Mississippi State

Sat., Jan. 2 – 6 p.m. ET
Humphrey Coliseum
Starkville, Miss.
Game Notes: UK | MSU
UK Athletics App

Coverage

TV: SEC Network
Radio: UK Sports Network
Watch
Listen
Live Stats

UK
Stats
MSU
1-6
Record
6-3
0-0
Conference Record
1-0
64.9
PPG
74.1
66.6
Opp PPG
64.6
.414
FG%
.461
.411
Opp FG%
.395
39.1
RPG
40.9
.250
3PT FG%
.383
.275
Opp 3PT FG%
.343
10.7
APG
13.2
5.9
SPG
5.7
5.0
BPG
4.4

"You do that by executing," Justus said. "You do that by working on your motor, by working hard, by cutting hard, by passing the ball to your teammates the right way. And that's something that we're looking to give them that confidence."
Justus said that this is nothing new for a John Calipari-coached team.
"That's what he does this time of year," Justus said. "You're trying to build these guys up. You have to give them the mental picture."
That mental picture should give each of the Cats a better idea of what's expected of them as well as what the results will bring.
"I think our job is to provide a clear picture of what we want on the offensive end," Justus said. "We want to build each one of these guys up to have the confidence on the offensive end, to know where they're supposed to be, to have not only the mental picture of what they can do on the offensive end, but also have the confidence that they can go out and execute."
The Cats are focusing on the now with a brief look into the future.
"We are worried about ourselves. We are worried about getting better. We're worried about execution," Justus said. "We're worried about building each one of these guys mental picture of who they are and who we can become and that's a team that's going to play hard, that's a team that's going to compete on the defensive end and a team that's going to execute on the offensive end. When you do those things, you're going to give yourself a chance to win."
Mississippi State is 6-3 and 1-0 in the SEC after winning at Georgia on Wednesday night. While the Cats will pay plenty of attention to the Bulldogs, the Cats have more of an inner focus.
"I think for us we take it day by day right now," Justus said. "We're focused on ourselves."
Freshman forward Isaiah Jackson thinks now is a good time for the team to reset and re-focus on what they need to do.
"I mean, league starts Saturday, so I feel like that's a fresh start for us," Jackson said. "These are the games that truly honestly count, in my opinion, to build on to when we get into March Madness, winning the league and things like that."
The Cats are hoping that the start of a new year, as well as the beginning of conference play, can bring about positive changes as the season moves forward.
Calipari Set to Coach in 1,000th Career Game
Saturday's contest at Mississippi State will mark the 1,000th career game coached for John Calipari. He is 776-223 (.777) all-time with stops at Kentucky, Memphis and UMass. He's in his 12th season at Kentucky, the longest stop of what is now his 29th season as a college head coach.
Calipari remains the only coach in NCAA history with at least 189 victories at three different schools and is the second-winningest coach in school history. After Saturday's game — win or lose — only three Division I coaches will have more wins through their first 1,000 career games than Calipari.
Most Wins Through First 1,000 Games:
Adolph Rupp – 824
Roy Williams – 790
Jerry Tarkanian – 784 (only coached 989 games)
John Calipari – 776
Dean Smith – 776
S-E-C! S-E-C! S-E-C!
Kentucky is the Southeastern Conference's gold standard. Since the SEC's inception in 1932-33, the Wildcats are the most dominant team in the league, recording a 1,012-284 mark (.781) in regular-season conference play. Only two other teams have won more than 750 regular-season SEC games (Alabama and Tennessee), and no other team owns a better winning percentage.
• Kentucky has averaged 11.6 wins and only 3.3 losses per season in 87 seasons in the SEC
• UK has won 49 SEC regular-season titles and 31 SEC Tournament championships
• The Wildcats have won 16 of the last 28 SEC Tournaments (the 2020 one was not played due to the COVID-19 pandemic)
• Kentucky has captured at least a share of six of the last 11 SEC regular-season championships under John Calipari
• UK has played in the championship game of the SEC Tournament in eight of Calipari's 11 seasons, winning six times
• Kentucky won its 1,000th game in SEC regular-season action vs. Alabama on Jan. 11, 2020. Kansas has won 1,000 conference games when combining its records in the Big 6, Big 7, Big 8 and Big 12, but no other team in the country had won 1,000 or more regular-season league games in one conference alone
• Seven teams made the 2019 NCAA Tournament field, tied for the second most of any league in the country
• The SEC had two teams in the Elite Eight, one in the Final Four and went 12-7 in NCAA Tournament games in 2019
• The SEC has held its own in the annual Big 12/SEC Challenge. The conferences are 20-20 over the last four seasons in the yearly January showdown
• Twelve SEC schools ranked in the top 100 and six in the top 50 in the final 2020 NCAA Net Evaluation Tool rankings
A New Season
The Wildcats will try to put a difficult nonconference season behind them with the start of Southeastern Conference play. Outside of the historical domination outlined above, there are a couple of good omens heading into league play.
Kentucky's Saturday opponent, Mississippi State, has not beaten UK in the John Calipari era, the only team in the league that has yet to register a win vs. the Wildcats in the Calipari era. Kentucky is 14-0 vs. the Bulldogs under Calipari, and Calipari is 15-0 in his career vs. Mississippi State.
Additionally, UK is 9-2 in the opening game of the SEC season under Calipari and 8-3 under Calipari in the first SEC road game of the year. UK is 67-19 all-time in SEC openers.