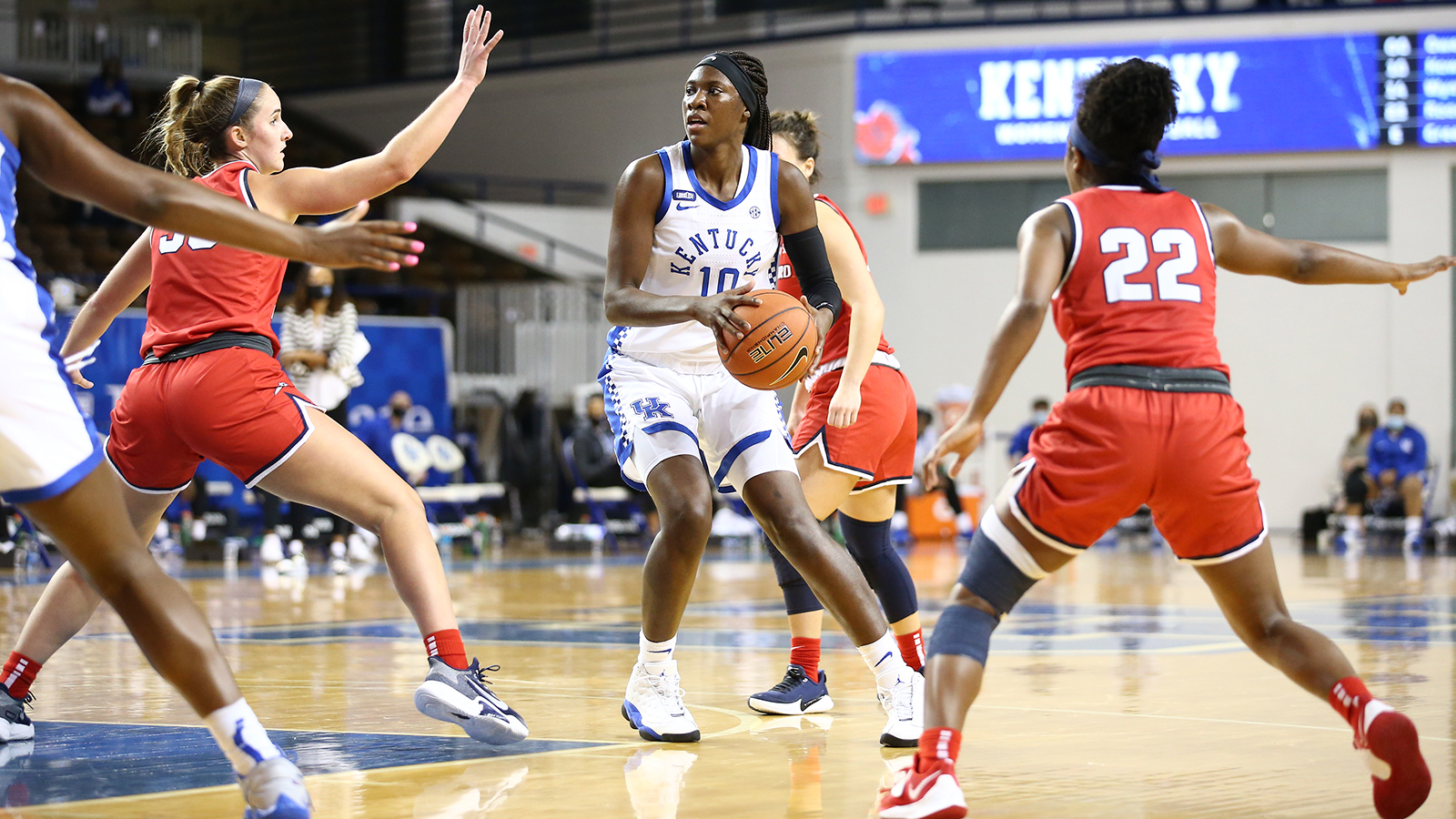 December 30, 2020 - 04:00 PM
Elzy, Cats Focused on No. 10 Arkansas
The 13th-ranked Kentucky women's basketball team opens Southeastern Conference play on Thursday, facing No. 10 Arkansas at Memorial Coliseum. It will be the first of four straight games against ranked teams to open conference play.
UK head coach Kyra Elzy knows that her team faces a serious challenge, starting with the Razorbacks on Thursday night, and that they can't look too far ahead.
"Every game in the SEC is a challenge," Elzy said. "We play in the best conference in the country. Night in and night out, it's going to be a grind. You have to focus on one game at a time. Our focus right now is on Arkansas. That is the most important game on our schedule right now because it's the next one."
Arkansas enters Thursday's game first in the SEC, and fifth in the country, in scoring, at 91.2 points per game. Four Razorbacks average double figures in scoring for a team that has won nine of its 10 games so far.
Elzy is impressed with the Razorbacks.
"Arkansas is a very talented team, very high-powered offensive team," Elzy said. "They shoot threes and layups. We're going to have our work cut out for us. We've really talked about our defensive energy, transition defense, trying not to give open threes."
The Razorbacks are led by Chelsea Dungee, who averages 18.9 points per game. Elzy knows how dangerous Dungee can be.
"She's a talented player, she's versatile. She can drive to the rim, she can shoot a mid-range jumper, can pull up and hit threes. You have to be able to guard her on all levels. Her ability to take over games is dangerous."
But Kentucky has its own star in Rhyne Howard, who is averaging 15.5 points per game this season. But it's the other things Howard does that impress her head coach.
"Rhyne Howard is still the best player in women's college basketball," Elzy said. "The things that make her that is she is so versatile. She can score on all three levels but then you look at the stat sheet and she might have 10 or 12 rebounds, she might have eight or 10 assists, eight or 10 steals. She can do anything on the court. You've got to look at her stat line across the board. We don't need her to score as much."
Elzy knows that when two talented teams meet, execution can be the difference.
"We've got to focus in. The end result is that we want to win," Elzy said. "However, there are steps we must take to get there. It starts with practice, preparation and then being able to execute in the game."
As for what her team must do on Thursday night, Elzy knows keeping up with Arkansas will be key.
"We're going to have to put points on the board as well," Elzy said. "We're going to have to push the tempo offensively, take great shots. Players are going to have to make plays."
It's the first of four straight against ranked teams, but Elzy and the Cats are taking it one game at a time.