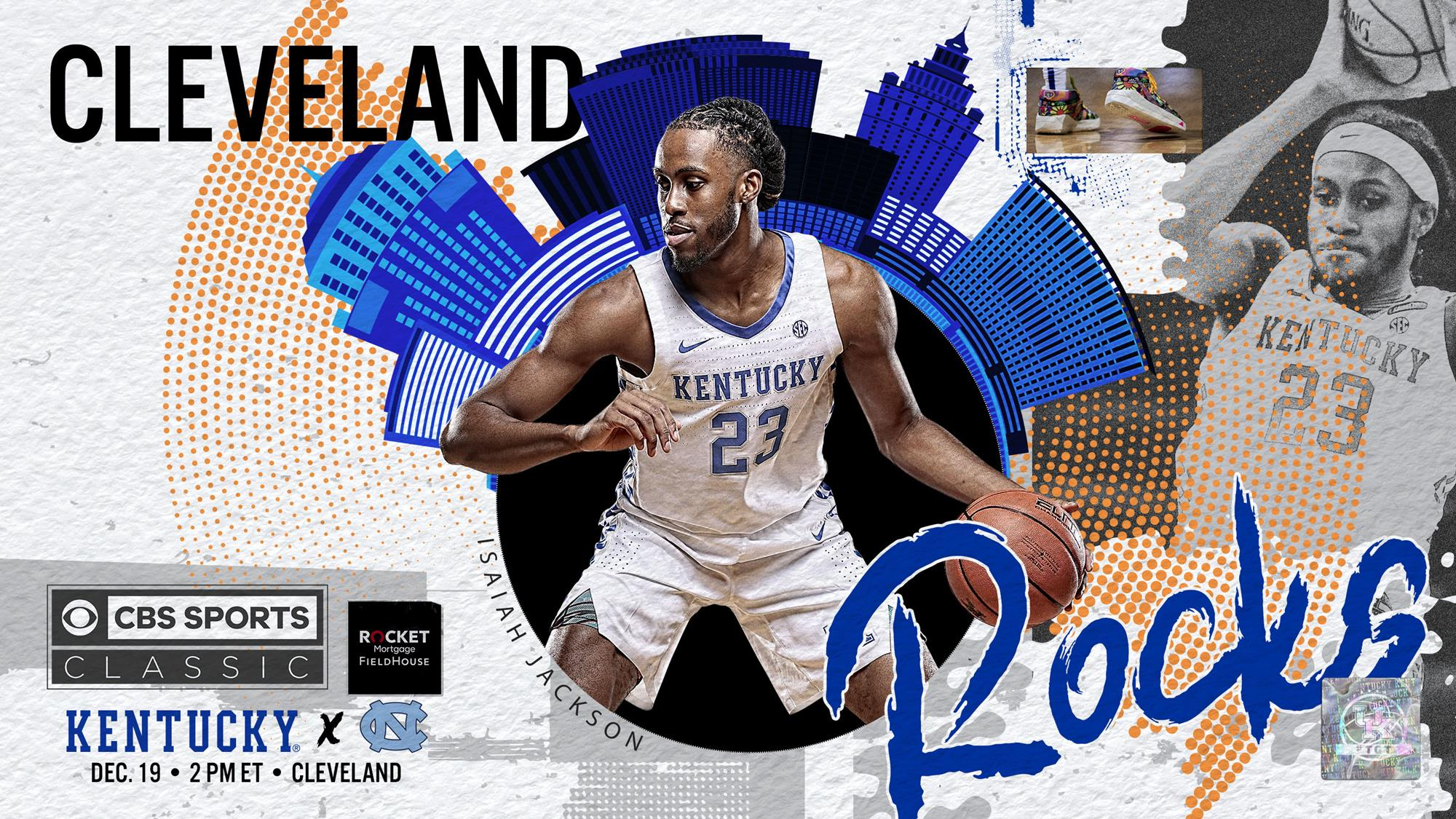 December 18, 2020 - 12:00 PM
New Opponent, Same Goals as Cats Face Tar Heels
Kentucky knew that it would be playing in the CBS Sports Classic on Saturday in Cleveland. The Cats were preparing for a matchup with UCLA until things changed on Wednesday.
Due to COVID-19 testing protocols, the Cats will now face North Carolina instead of UCLA. It was a quick about-face for head coach John Calipari and his team as they switched from preparing for the Bruins to prepping for the Tar Heels. That happened on Wednesday morning.
"That means we've got to watch tape and I don't want to start watching tape until you tell me it's done and every coach has agreed to do it," Calipari said. "I said we would, that it doesn't bother me, but we're all in the same boat. There's no–UCLA was probably preparing for us and now they're probably preparing for Ohio State and same vice versa. North Carolina wasn't preparing for us; they were preparing for Ohio State. So, we're all in the same boat."
Freshman guard Devin Askew thinks the Cats will be ready for the Tar Heels, despite the late schedule change.
"Coach prepares us for every game and he prepares us the right way," Askew said. "When we're preparing for games, it's not just everything for one team that week that we're preparing; it's throughout the whole season of who we're going to face. To be honest, it was just a slight change, and we're ready."
Kentucky vs. North Carolina

Sat., Dec. 19 – 2 p.m. ET
Rocket Mortgage FieldHouse
Cleveland, Ohio
Game Notes: UK | UNC
UK Athletics App

Coverage

TV: CBS
Radio: UK Sports Network
Watch
Listen
Live Stats

UK
Stats
UNC
1-4
Record
4-2
0-0
Conference Record
0-0
66.4
PPG
74.0
65.8
Opp PPG
67.2
.432
FG%
.435
.405
Opp FG%
.401
38.3
RPG
46.7
.244
3PT FG%
.270
.275
Opp 3PT FG%
.342
12.2
APG
12.5
5.8
SPG
6.5
5.2
BPG
5.2
Calipari knows that North Carolina presents a number of challenges for his team.
"This next game, now with Carolina, they're outrebounding their opponents by 18 rebounds a game and they've played a good schedule (vs.) Texas and Stanford and Iowa and UNLV," Calipari said. "The teams that they've played, they're outrebounding them by 18, and it's literally, you know, you're going to have to fight. You're going to have to go body-to-body.:
Calipari and the Cats have been working on eliminating turnovers during "Camp Cal", something that the head coach has seen progress in during practice.
"The thing that they hopefully understand is that you're trying to play efficient offensively," Calipari said. "You can't have 25 turnovers and win a college basketball game."
Freshman Terrence Clarke played point guard in the second half against Notre Dame and Calipari liked how the team looked with Clarke running the show.
"We're playing Terrence (Clarke) there. Devin (Askew) is the backup that way," Calipari said. "I like Devin and Davion (Mintz) and Terrence in together because I've done it before where you're playing three point guards at one time. I like having the ball in Terrence's hands. And like I said, we're going to see."
Askew hopes that the Cats are able to build off the team's better play in the second half against Notre Dame.
"That game gave us a lot of confidence and it shows how we can play with a lot of energy and fight," Askew said. "A lot of people say that we don't fight, but the second half, it just proves to us and ourselves. We don't have to really prove anything to anyone else. We have to prove to us that we can fight and that we can be the team that Kentucky usually is. It gave us a lot of energy after the game. Even though we lost, a lot of us were still up because it was like, wow, we can keep going off of this. This is who we are based off that second half."
The Cats have that opportunity, albeit against a different opponent than expected, on Saturday in Cleveland.
Wildcats Nearly Pull Off 24-Point Comeback; Last-Second Shot to Win Misses
Notre Dame made history Saturday — but Kentucky narrowly missed on history of its own.
The Irish's Nate Laszewski scored 21 points as Notre Dame put Kentucky into a historic first-half deficit, and then held on for its first-ever victory in Lexington, beating the Wildcats 64-63.
Notre Dame used a 19-0 run in the first half to open a 33-9 lead and were up 48-26 at the half. It was the largest halftime deficit in a home game in Kentucky's history.
"That may have been one of the most beautiful 20 minutes offensively that I have ever witnessed," Notre Dame head coach Mike Brey said. "And for me to say that, with the offensive lineups that I've had through the years, was unbelievable."
The Wildcats got back in it with a 16-0 run and trailed by one when Isaiah Jackson's block of a Laszewski's 3-pointer led to a shot-clock violation with 12 seconds left. Olivier Sarr missed an open 15-footer from the right wing with a second left and Devin Askew was too late flying in from the left for a putback.
"We fumbled the ball," Kentucky coach John Calipari said of the pass before Sarr's rushed shot. "If we didn't fumble the ball, we would have had the weak side rebound tip-in. So, we had a guy over there for a reason. It was either, you take it, you quickly get it to him, he's going to shoot it, one of you two shoot, we'll have weak side rebound."
Prentis Hubb added 18 points for Notre Dame (2-3), which gave up an eight-point halftime on lead on Tuesday in losing to No. 22 Ohio State by five points. The Irish also lost their season opener to No. 13 Michigan State by 10.
This time, Notre Dame sealed the deal.
"We were really happy that we managed to finish it out. (Kentucky) threw everything at us that they had, they are a really great team," Laszewski said. "But just being able to stay strong, stay together was really exciting for us."
Sarr led Kentucky (1-4) with 22 points and seven rebounds. Brandon Boston Jr., and Terrence Clarke added 14 points apiece.
Laszewski had 19 points in the first half when Notre Dame hit 6 of 11 3-pointers and shot 49%.
After Ryan's three-point play had the Irish on top 53-33, the Wildcats' pressure picked up. Davion Mintz made the first of two layups, Boston and Askew contributed 3-pointers, and Sarr scored six points, his jumper pulling Kentucky within 53-49 with 7:34 remaining.
"We picked up and pressed and we became the aggressor," Calipari said. "That's what happened. Do we have to play the whole game? Yeah, let's get in great shape and let's do it. We're not taking chances. But we're picking up and making them play. Getting into their legs a little bit. Maybe that's who we are."
Hubb scored seven points and Juwan Durham had a 3 as the Irish regained control to lead 62-53 with 2:15 to play but in 45 seconds, Clarke pulled Kentucky within one. Hubb and Sarr exchanged baskets, setting up the final sequence.
Sarr had 14 points in the second half while the Irish shot 28%, making just 1 of 10 from 3-point range and going 1 for 1 from the foul line while committing 12 turnovers.
• Kentucky is 1-4 for the first time since the 1984-85 team also opened 1-4. That team finished the season 18-13
• UK lost two in a row at home for the first time in the Calipari era
• Struggling with turnovers in the first four games, the Wildcats cut their miscues to a season-low of 11. However, Notre Dame capitalized with 22 points off turnovers
• Kentucky is 55-16 under Calipari following a loss
• This is just the second time in his 12-year run as UK's coach he has dropped three or more games in a row. UK also lost four straight during the 2017-18 season. That team went on to win the Southeastern Conference Tournament and made the Sweet 16
• UK was just 4 of 6 from the free-throw line. The four makes is tied for the second-fewest in a game under Calipari and the six attempts tied for the fewest under Calipari
• Kentucky held Notre Dame to 16 points in the second half, the fewest the Wildcats have given up in a half since holding Abilene Christian to 13 first-half points in the 2019 NCAA Tournament first-round game
Kentucky in the CBS Sports Classic
In an event that features four of college basketball's top programs, Kentucky and North Carolina will meet for the third time in the event's seven-year history.
The Wildcats will play North Carolina on Saturday in place of the originally scheduled matchup with UCLA. The game will remain at 2 p.m. at Rocket Mortgage FieldHouse in Cleveland with CBS still on the call. UCLA will flip with North Carolina and play Ohio State at approximately 4:15 p.m. The revised schedule was created Wednesday to align COVID-19 testing protocols more closely between the four programs and their respective conferences.
North Carolina leads all teams with a 4-2 record in the event. UK and Ohio State are 3-3 and UCLA is 2-4.
UNC is off to a 4-2 start and ranked nationally in both major polls (No. 22 in the Associated Press Top 25 and No. 21 in the USA Today Coaches Poll). The Tar Heels' two losses were to Iowa and Texas, who are both ranked in the top 15 of both major polls.
The Tar Heels return three starters from a season ago and welcomed in one of the top recruiting classes in the country. Senior forward Garrison Brooks leads UNC with a 11.8 scoring average and guards Caleb Love and RJ Davis have made immediate impacts as freshmen. Love and Davis are both averaging 11.2 points per game and lead the team in assists
Even on little preparation, all signs appear to be pointing towards another great game between Kentucky and the Tar Heels with the Wildcats desperate for a signature win.
Kentucky and North Carolina, two of the nation's most decorated programs, have put together some memorable performances in the series' history over the years. The Tar Heels have the edge in the wins with a 24-16 advantage overall, but Kentucky has won six of the last nine meetings since John Calipari took the reins as head coach, including some very memorable victories.
During Calipari's tenure, John Wall made a statement to college basketball that Kentucky was back behind 16 points and seven assists in a 68-66 win in 2009. Brandon Knight lifted UK to its first Final Four under Calipari's direction in the NCAA East Regional Finals with 22 points in 2011. An Anthony Davis swat with less than five seconds to play gave the Wildcats a one-point (73-72) win over the Tar Heels during the 2012 national championship season. The Cats "roared" for injured Alex Poythress who tore his ACL two days before the game in an 84-70 win during the 38-0 season in 2015. Malik Monk hit eight 3-pointers and scored a freshman-record 47 points in a trilling 103-100 win in Las Vegas in the first installment of the CBS Sports Classic. The two teams met later that season, in the 2017 South Regional finals, when Luke Maye hit a shot with seconds to spare to lift the Tar Heels to a 75-73. It propelled UNC to the 2017 national championship. In the team's last meeting — the second in the CBS Sports Classic– Ashton Hagans tied a program record with eight steals to lead the Wildcats to an 80-72 win in Chicago. 
We're holding each other accountable ???? pic.twitter.com/YL4ZYph0Ey

— Kentucky Basketball (@KentuckyMBB) December 18, 2020