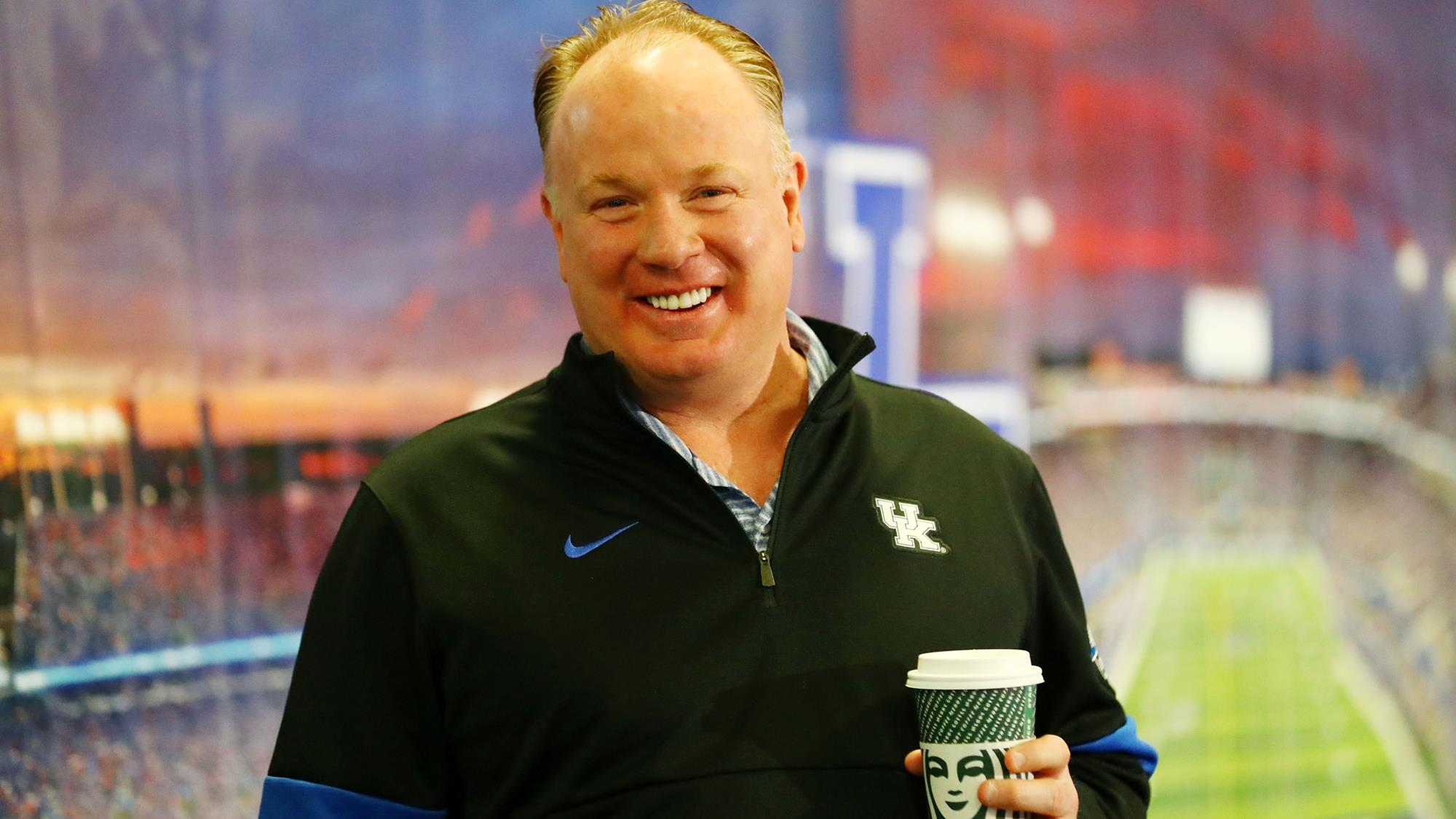 While Christmas won't be celebrated until next week, UK football head coach Mark Stoops and his staff got some early gifts on Wednesday. Stoops welcomed 18 signees to the UK program, a haul that includes a number of highly-rated prospects in addition to having a Bluegrass flair.
Seven of the signees on Wednesday hail from the state of Kentucky. Stoops and head recruiter Vince Marrow got signatures from some of the state's top prospects, which was an emphasis for the UK staff this year.
"Really pleased with this class. It's been hard for us doing a lot of things virtually but I feel like our staff worked extremely hard," Stoops said. "The big storyline for this class is the state of Kentucky. You talk about the seven young men that we signed from the state. You have to credit the high school coaches and the programs for that. We do work extremely hard to keep the best talent at home."
UK inked a pair of Lexington products, 6-4, 290-pound offensive lineman Jager Burton and 5-10, 170-pound wide receiver Dekel Crowdus, both from powerhouse Frederick Douglass High School. The pair, who are both four-star recruits, signed with the Cats after posting a 42-7 record in four years while playing first for former UK assistant Brian Landis, then for current head coach Nathan McPeek, at Douglass.
"Coach McPeek does a phenomenal job," Stoops said. "Really proud to add Jager Burton and Dekel. Those guys are difference makers. Jager runs and moves as well as any offensive lineman I've seen at this point. He has a strong work ethic. He's been wonderful to recruit. He's very humble, works extremely hard and unbelievably athletic."
Marrow also likes what Crowdus brings to the UK program.
"Dekel Crowdus is 4.3 (in the 40-yard dash) all day," Marrow said of Crowdus' speed. "He has a 46-inch vertical."
A pair of North Hardin teammates also committed to the Cats on Wednesday. Jordan Lovett, a 6-2, 195-pound defensive back and 5-11, 202-pound running back La'Vell Wright both signed with Kentucky. Both players are three-star recruits from one of Kentucky's best 6A programs.
"We're very proud we're going to have three North Hardin players on our team," Stoops said of the two recruits along with Octavious Oxendine, who was on the team this season. "Jordan Lovett (is a) big-time defensive back with great length."
Marrow quickly grew to love Wright after seeing him play in person.
"La'Vell Wright is one of the greatest young men I have met," Marrow said. "He's a leader. I was so happy to see him on that stage. I watched La'Vell, very tough, catch it out of the backfield and will get those tough yards."
Brothers Jordan and Justice Dingle, from Bowling Green, also signed with UK Wednesday. Jordan is a 6-4, 240-pound tight end who is a four-star prospect and one of the highest rated players in Kentucky in this class. Justice is a 6-3, 280-pound outside linebacker who is transferring to UK after playing two seasons at Georgia Tech.
Marrow made Jordan Dingle a top priority in this year's class.
"Dingle, the reason why we got Dingle, he saw the way we throw the ball to the tight ends," Marrow said. "I'm very excited to have him. Very excited."
Quarterback Kaiya Sheron, a 6-3, 200-pound pro-style signal caller from Somerset (Ky.) High School also signed on Wednesday. Sheron is a three-star prospect who brings outstanding athleticism to the UK program.
"Kaiya, he's an athlete," Marrow said. "We watched him in that (2019) state championship game and that was my first time seeing him and I fell in love with him. He's athletic."
Stoops said it was important to be able to recruit close to home this year because of the restrictions placed on recruiting due to COVID-19.
"This year, it was extremely important," Stoops said. "We couldn't get out and about like we usually would. It was extremely important to get the best players to stay home."
But UK also stepped outside the borders of the state to bring future contributors into the program.
 
Christian Lewis, a 6-4, 190-pound wide receiver from Pleasant Grove, Alabama, is one of the biggest catches in the 2021 class. A four-star recruit, Lewis picked UK over Texas A&M, Notre Dame and Ole Miss.
Chauncey Magwood, a three-star wide receiver from Leesburg, Georgia, and Devonte Ross, another three-star receiver who hails from Cartersville, Georgia, join Lewis as three players who could contribute right away.
"Christian and Chauncey are difference-makers," Stoops said. "To sign two impact receivers with us struggling to throw the ball a year ago says a lot about (assistant coach) Jon (Sumrall)."
Marrow agreed.
"Christian Lewis and Magwood and Ross, I think we got three playmakers," Marrow said. "They're going to fit right into our new system."
Stoops indicated that there could be additions to the class, although he's not allowed to mention specifics. But for now, he's happy with the gifts he received early this holiday season.
"Top to bottom, really good class. Great young men," Stoops said. "They're going to help us continue to build this program."