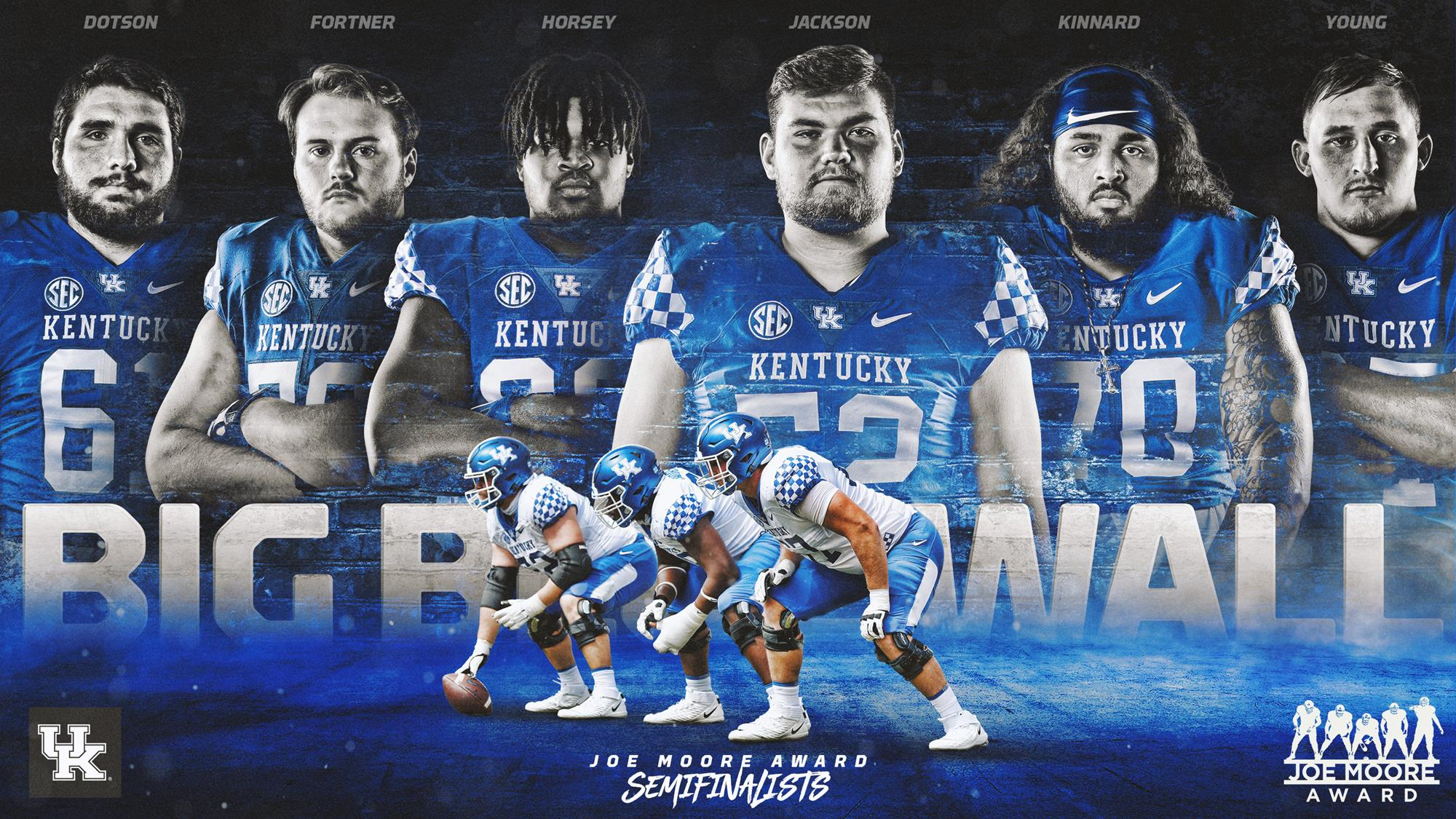 The Kentucky offensive line is one of 11 units named semifinalists for the Joe Moore Award, recognizing the Most Outstanding Offensive Line Unit in college football, it was announced Monday by The Foundation for Teamwork.
 
The 11 semifinalists include (in alphabetical order): No. 1 Alabama, No. 23 Buffalo, No. 14 BYU, No. 9 Coastal Carolina, No. 18 Iowa, No. 8 Iowa State, Kentucky, No. 17 Louisiana, No. 2 Notre Dame, No. 3 Ohio State, and No. 5 Texas A&M.
 
This is the second consecutive season that the Kentucky offensive line, known as the "Big Blue Wall," has been named semifinalists, the third time since 2016.
 
The Wildcats are fifth in the Southeastern Conference in rushing at 187.7 yards per game and Kentucky's offensive line has paved the way for top rusher, Christopher Rodriguez Jr., to average 6.9 yards per carry which leads the SEC and ranks 12th nationally. Playing in just eight games, he has totaled 701 rushing yards and a team-high nine touchdowns.
 
UK has three players with more than 1,000 career rushing yards (Rodriguez, A.J. Rose and Terry Wilson), with a fourth player nearing that landmark (Kavosiey Smoke). UK also had three 100-yard rushers (Rodriguez, Rose and Wilson) in a single game (vs. Ole Miss) for the first time in school history.
 
All totaled, the Wildcats have 139 combined starts on the offensive line. Seniors Drake Jackson and Landon Young and junior Darian Kinnard have started in a combined 91 consecutive games.
 
What the committee is saying: "What makes the play of Kentucky's offensive line even more impressive this season is how they have handled the sickness and then passing of their beloved offensive line coach John Schlarman. After a two-year battle with cancer, Schlarman passed away on Nov. 12, 2020. Despite battling extensive treatments, he rarely missed a game or practice, serving as an example to "finish." When asked why he never wanted to miss he simply stated, "for the team." He coached his final game in UK's upset over Tennessee on Oct. 17, 2020. The former Wildcat and All-SEC lineman returned to his alma mater to join Mark Stoops' staff in 2013, slowly building the "Big Blue Wall' that would become his legacy. His offensive lines were semifinalists for the Joe Moore Award in 2016 and 2019."
 
The Joe Moore Award finalists will be named on Monday, December 21. The eventual winner will be recognized in the ensuing weeks during a surprise, on campus visit to the winning unit's school (TBD as per the winning school's schedule).
The Joe Moore Award is named after Joe Moore, widely regarded as one of the best offensive line coaches in college football history, most notably for his work at Notre Dame and the University of Pittsburgh. Coach Moore sent 52 players on to the NFL, including Bill Fralic, Mark May, Russ Grimm, Jimbo Covert and others. The Joe Moore Award trophy, crafted by legendary sports sculptor Jerry McKenna, is the largest trophy in college football, standing at a height of 6 feet and weighing in at 800 pounds. The perpetual trophy is made available for display by the winning university until the conclusion of the following college football season.