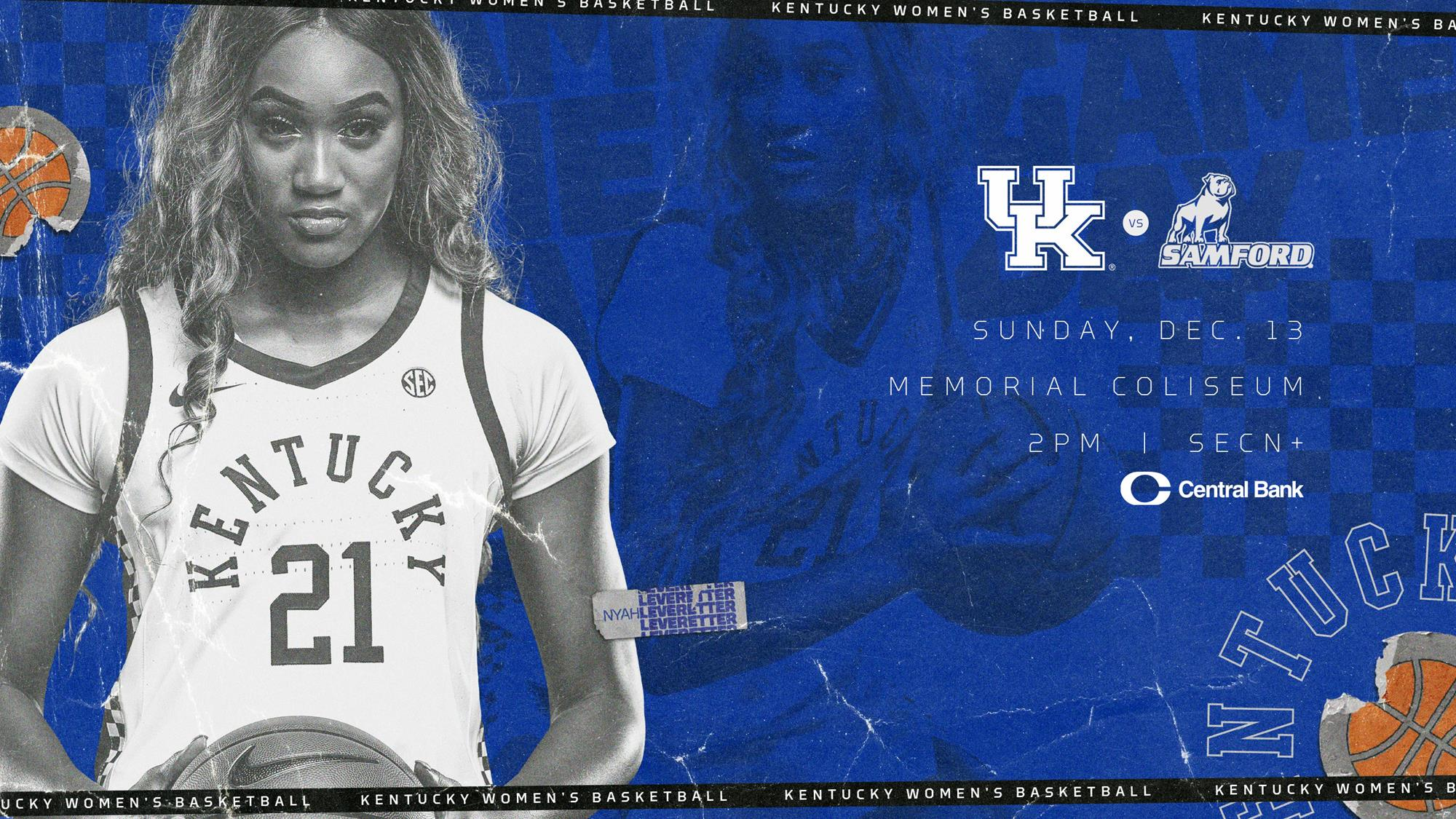 December 12, 2020 - 09:35 AM
No. 9 Kentucky Welcomes Samford Sunday in Memorial Coliseum
LEXINGTON, Ky. – The No. 9 University of Kentucky women's basketball team will conclude a three-game home stretch Sunday as it plays host to Samford for a 2 p.m. ET tip inside Memorial Coliseum.
 
With attendance limited to 15% of normal arena capacity, the majority of tickets have been sold as full-season packages for women's basketball and UK does not expect any general public ticket sales at this time. Fans are encouraged to check Ticketmaster.com for any ticket allotments that are returned and released closer to game days, as well as for verified resale tickets.
 
The game vs. Samford will be streamed on SEC Network+ with Jeff Piecoro and Christi Thomas on the call. The action can also be seen through WatchESPN on computers, smartphones or tablets. Darren Headrick will have the call on the UK Sports Network on 630AM WLAP in Lexington. Live stats and free live audio will be available online at UKathletics.com.
 
Kentucky (5-0) continued its unblemished start to the season Wednesday with a 79-45 victory over Marshall inside Memorial Coliseum. UK shot a season-best 54.1 percent from the field, hitting seven 3s. The Wildcats were paced by junior Blair Green who scored a career-high 17 points, going 8-of-13 from the field with a 3. Junior guard Rhyne Howard scored 13 points in the game, adding five rebounds and hitting three 3s. Sophomore Dre'una Edwards scored 13 points with eight rebounds, while sophomore Olivia Owens scored 10 points with five rebounds.
 
Three Wildcats are averaging over 13 points this season, paced by Edwards at 14.4 points per game with 9.2 rebounds per game. Howard is averaging 14.3 points per game while Patterson is averaging 13.6 points per game with a team-high 15 steals and 14 assists.
 
Samford earned its first win of the season Friday when it took down North Alabama 79-66 at home. The Bulldogs were impressive in the win hitting 47.6 percent from the field, including eight 3s. Samford had 18 assists and scored 33 points off 28 North Alabama turnovers. Four Bulldogs scored in double figures paced by Andrea Cournoyer who had 19 points.
 
The Bulldogs started the season with four losses, falling at Alabama 83-66, at Auburn 66-64, at Indiana 71-26 and vs. UT Martin 75-67. As a team, Samford is averaging 60.8 points per game while opponents are scoring 72.2 points per game. The Bulldogs are hitting 42 percent from the field and 36.7 percent from 3, while opponents are hitting 46.3 percent from the field. Teams are outrebounding Samford by five boards per game while SU is averaging 19.6 turnovers per game. Cournoyer is the team's leading scorer averaging 18.5 points per game while Shauntai Battle is averaging 15.0 points per game. Annie Ramil is leading the team with 7.8 rebounds per game while Natalie Armstrong is averaging 13.5 points per game.
 
Sunday's game will be the fourth all-time meeting between Kentucky and Samford in women's basketball. The Wildcats hold a 3-0 record in the series with all three games being played in Memorial Coliseum in Lexington. The first ever meeting was on Dec. 21, 2011 when UK won 90-61. The two teams also met on Nov. 27, 2016 with UK earning a 82-57 win. The last meeting was Dec. 8, 2019 when UK earned a 79-49 win. In the meeting last season, UK shot 52.6 percent from the field and went 11-of-23 from 3. Howard paced UK with 30 points, going 11-of-19 from the field and 5-of-8 from 3 with six rebounds, three assists and three steals. KeKe McKinney scored seven points, while Green scored nine points and Emma King hit a 3-pointer. Samford shot 37 percent from the field and went 7-of-19 from 3. Battle led the Bulldogs with nine points, going 3-of-3 from long range with three assists and Armstrong scored six points with two rebounds.
 
Kentucky owns a 17-1 all-time record against teams that make up the current alignment of Southern Conference.
 
For more information on the Kentucky women's basketball team, visit UKathletics.com or follow @KentuckyWBB on Twitter, Instagram and Facebook.