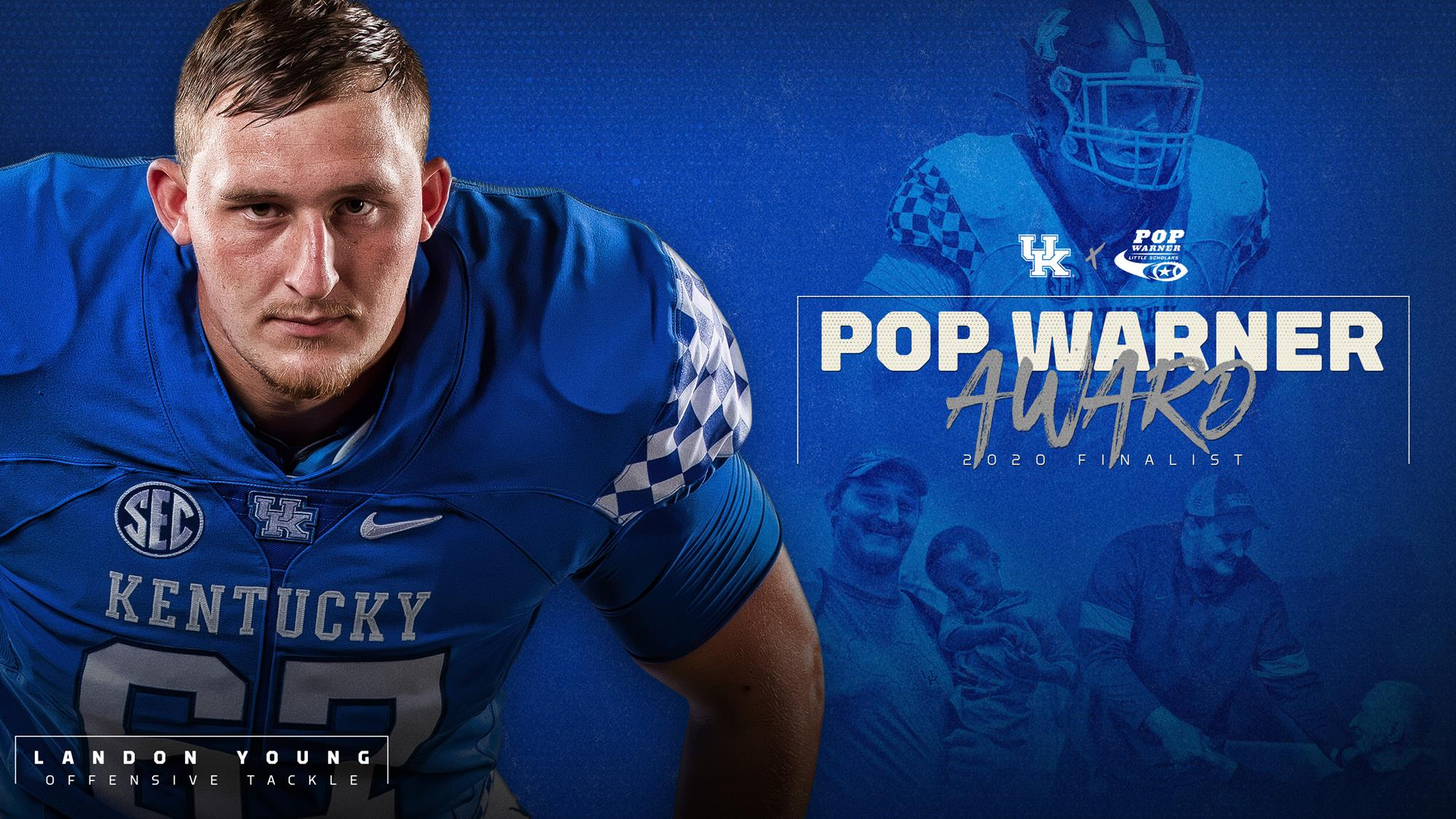 University of Kentucky senior offensive tackle Landon Young is one of six finalists for the 11th Annual Pop Warner College Football Award, it was announced today by Pop Warner Little Scholars, the nation's old football organization. The award was established in 2010 to recognize a graduating senior who has made a difference on the field, in the classroom and in his community, and serves as a role model to Pop Warner's young student athletes.
 
The 2020 finalists are:
 
Baylor University Linebacker Terrel Bernard  
University of Utah Linebacker Devin Lloyd
Stanford University Safety Malik Antoine
University of Alabama Miller Forristall
University of Kentucky Tackle Landon Young
University of Notre Dame Quarterback Ian Book
 
Young, a native of Lexington, Kentucky, is a perfect fit for this award as he excels in all three categories: on the field, in the classroom and in the community.
 
On the field, he has appeared in 47 career games, with 25 starts, including 23 in a row at left tackle. He was named Southeastern Conference Offensive Lineman of the Week twice this season (Oct. 19 and Nov. 16) and after 10 games, graded at 89 percent, did not miss an assignment, and led the "Big Blue Wall" in knockdown blocks with 56.
 
He's been recognized several times in his Wildcat career for his work in the community, serving as a two-time nominee for the Wuerffel Trophy, given to the nation's top community servant. In addition, he also earned spots on the Allstate AFCA Good Works Team (voted team captain in a fan poll) and the SEC Community Service Team.
 
In the classroom, Young graduated in December of 2019 with a degree in animal sciences and is currently working on a second degree in agricultural economics. He is a two-time member of the SEC Academic Honor Roll.
 
Here are a few of his community service projects:
Frequent visitor of a local nursing and rehabilitation center, Cambridge Place, providing joy to the residents … Because of his dedication to Cambridge Place, they honored him in February of 2020 by naming the dining hall the "Landon Young Dining Hall"
Guest speaker at local churches and elementary schools on seven different occasions, talking about life lessons, fighting through adversities, faith and football
Volunteered at Habitat for Humanity
Helped decorate Lexington's Hope Center – a recovery program for women, with Christmas decorations
Volunteered with Lexington Christian Church to do yard work for members not physically able to take care of their yard
As an animal science major, has volunteered his time at a veterinary clinic in Cynthiana, Kentucky
Participated in a one-week service trip to the Ethiopia in May of 2019 where he helped delivered  essential nutrition, supplies, hope and love to families living in Korah, a slum made up of all the trash accumulated in Addis Ababa … Visited an orphanage with approximately 80 children and took teenagers from Korah to play arcade games and see the Avengers movie (the teens had never been out of their village, been in a movie theatre or even seen a movie) … Paired with a feeding program that supplies meals to government schools in Cherkos, a poorer region in Addis Ababa (the program began as a result of kids fainting and lack of focus in the classroom due to malnutrition at home, often missing breakfast in the morning and at night only leaving them with one meal per day) … Helped served meals to the kids during lunch and played in the schoolyard during recess.
 
The Pop Warner Little Scholars National College Football Award will be announced Friday, Dec. 18. Last year's winner was former USC and current Indianapolis Colt wide receiver Michael Pittman, Jr.
 
Previous recipients have included Prince Amukamara (Nebraska), Chase Minnifield (Virginia), Sean Renfree (Duke), Gary Bush (Purdue), Jordan Richards (Stanford), Brandon Chubb (Wake Forest), Evan Engram (Mississippi), Braxton Berrios (Miami), C.J. Conrad (Kentucky) and Pittman.