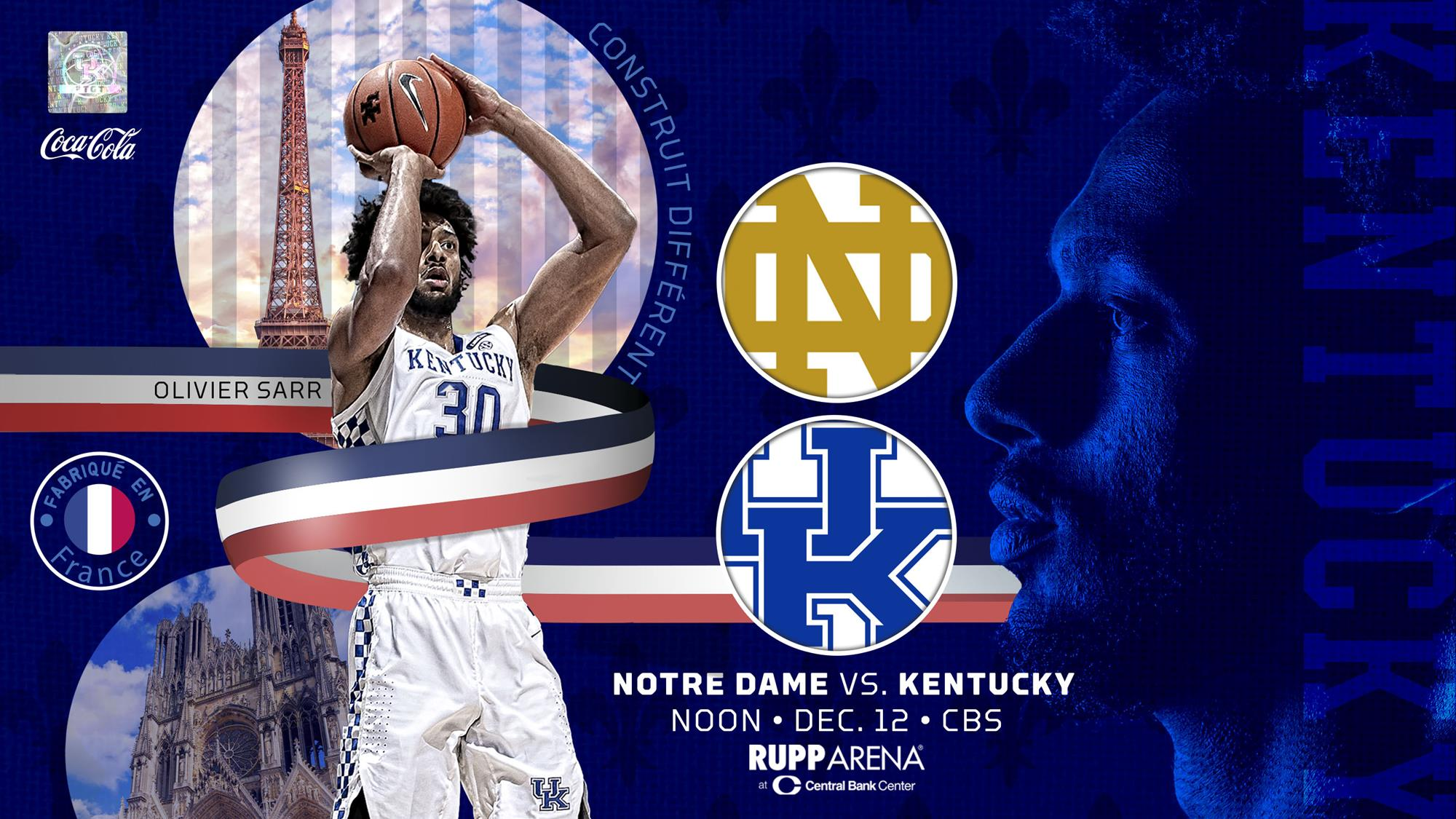 December 11, 2020 - 01:31 PM
Cats Hope Week of 'Camp Cal' Will Produce New Results
When we last saw Kentucky on the basketball court, the Cats were suffering through a double-digit loss to Georgia Tech. UK turned in its worst performance of the young season and fell to 1-3 in the process.
Since then, UK head coach John Calipari has started his annual "Camp Cal", where his team has multiple practices each day in order to focus on the thing, or things, that ail them. At the beginning of the week, Calipari said that the team would take this opportunity to work on two things – turnovers and toughness.
So after a week of "Camp Cal", the Cats are ready to return to the court on Saturday, facing Notre Dame for a noon ET tip inside Rupp Arena. What does Calipari want to see from his team in Saturday's game?
"My hope is that people watch this game and say, I see what he's trying to do, it looks different," Calipari said. "If it doesn't look different, we gotta go next week and stay in camp. I just want it to look different. If it looks different, we've set the stage of where we're going."
 
Kentucky vs. Notre Dame

Sat., Dec. 12 – 12 p.m. ET
Rupp Arena at Central Bank Center
Lexington, Ky.
Game Notes: UK | ND
UK Athletics App

Coverage

TV: CBS
Radio: UK Sports Network
Watch
Listen
Live Stats

UK
Stats
ND
1-3
Record
1-2
0-0
Conference Record
0-0
69.0
PPG
96.5
67.3
Opp PPG
77.7
.430
FG%
.440
.398
Opp FG%
.424
40.5
RPG
37.7
.258
3PT FG%
.441
.261
Opp 3PT FG%
.356
11.8
APG
15.7
5.8
SPG
4.3
5.5
BPG
3.7

Calipari knows that the change will not be easy, especially considering the daunting schedule that Kentucky is facing.
"Change is hard, especially when you're playing the top-tier teams. It's hard," Calipari said. "A lot of times, the young players don't believe you. What got you here isn't going to get you to where you're trying to go. Developing professional habits. Playing winning basketball. Learning to compete and fight on every possession."
Kentucky has been plagued by turnovers so far this season. The Cats are averaging more than 18 turnovers per game so far this year. In two out of four games, UK has committed more than 20 turnovers (21 each against Richmond and Georgia Tech).
What's the cause of the turnovers? Calipari has the two-part diagnosis.
"There's two things. Everybody's trying to make the hardest plays," Calipari said. "I call them hero's plays because it means more to them because that's how they've played their whole life. Now, it's about the easiest play."
And the other thing?
"The second thing, when you don't have the ball, do you make it easier for your teammate to find you?," Calipari said. "Do you get open? Do you get open with timing? That's all toughness. Do you play with a high motor? Like a sense of urgency. That's toughness. If you don't, you have no toughness."
The UK players know that the turnovers situation must be rectified.
"I feel like that's part of the reason why we're losing so many games because we have so many turnovers," freshman Brandon Boston Jr. said. "Coach has preached to us that you've got to make the easy plays and not try to be the guy that makes the neat play. Just slow down when you get the ball."
Olivier Sarr agrees with his teammate.
"I think it's something that we talk about at practice all of the time is making the easy play," Sarr said. "Not trying to make the best play or the hero play, just taking care of the ball and making sure that we get through our offense."
Calipari and the Cats are hoping that a week of "Camp Cal" will culminate with a different look in Saturday's contest, and that the different look can produce a different result.
Wildcats Drop Third Straight Game, Lose to Georgia Tech
Moses Wright scored 21 points and Georgia Tech recovered from a poor start to the season to beat No. 20/9 Kentucky 79-62 on Sunday, giving the Wildcats their third straight loss.
After opening the season with a win over Morehead State, the Wildcats (1-3) lost to Richmond and Kansas before seeing their losing streak stretched to three games.
"There's a lot of stuff we're working on and losing games makes it harder," Calipari said. Calipari said if his young squad, loaded with freshmen, "play bad and do stuff and win a game, they're, 'OK we can do this.' But we don't have any wins."
Freshman Terrence Clarke had 22 points for Kentucky. Brandon Boston Jr., who had 11 points, was the Wildcats' only other scorer in double figures.
Two of the Wildcats' three losses were by double figures.
"I mean everybody is knocking us around right now," Calipari said.
Georgia Tech (1-2) rebounded with a strong performance following losses to state rivals Georgia State and Mercer. The Yellow Jackets won with defense, with 15 steals leading to an overwhelming 33-4 advantage in points off turnovers. Georgia Tech also outscored the Wildcats 36-20 in the paint.
Led by Wright, a 6-foot-9 junior, the Yellow Jackets took advantage of their edge in experience to beat a young Kentucky team. Calipari started four freshmen. The Wildcats lost eight of their top nine scorers from last season. Keion Brooks Jr., the only returning scholarship player, has missed the first four games with an injury.
Kentucky led 22-20 before Georgia Tech took the lead with a 13-0 run. Wright had a reverse layup and free throw for a three-point play during the run. Wright caught a pass from Michael DeVoe before briefly losing control under the basket before making the reverse shot over his head off the backboard.
Bubba Parham and Khalid Moore made 3-pointers in the run that gave the Yellow Jackets their biggest lead of the half at 32-22.
A floater by Isaiah Jackson cut it to 45-42 early in the second half. The Yellow Jackets answered with an 11-0 run, including back-to-back baskets by Parham, to push the lead back to double figures.
Kyle Sturdivant had 15 points for Georgia Tech.
• The three straight losses mark just the second time in Calipari's 12-year Kentucky tenure that UK has dropped three or more games in a row. The 2017-18 team lost four straight late in the season and rebounded to win the Southeastern Conference Tournament and make the Sweet 16. UK fell to 55-15 under Calipari following a loss
• It was Calipari's first loss to a former assistant coach. He was 17-0. Josh Pastner, Georgia Tech's head coach, was an assistant under Calipari during the 2008-09 season at Memphis
• Kentucky is 1-3 for the first time since the 2000-01 season. That team went on to finish the season ranked in the top 10 of both major polls, shared the regular-season SEC championship and won the league tournament
• Despite Kentucky's rich history in Atlanta, it was UK's third straight loss in Atlanta
• UK turned the ball over 21 times and has posted 15 or more turnovers in all four games this season
• Despite the 3-point struggles this season, the Wildcats made a season-high 8 of 20 from behind the arc
• Kentucky dished out 16 assists, two off a season high
• Fueled by 19 fast-break points, Georgia Tech shot 51.7% from the floor, the first time UK has allowed an opponent to shoot better than 50% this season
• Clarke's 22 points are the most by a Wildcat this season
Putting the Start in Perspective
Nobody inside the Kentucky program wants to be 1-3. As John Calipari warned before the Georgia Tech game with a team that is currently playing without a single scholarship player who played a season ago, it isn't a guarantee that things are suddenly going to get better purely out of desire.
"Sometimes you've got to hit rock bottom," Calipari said after the Kansas loss. "I'm not saying we've done it yet. You may ask me after the next game, 'Is that rock bottom?' And then after the next game, 'Is that rock bottom?' I have no idea."
Out of context, those words may have worried Big Blue Nation, especially after Calipari previously warned about having "two feet on the panic button." But proper context is needed.
Under Calipari, Kentucky has been here before — and bounced back in spectacular fashion.
Just last year in the early part of the season, UK lost to Evansville, which went on to finish just 9-23, and lost back-to-back games to Utah and Ohio State to fall to 8-3 and entered the rivalry game with Louisville with what then felt like must-win territory. All the Wildcats did after a couple of weeks of "Camp Cal" (see next section) was win 17 of their next 20 games to close the season and win the Southeastern Conference regular-season title by three games.
In 2017-18, the Wildcats lost four straight games — longer than this current losing streak — in February and came back to win the SEC Tournament a month later and advance to the Sweet 16.
In 2013-14, UK dropped three of four games to close the regular season until a pre-postseason "tweak" by Calipari propelled the Wildcats all the way to the national championship game.
And in 2010-11, Kentucky lost seven of its first nine road games. That team went through the growing pains and ended up winning the SEC Tournament and advanced to the Final Four.
In other words, Calipari teams have been here and done this before. Is the 1-3 start jarring when one looks at it historically from a program perspective? Would UK rather be 4-0, 3-1 or even 2-2? Sure. It's the first time a Kentucky team is below .500 through the first four games since the 2000-01 season and only the third time a UK team has been ranked in the Associated Press Top 25 and lost to two nonconference opponents by double digits while ranked. But even those teams give proof that early bumps in the road don't have to be season-ending potholes.
The 2000-01 team went on to tie for the regular-season SEC championship, won the SEC Tournament and finished the season in the top 10 of both major polls. The 2002-03 team, one of the previous two times an AP Top 25 ranked Kentucky team lost to two unranked foes by double digits, finished 32-4, won both the SEC regular-season and tournament titles, and made it to the Elite Eight. The other team was in 1949-50, and that group finished No. 3 in the polls, won both the SEC regular-season and tournament crowns, and went 25-5.
Given all that history, not to mention the extraordinary youth and inexperience — although not unprecedented at Kentucky — and the missing piece of Keion Brooks Jr., it's entirely too early to write this Kentucky team off.
Camp Cal Begins
Off to the slowest start in two decades, the questions for Kentucky, Big Blue Nation and John Calipari have moved to: How do we fix it? How do we get back to winning basketball?
The good news is there is a prime opportunity to get in the gym and focus on solutions with Camp Cal now in session.
With players out of school for the winter break — which has been lengthened by a modified university fall and spring class schedule due to the COVID-19 pandemic — the Wildcats will be exclusively focused on basketball for nearly two months. UK will often practice two times a day in addition to a workout session with strength and conditioning coach Rob Harris. 
In a normal year where there isn't a pandemic, Calipari has the players over to his house to eat and rest in between practices and the team goes out to eat together almost every night. That won't be possible this season due to COVID-19 safety protocols, but the team will still basically eat, sleep and drink basketball during this time of the season. This period is often when Calipari's teams improve the most.
The proof is in the numbers. As successful as Calipari's teams have been in the nonconference portion of their schedule, it's the conference season where his teams really take off. UK has won six regular-season Southeastern Conference titles in the previous 11 seasons and another six SEC Tournament championships under Calipari.
The first day of spring classes — and, in essence, the end of Camp Cal — is Jan. 25.