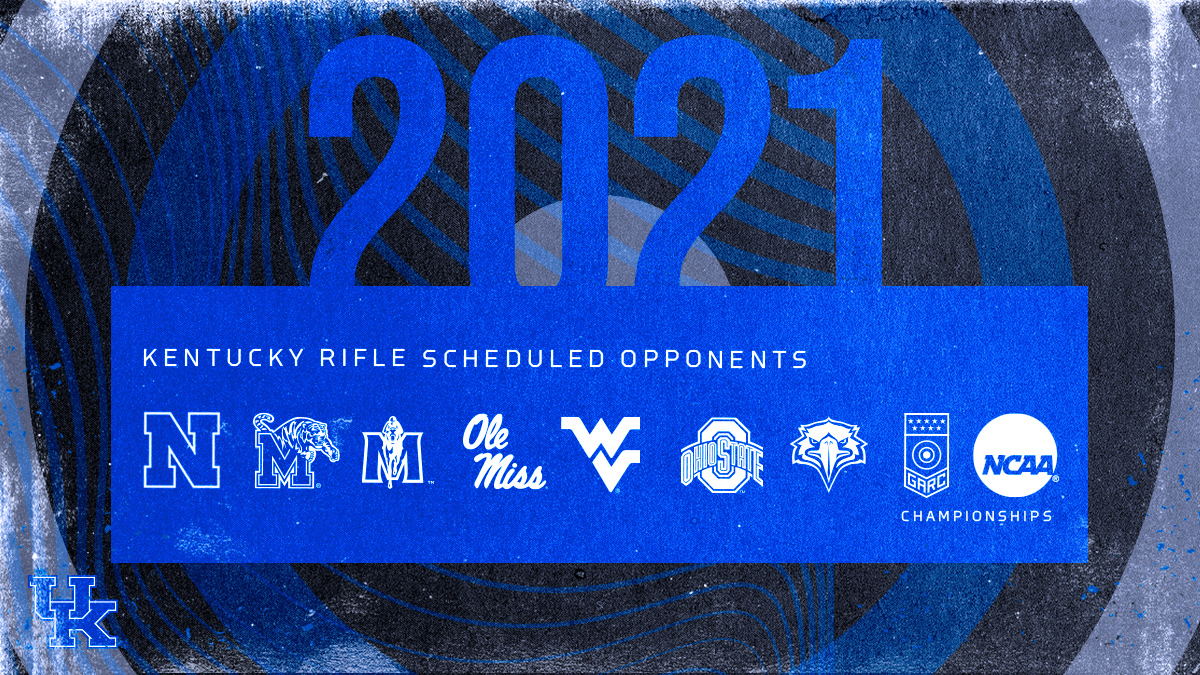 LEXINGTON, Ky. – After an impressive fall season that saw the Kentucky rifle team post a new school-record team score en route to an unblemished fall record, head coach Harry Mullins has announced the scheduled opponents the Wildcats will face in 2021.
 
"We are excited to announce our scheduled opponents for the final few months of the season," Mullins said. "I know everyone will understand that dates are going to change as we all navigate COVID-19 protocols and testing logistics. Right now, we are just focusing on our team and getting better. The opponent each week is not as significant in rifle as it is other sports. Our main focus every day has to be on getting Kentucky better and then we will see where we are at the end of the season. I am excited about this team and how we finished up the fall. I think their best shooting is ahead and I know when they get back to campus after the holidays, they are going to be ready to go."
 
The Wildcats are scheduled to compete this winter against Nebraska, Memphis, Murray State, Ole Miss, West Virginia, Ohio State and Morehead State. UK also plans to host a NCAA Qualifier and compete in the Great America Rifle Conference Championships. The GARC Championships will be Feb. 26-27 in West Point, New York, while the NCAA Championships are scheduled March 12-13 in Columbus, Ohio.
 
In the fall, Kentucky competed in both in-person and virtual matches and had success in both formats. The Wildcats had three in-person matches, hosting NC State in a dual match before the Kentucky Long Rifle Match vs. Murray State and Morehead State. UK also traveled to Murray State for a dual match with the Racers.
 
In its three in-person matches, UK averaged 2348.67 in smallbore and 2372.67 in air rifle for an aggregate of 4721.33. Kentucky's best score was a school-record 4735 at Murray State. UK scored a 4709 against NC State and a 4720 in the Kentucky Long Rifle Match.
 
Individually, sophomore Mary Tucker and junior Will Shaner led Kentucky in both disciplines. Tucker and Shaner each scored a 595 in smallbore during the in-person matches, which is the highest score in the nation this season. In air rifle, Tucker scored a perfect 600 during the Kentucky Long Rifle Match and has two other 599s to her name. Shaner's season high was a 598 in air rifle becoming one of four shooters in the nation to score that score or better in an in-person match this fall.
 
Overall, Tucker averaged a 592.333 in smallbore and 599.333 in air rifle for an aggregate of 1191.666. Shaner was just behind her with a 591.667 in smallbore and 595.667 in air rifle for an aggregate of 1187.334. Junior Richard Clark is averaging a 582 in smallbore and 587.667 in air rifle, while senior Hailee Sigmon is posting a 581.667 in smallbore and 582.5 in air rifle. Sophomores Jaden Thompson and Emmie Sellers had good fall seasons with Thompson averaging 589 in air rifle while Sellers posted a 578 average in smallbore. Juniors Mitchell Nelson and Mason Joachim performed well with Nelson averaging a 585.5 in air rifle and Joachim a 578.333 in air rifle. Sophomore Mason Hamilton averaged a 578.667 in air rifle.
 
Kentucky is scheduled to begin the final leg of its 2020-21 season in early January. Fans are encouraged to check out UKathletics.com for match dates and times. The most up-to-date information on the Kentucky rifle team can be found on Twitter, Instagram and Facebook.