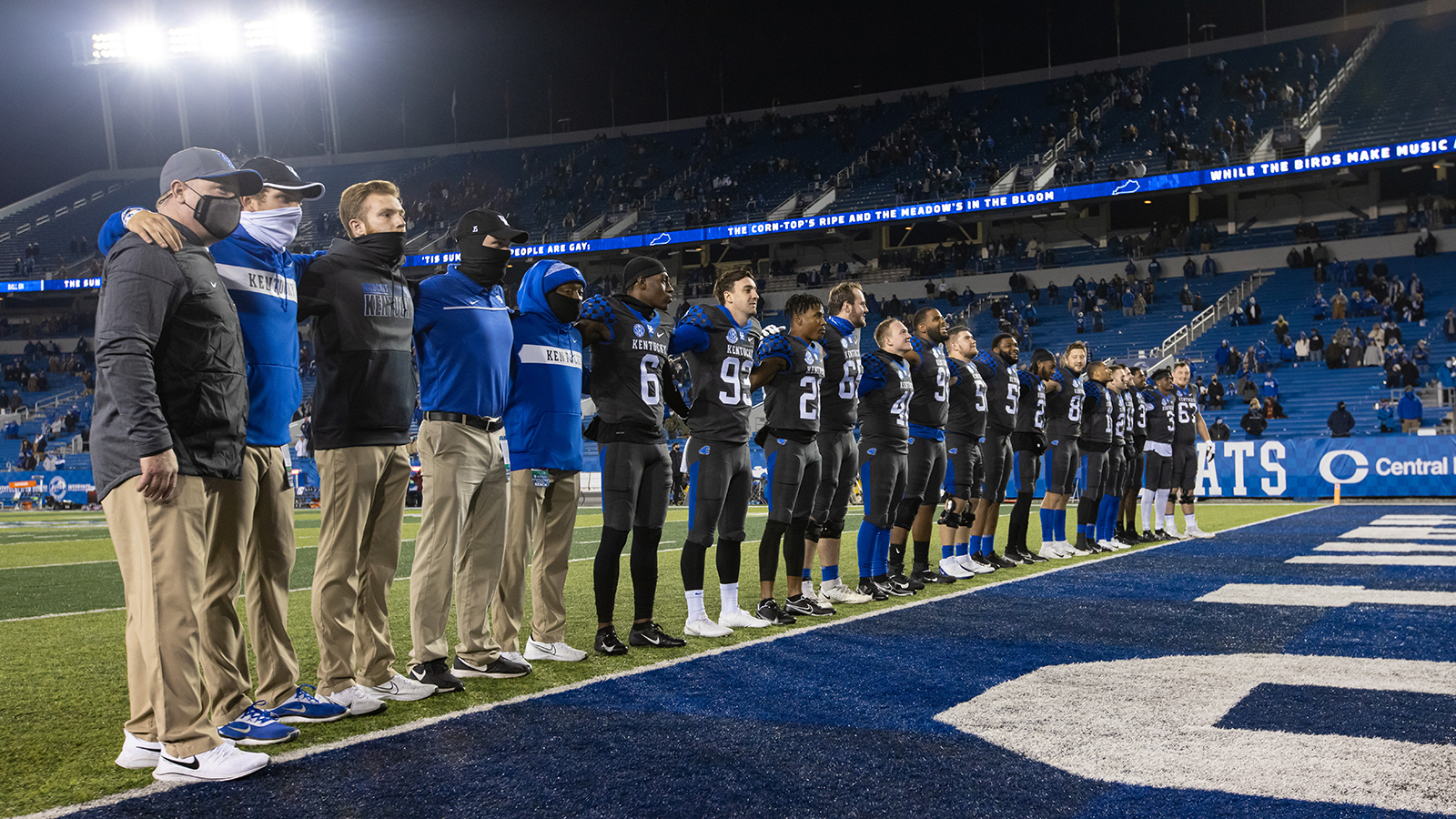 Kentucky's final home football game against South Carolina on Saturday was Senior Day for a group of 19 players who were playing their final game at Kroger Field. It was one last chance for the highly successful group of players to have a feel-good moment and to have an impact for the Wildcats.
Did they ever.
Seniors were making plays all over the field for the Cats all night long. It all added up to a 41-18 Kentucky win in the regular season finale for both teams.
Kentucky head coach Mark Stoops admired how his seniors played in their final home outing.
"Grateful to the seniors, what they have done for us, what they've meant to this program for so long," Stoops said. "Really, you can't say enough good things about those guys."
And that includes what the senior class has done to help build this program.
"They came here when we weren't going to bowl games every year and taking those for granted and thinking all that," Stoops said. "So those guys won a lot of football games for us and laid it on the line."
Senior quarterback Terry Wilson had one of his best games of the year on Saturday. Wilson hit on 17 of 26 through the air for 201 yards, his second-highest total this season. He also rushed 14 times for 46 yards and a touchdown. That put him over 1,000 career rushing yards, making him the 40th player in UK history to reach that mark.
Wilson enjoyed his final game at Kroger Field.
"It was really fun to go out there and get this win and finish how we did," Wilson said.
Senior running back Asim Rose had a solid evening as well. The Cleveland native carried 14 times for 101 yards and a touchdown. It was the sixth time in his career, and the second this season, that Rose has rushed for 100 yards or more. He also broke into UK's career top 10 list in rushing. He also caught a pass for 26 yards.
"It feels really good to end on that win," Rose said. "It's been a long year, a rough year. To finish strong like we did, it feels good to do that."
Senior tight end Justin Rigg had three receptions for a career-high 72 yards. Senior wide receiver Josh Ali caught five passes for 35 yards in the game.
And all of that offense came behind the offensive line that includes seniors Austin Dotson, Luke Fortner, Drake Jackson and Landon Young.
On defense, Jamar Watson, affectionately known as "Boogie", had eight tackles, including 2.5 tackles for loss and two forced fumbles.
Watson liked how his final game at Kroger Field ended.
"For us to end it on a win is a good feeling," Watson said.
Also on defense, Phil Hoskins had four tackles, including one for a loss, Brandin Echols had three tackles and a pass breakup and Kordell Looney recovered a fumble.
Senior punter Max Duffy was outstanding, as usual. The Perth, Australia, native and Ray Guy Award winner punted four times for a 45.0 average.
Altogether, it added up to a win, one that sent these seniors out on a positive note. That's fitting for a group that has meant so much to the UK program during their time in Lexington.