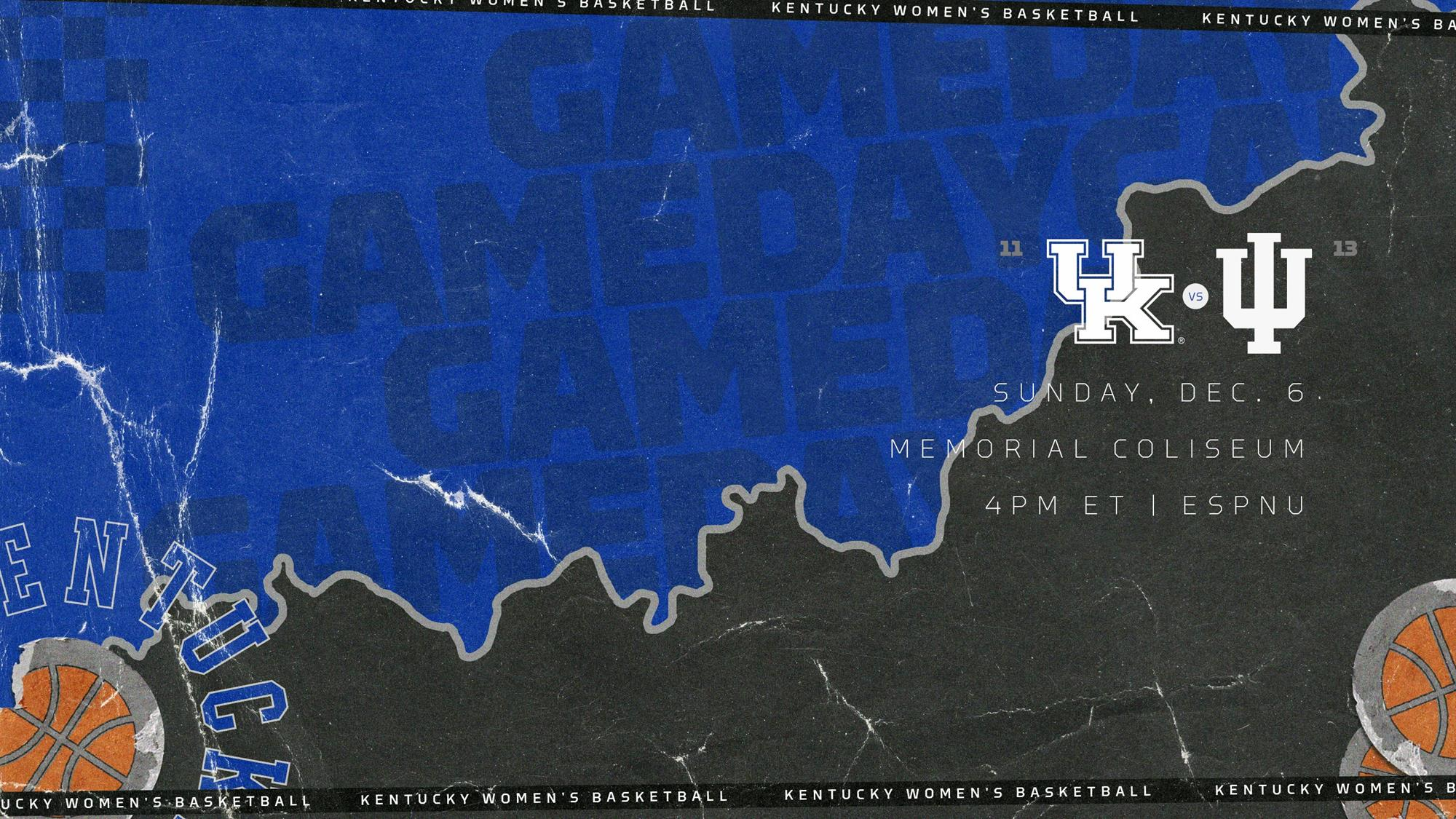 December 5, 2020 - 11:09 AM
Border Battle: No. 11 Kentucky vs. No. 13 Indiana Sunday in Memorial
LEXINGTON, Ky. – One of the best early season matchups in women's college basketball will occur Sunday inside Memorial Coliseum as the No. 11 University of Kentucky women's basketball team plays host to No. 13 Indiana at 4 p.m. ET.
 
The Border Battle will be televised on ESPNU with Eric Frede and Christy Thomaskutty on the call. The action can also be seen through WatchESPN on computers, smartphones or tablets. Darren Headrick will have the call on the UK Sports Network on 98.5 FM in Lexington. Live stats and free live audio will be available online at UKathletics.com.
 
With attendance limited to 15% of normal arena capacity, the majority of tickets have been sold as full-season packages for women's basketball and UK does not expect any general public ticket sales at this time. Fans are encouraged to check Ticketmaster.com for any ticket allotments that are returned and released closer to game days, as well as for verified resale tickets. Concession stands at Memorial Coliseum will not be open for service until further notice, due to the mandate on no indoor dining by Kentucky Governor Andy Beshear. Fans will not be allowed to bring food or drink of their own into the venue due to the mandate, which states that masks must be worn at all times.
 
Sunday will be the 26th all-time meeting between Kentucky and Indiana in women's basketball with the Wildcats owning a 13-12 record. UK is 7-4 against IU at home, including a 4-3 record in Memorial Coliseum and 3-0 mark in Rupp Arena. The first ever meeting was Jan. 14, 1974 with the Hoosier earning a 88-57 win. The last meeting was on Nov. 12, 2006 when Indiana came into Memorial Coliseum and won 54-51. Indiana has won seven straight games in the series as the Wildcats have not defeated IU since Dec. 20, 1990. Sunday will be the fourth time the two teams have met on Dec. 6 with UK owning a 3-0 record in those games. This is the first ever meeting between the two teams with both ranked in the AP Top 25.
 
It has been an impressive start for No. 13 Indiana (2-0) as the preseason Big Ten favorites have rolled to dominating wins against each of their first two opponents. In the season opener, IU took down EKU 100-51 while Thursday it defeated Samford, 71-26. Mackenzie Holmes was the leader for IU against EKU scoring 26 points with eight rebounds and seven blocks. Ali Patberg had 18 points with three assists, while Grace Berger scored 17 points with 10 rebounds and two 3s. Against Samford, the Hoosier were dominate defensively, limiting the Bulldogs to just 3-of-29 shooting in the first half and 20.8 percent overall for the game. Holmes and Berger each scored 13 points while Patberg had 12 points and five steals.
 
As a team, Indiana ranks 12th nationally in assist-turnover ratio at 1.8 while they are also 12th in assists per game with 21 and seventh in blocks per game with 8.0. The Hoosiers have the eighth-best field-goal percentage in the nation at 52.7 percent coupled with the fourth-best field-goal percentage defense in the nation limiting opponents to just 23.3 percent.
 
Kentucky (3-0) has started its season with three straight wins, earning home victories over Murray State and Belmont and most recently a road win at Kansas State. Against the K-State Wildcats, UK put together an impressive fourth quarter ending the game on a 11-0 run to seal the win. Sophomore forward Dre'una Edwards was the star, earning her second straight double-double with 16 points and 12 rebounds. Senior guard Chasity Patterson scored 11 points in the game as did junior guard Robyn Benton, who hit two 3s with five rebounds and three steals. UK outrebounded Kansas State in the game and had single-digit turnovers.
 
As a team, the Wildcats are averaging 72.0 points per game, while limiting opponents to 53 points per game. UK is hitting 40.3 percent from the field and 24.3 percent from long range. The Wildcats have a +5 rebounding margin with 12.7 assists per game. UK is scoring 26.7 points off turnovers per game, forcing 22.3 turnovers per game.
 
For more information on the Kentucky women's basketball team, visit UKathletics.com or follow @KentuckyWBB on Twitter, Instagram and Facebook.