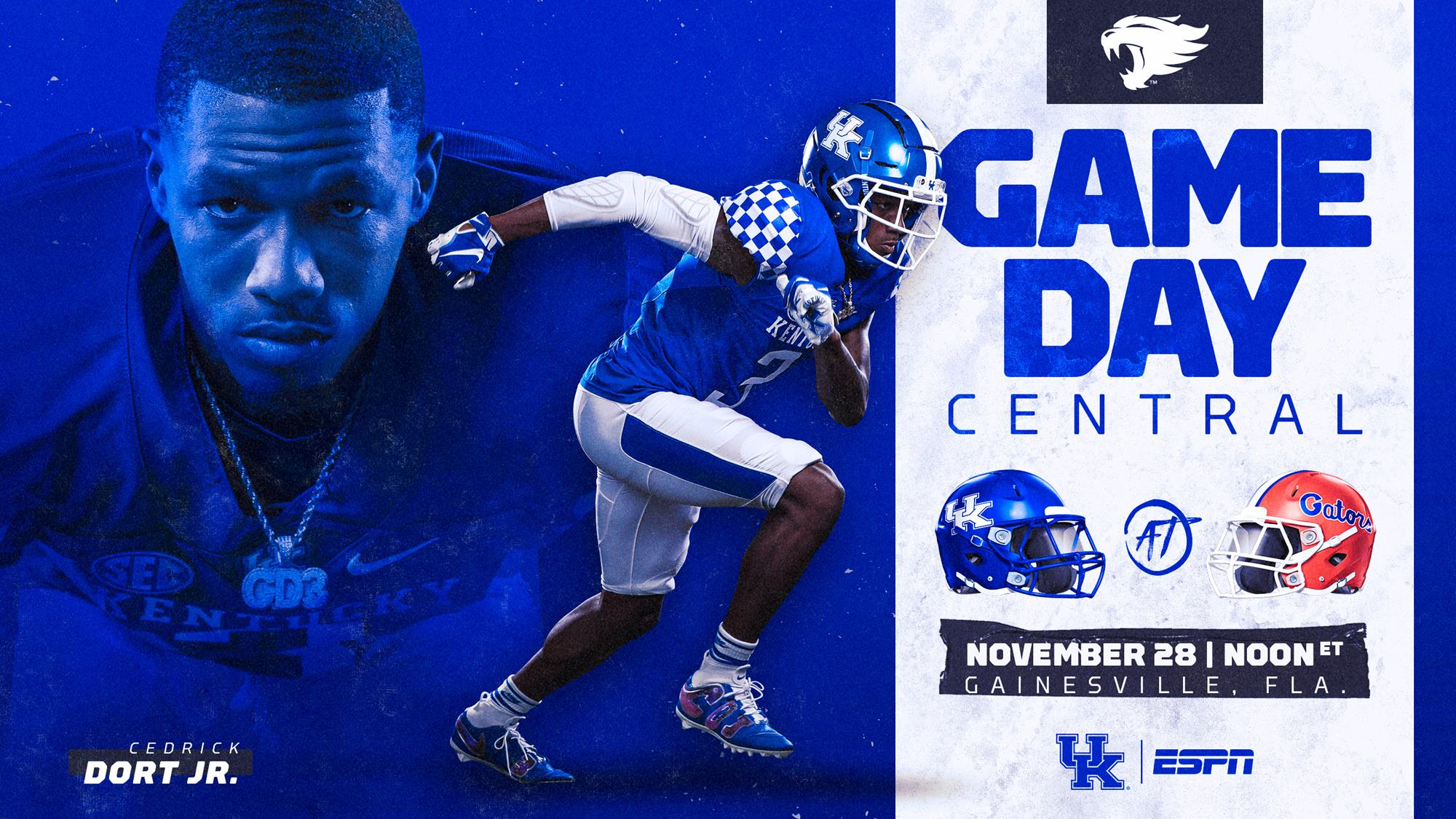 Kentucky makes its final road trip of the unique 2020 season this week as it travels to face No. 6/5 Florida at Ben Hill Griffin Stadium in Gainesville. Game time is noon EST and it will be televised on ESPN. UK is playing its highest-ranked back-to-back opponents since facing No. 1 Florida and No. 3 Alabama in consecutive games during the 2009 season.
The contest presents an opportunity for the Wildcats to gain a measure of redemption on two fronts: shaking off the aftereffects of a 63-3 loss to top-ranked Alabama last time out, but also to erase the memory of last season's defeat to the Gators. UK held a 21-10 lead entering the fourth quarter in Lexington but the Gators rallied for a 29-21 win.
The last time Kentucky traveled to "The Swamp" in 2018 it erased a 31-year dry spell in Gainesville, as Benny Snell, Terry Wilson, and Josh Allen produced one of the most memorable victories in program history. Five of the past six meetings have seen the outcome in doubt deep into the fourth quarter.
 
Kentucky at Florida
Sat., Nov. 28 – 12 p.m. ET
Ben Hill Griffin Stadium
Gainesville, Fla.
Game Notes: UK | UF
Digital Gameday Program
Gameday App
Coverage

TV: SEC Network
Radio: UK Sports Network
Watch
Listen
Live Stats

UK
Team Stats
UF
3-5
Record
6-0
3-5
Conference Record
6-0
20.8
Scoring/game
44.7
300.6
Total offense/game
522.3
178.0
Rushing yards/game
144.7
122.6
Passing yards/game
377.6
20.7
Kickoff returns (avg)
19.3
12.4
Punt returns (avg)
9.6
46.6
Punting (avg)
44.4
30:00
Time of possession/game
32:17
41.2%
Third down conversion
54.3%
33.3%
Fourth down conversion
71.4%
26.5
Points allowed/game
28.1
381.0
Total yards allowed/game
410.6
158.2
Rush yards allowed/game
141.7
222.8
Pass yards allowed/game
268.9

Florida is 6-1 after defeating Vanderbilt in Nashville last Saturday, the only loss coming by three points at Texas A&M. Quarterback Kyle Trask, who piloted the Gators' comeback win in Lexington last season, has put himself in Heisman Trophy contention with 365 passing yards per game and 31 TDs in 2020.
Cat Scratches: Stoops, Cats Ready to Get Back on Track This Week
After losing at No. 1 Alabama on Saturday, Kentucky returns to action this week with another difficult task. The Cats visit No. 5 Florida at the Swamp at noon on Saturday.
UK head coach Mark Stoops had a shorthanded team on Saturday due to injuries and contact tracing due to COVID-19. That, combined with the funeral for offensive line coach John Schlarman at the beginning of the week certainly could have contributed to the Cats' performance. However, the head man says that was not the reason for what happened in Tuscaloosa.
"No excuses, we need to play better," Stoops said during his Monday press conference. "A very difficult week, start to finish. I wish we had played better."
Stoops did admit that his players have had a tough year, and that last week was even more difficult than most…Read More
Series vs. Florida
• Florida leads 52-18 overall and 28-5 in Gainesville.
• Kentucky is looking for a second straight win in Gainesville.
• Last season, Florida erased a second half deficit and stunned the Cats, 29-21, in Lexington.
• In 2019, Kentucky won 27-16 in Gainesville, ending a 31-year losing streak to the Gators.
• Five of the past six meetings have seen the outcome in doubt deep into the fourth quarter.
• UK QB Terry Wilson had one of his two career 100-yard rushing games against Florida in 2018.
• Biggest UK win: 52 (52-0 in 1917)
• Biggest Florida win: 66 (73-7 in 1996)
• Games decided by eight points or less: Florida leads 16-7
• UK coach Mark Stoops is 1-6 vs. Florida during his tenure.
Kentucky-Florida Connections
• Kentucky has 18 players from the state of Florida: DT Abule Abadi-Fitzgerald (Lakeland), OLB Sam Anaele, WR Josh Ali (Hollywood), DB Jamari Brown (Sunrise), DB Cedric Dort Jr. (Palm Beach Gardens), QB Joey Gatewood, WR DeMarcus Harris (Vero Beach), WR Akeem Hayes (Hollywood), OL Kenneth Horsey (Sanford), OT Nick Lewis (Jacksonville), WR Rahsaan Lewis (Orlando), TE Nik Ognenovic (Fort Lauderdale), WR Bryce Oliver (Fort Lauderdale), OT Jake Pope (Fort Lauderdale), QB Nik Scalzo (Fort Lauderdale), QB Sawyer Smith (Cantonment), WR Clevan Thomas Jr. (Miami) and LB Jordan Wright (Fort Lauderdale).
• Florida does not have a player on its roster from Kentucky.
• Coach Mark Stoops spent six seasons as an assistant coach in the Sunshine State, including three years each with Miami (Fla.) and Florida State. During his time with the schools, they went a combined 64-13. Stoops also spent a year in 1996 on the South Florida coaching staff, helping build the Bulls in the start-up of the program before the 1997 kickoff.
• Co-offensive coordinator Darin Hinshaw is originally from Punta Gorda, Florida and was a standout quarterback at Central Florida from 1991-94. He set numerous school records for the Knights, finishing as the career leader in every major passing category, including yards (9,000) and TDs (82).
• Florida running backs coach Greg Knox coached at Ole Miss (1995-98) and Auburn (1999-2008) with Eddie Gran under head coach Tommy Tuberville. Gran was the special teams coordinator and running backs coach while Knox was the receivers coach and recruiting coordinator.
• Florida defensive line coach David Turner has had two tenures at Kentucky. He spent three seasons in Lexington from 2010-12, as well as the 1993 and 1994 seasons, helping the Wildcats advance to the 1993 Peach Bowl and 2010 BBVA Compass Bowl.
A UK Win Would…
• Be UK's second straight victory in Gainesville after a 38-year losing streak there (19 games). UK has won two in a row in Gainesville only once in school history, 1977 and 1979.
• Give UK its second win over a ranked Florida team in the past three seasons.
• Give UK its first win over a top-10 team since defeating No. 10 South Carolina in 2010, 31-28, in Lexington.
• Give UK its first win over a top-10 team on the road since winning at No. 4 Penn State, 24-20, in 1977.
• Give UK its first win over a top-10 SEC team on the road since defeating No. 1 Ole Miss, 27-21, in 1964.
• Give Stoops 48 career victories at UK, moving him past Fran Curci (1973-81) for second on the school's all-time list.
• Be the Cats' second road victory of the season against a ranked opponent (34-7 win at No. 18 Tennessee, Oct. 14).
Kentucky vs. The Ranked
• Kentucky has played 255 ranked teams in the Associated Press Poll in its history. The Cats are 45-205-5 in those games.
• Since 2015, the Cats are 6-9 against ranked teams. The wins were over No. 18 Tennessee (2020), No. 12 Penn State, No. 14 Mississippi State and No. 25 Florida (2018), No. 11 Louisville (2016) and No. 25 Missouri (2015).
• UK is 4-33 vs. ranked Florida teams.
• UK's last win over a ranked Florida team came in 2018 in Gainesville when the Cats won 27-16 over No. 25 Florida.
• UK's last win over a ranked SEC team was at No. 18 Tennessee, 34-7, on Oct. 17, 2020 in Knoxville.
• The Cats' last win over a top-10 ranked team was vs. No. 10 South Carolina in 2010 in Lexington (31-28).
• The Cats' last win over a top-10 ranked team on the road was a 24-20 win over No. 4 Penn State in 1976. 
• UK's last win over a top-10 ranked SEC team on the road was in 1964 when the Cats upset No. 1 Ole Miss in Oxford, Miss., 27-21