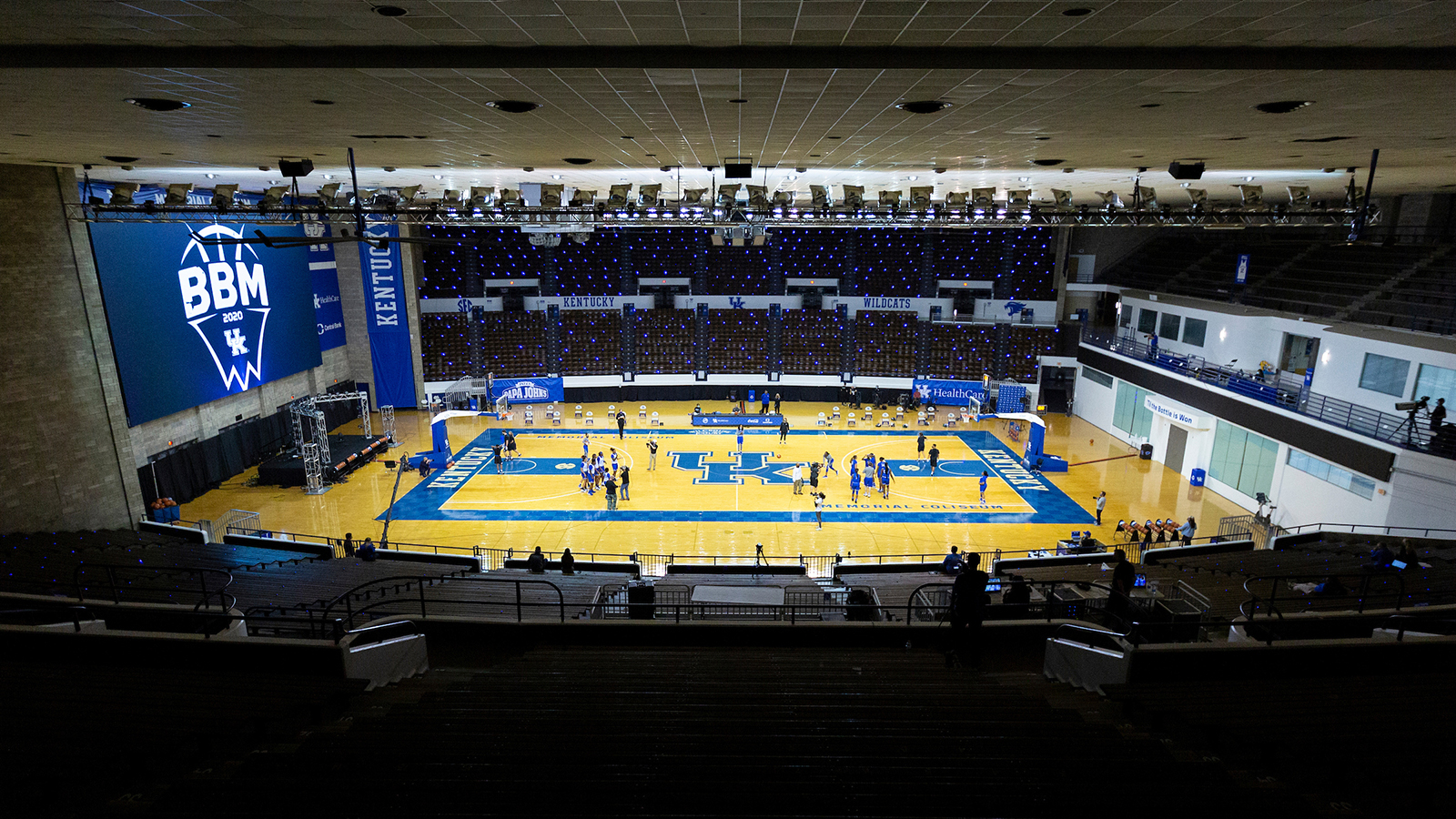 November 20, 2020 - 11:02 PM
Top Moments from Big Blue Madness 2020
It's been a long, long time since the Big Blue Nation has seen its beloved basketball teams. Since the COVID-19 pandemic abruptly ended the 2019-20 season, it has been more than eight months without basketball in the Bluegrass.
That changed on Friday night as Big Blue Madness, UK's annual tip-off to basketball, took place. The annual spectacle gave UK fans their first look at the 2020-21 men's and women's basketball teams, as well as the 24-time national champion UK cheerleaders.
Let's take a look at the top five moments from Big Blue Madness 2020.
1. A Different Madness
Big Blue Madness 2020 was bound to be different, and it was in so many ways.
Madness was held in its original home, Memorial Coliseum, this season instead of Rupp Arena, one of the changes brought on by restrictions due to the COVID-19 pandemic. There were also masks, gloves and social distancing, all of which are part of today's world but also items that have never been a part of Madness.
The other, and obviously most noticeable change, was that there were no fans permitted to attend this year's event, which is an annual sellout.
Nevertheless, the two basketball teams and the UK cheer squad put on their annual show on Friday night as a warm up to the season, which starts next week.
2. A New Leader
 
Yes ma'am. ??@CoachLZ pic.twitter.com/w7JTL0AVuW

— Kentucky WBB (@KentuckyWBB) November 21, 2020
One of the biggest traditions of Big Blue Madness in recent years has been the dancing from Matthew Mitchell. But the coach recently retired and was not in attendance.
New UK interim head coach Kyra Elzy made her appearance in a much more subtle way. Elzy appeared on stage, then was "primped" by some of the current Cats. Elzy gave the crowd a wave and blew a kiss to the camera as she walked off the stage.
Elzy is inheriting a team that's ranked 11th nationally to begin the season and that has a potential National Player of the Year candidate. It's her first head coaching role, but Elzy has prepared all of her professional life for this moment and is ready to lead her team.
3. A Star in the Making
 
https://t.co/ItCVaPI3Hm#CrownHer ?? pic.twitter.com/OrlLTWkdZx

— Kentucky WBB (@KentuckyWBB) November 21, 2020
Rhyne Howard had a huge season for the Cats last season, averaging 23.4 points per game and being named SEC Player of the Year as a sophomore. Now, Howard is back and is expected to build on what she did last year.
Now, Howard is the clear star of the team and the spotlight is squarely on her. As she goes, so will the team, although it may not be only scoring that Howard brings to the team this year. Either way, she's embracing the role as the leader of the team as she begins her run at National Player of the Year.
Howard will be the focus of much media coverage this season, in addition to the focus of opposing team's defenses. It's a role she's embracing and appears ready to handle.
4. High-Flying Cats
On the men's side, the dunk contest between Isaiah Jackson, Jacob Toppin and Lance Ware gave a glimpse at just how athletic this team is. The dunks included Jackson taking off from the free throw line, winding up and slamming the ball hard. That dunk drew scores of 10 from the judges (Brandon Boston Jr., Keion Brooks Jr., Terrence Clarke, Davion Mintz and Olivier Sarr.)
 
Took off with his foot on the free-throw line! ????

??s across the board. A 5??0??- spot for @IJackson22 pic.twitter.com/oZeEGjI0Sg

— Kentucky Basketball (@KentuckyMBB) November 21, 2020
On Toppin's turn, he came into the lane, put the ball between his legs while turning in the air and executed the slam.
Subsequent dunks may not have been executed as the players had hoped, but the ability for this team to get well above the rim was clearly on display.
During the team's scrimmage, even Mintz and Devin Askew, the point guards, showed that they can elevate as well.
5. Serious Range
Mintz lit up the scoreboard during the three-point shooting contest. He scored 22 points to claim the crown on this night.
 
We love to see @deemintz1 in this kind of groove.

He's your #BBM20 3-Point Champion ???? pic.twitter.com/lWOnMFowaZ

— Kentucky Basketball (@KentuckyMBB) November 21, 2020
However, it wasn't only Mintz that showed three-point range. Boston and Clarke both showed that they can hit the long shot, and even some of the post players showed the ability to step outside and connect from long range. Olivier Sarr had a strong showing, as did Jackson.
This appears to be a team that will have plenty of options, including some really good options, to hit the outside shot and stretch the defense. With the inside presence that this team has, that could make the Cats very difficult to defend this season.