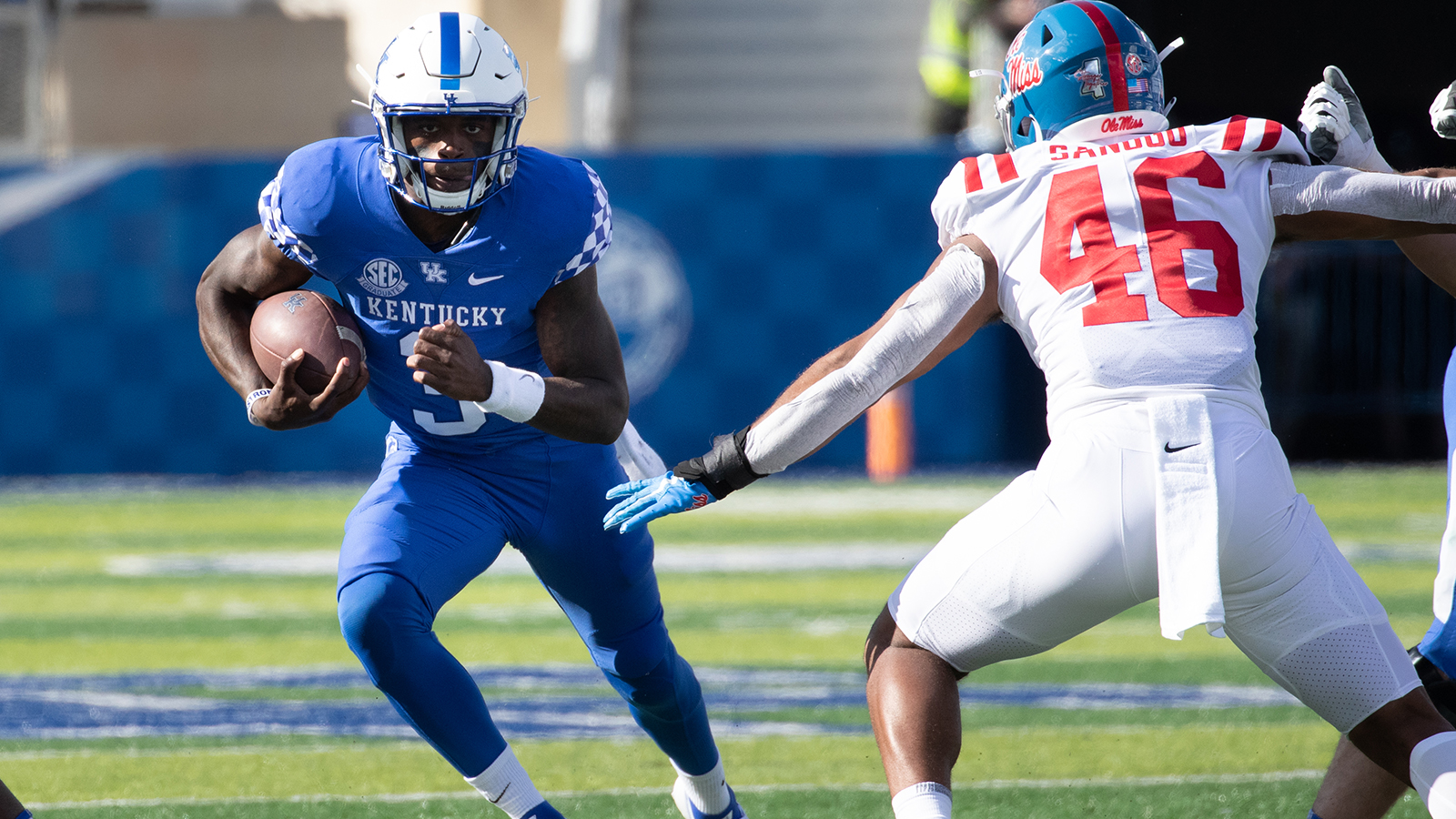 After having last Saturday off, Kentucky now turns its focus to the final four games of the 2020 season. The Cats are 2-4 and host Vanderbilt at Kroger Field this weekend.
UK head coach Mark Stoops was glad that his team had some time away this past week, but he's also ready to get back to work.
"Looking forward to getting back on the field this week," Stoops said. "Certainly needed some time off for our football team to heal up, to get better, mentally and physically, to get recharged for the home stretch here. We had a good off week. Got some rest early in the week, got healed up a little bit."
The Cats used the week off not only to rest and heal but also to work on things that Stoops thinks the team can do better.
"Worked on ourselves primarily, on areas we needed to improve," Stoops said. "Did quite a bit of self-scout and evaluated ourselves and continued to try to build on the good things we're doing and improve on the areas where we're falling short."
One of the areas of focus over the past week was the passing game, an area where Stoops knows the Cats must do better.
"There's no denying that we've been falling short in the passing game," Stoops said. "We need to improve, we need to be more balanced. We haven't been as efficient throwing the ball as we need to."
As for which quarterback will be directing the offense this week, Stoops did not offer a particular name, just a description.
"The person who is going to give us the best opportunity to win right now is who we're going with," Stoops said. "We're here to win games. I want to continue to be fair to Terry (Wilson) and if he gives us the best opportunity to win games, he'll be in there. And he did have a good week of practice last week. With that being said, I still think Joey (Gatewood) and Beau (Allen) have great upside and I want to see them."
Stoops knows what his team needs out of its quarterbacks.
"Consistency. We've shown flashes. We have to do a good job as coaches, putting them in a good position," Stoops said. "We have to get the ball down the field, we have to be more aggressive and we have to improve at that position."
Kentucky faces an 0-5 Vanderbilt team on Saturday and the Cats are heavily favored to win the game. Stoops knows that being favored does not matter and that his team needs to focus on doing what it does well.
"We need to worry about ourselves and focus on ourselves," Stoops said. "The last time we went into a game as a favorite, we got out butts kicked from the beginning of the game to the end and everywhere in between. We got totally and utterly dominated. So, we need to worry about ourselves and getting ourselves ready to play the best we possibly can. I was not very happy the way we played the last time we were favored. We weren't good enough."
Stoops knows that the Commodores can be dangerous, despite their record.
"This past game with Vandy, they had 478 yards against a Mississippi State team that can play some darn good defense and at Mississippi State, not an easy place to go," Stoops said. "They obviously played extremely well this past week."
With the week off behind them, the Cats now turn to preparing for another SEC opponent. And the hope is that the week off will help Kentucky be more efficient on Saturday.