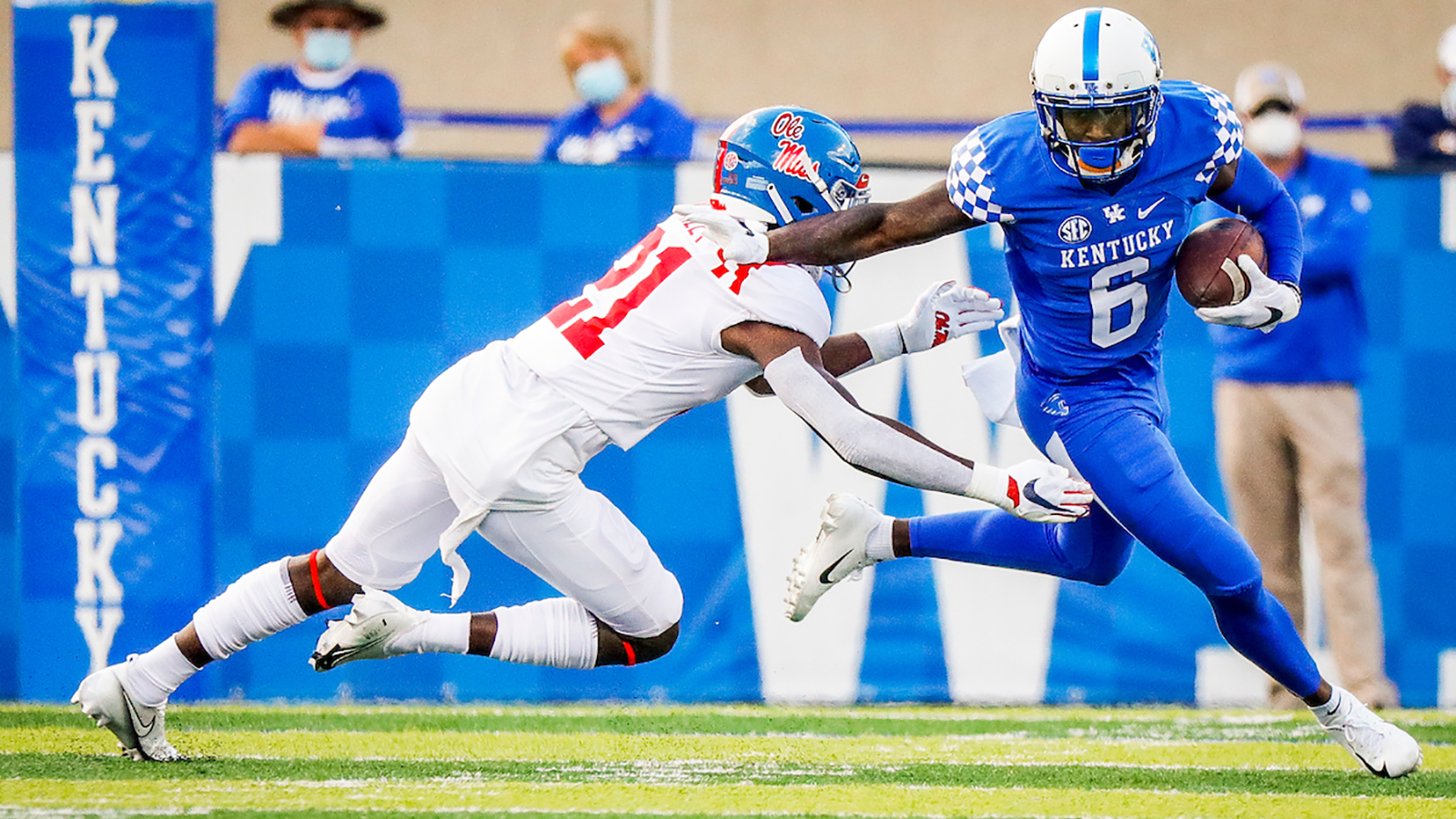 While an 0-2 start is not what Kentucky head coach Mark Stoops and his team were hoping for, it's also not as bad as it might seem to those who have only seen the team's scores without watching the games.
Stoops and his staff are not searching for a lot of answers. They feel like the Cats are close and that once they get some things cleaned up, the results will soon follow.
After falling to Ole Miss 42-41 in overtime on Saturday, Stoops watched the tape and saw a lot of positives, especially on offense.
"There's a lot of good things to build on," Stoops said in his press conference on Monday. "Offensively, I thought we played extremely well. Really did some good things offensively. Were very efficient, moved the football."
Specifically, Stoops was pleased with his quarterback in Saturday's game.
"I was very pleased with Terry Wilson. We challenged him after the opener. He came back in the second game and played really well," Stoops said. "We wanted to put some pressure on them with the Q run game and we did."
However, Stoops was much less pleased with the Cats' effort on the other side of the ball.
"Defensively, we just didn't play good enough, period," Stoops said. "We need to put our players in better position. We need to coach better, we need to play better."
Stoops thought the defense was adequate in the first half, but not nearly as much in the second 30 minutes.
"The second half, not good enough," Stoops said. "For them to score four TDs on six possessions, you're not going to win very many football games that way. We've got to come up with a stop."
It's not like the Cats are getting blown out and searching for a number of answers. Stoops realizes that close games come down to just a few plays.
"I could also point to maybe three plays in that game that if we make, we win," Stoops said. "We've got to go back to work."
Last season, the Cats got off to an 0-3 start in SEC play before turning it around and finishing strong at the end of the season. Stoops hopes that experience can help this year's team to do something similar.
"I certainly anticipate they will. I'm excited to get into our team meeting (on Monday) and get on with it. Face the reality of the situation," Stoops said. "Nobody is going to point fingers. You know we can play better. Build on the good things that we're doing and get some things fixed. I feel confident that we will. This group has to step up and I'm certainly going to lean on the leadership of this group. When you fall to 0-2, you can respond with the reality check of it is what it is and you can fold to the pressure. Or you can rise above, man up, own it and move on."
Stoops knows that the team needs to review the Ole Miss game to get some things corrected, but that it's also time to move forward.
"Every week, whether you win or lose, you have to hit that reset button," Stoops said. "(We are) extremely motivated because you know you have another great challenge ahead of you."
That challenge comes in the form of a Mississippi State team that won at defending national champion LSU in its season opener before falling to Arkansas in Starkville last week. Stoops knows that the Bulldogs will present yet another set of issues for his team.
"You look at Mississippi State and Mike Leach. I know he's going to have his group fired up and ready to go," Stoops said. "He's a lot to handle. He's going to do what he does. You know what Mike can do offensively, very creative, puts a lot of pressure on you as well."
The Cats are hoping to move forward by fixing the issues that have cost them in the first two games, while preparing for the task ahead of them with Mississippi State coming to Lexington on Saturday.