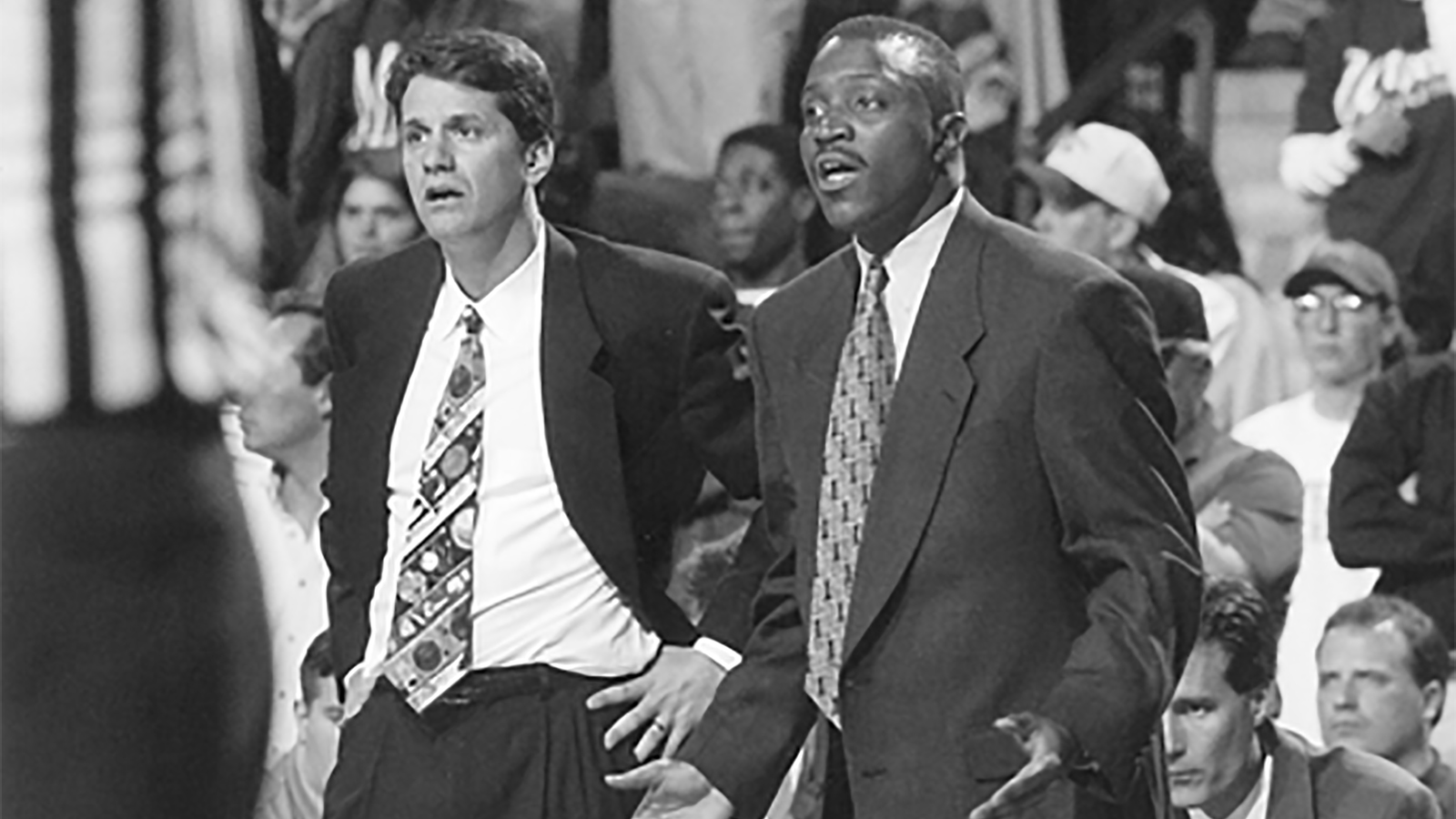 August 26, 2020 - 03:35 PM
Flint Excited to Join 'Family' at Kentucky
New Kentucky assistant basketball coach James Flint is better known by his nickname, Bruiser, a moniker he gained when he was a child. Flint was in the hospital for approximately six weeks with an intestinal disease, but his grandfather said not to worry, that "he's going to grow up to be a bruiser," and the nickname stuck.
Flint lived up to the handle growing up, as he was made tougher by playing basketball for his father, James Flint, Sr., who was known as one of the more rigorous youth coaches in Philadelphia.
Ironically, especially for someone with such an intimidating nickname, Flint is known as one of the nicer guys in the college basketball world. And this week, he officially joined the Kentucky staff, replacing Kenny Payne, who left UK to join the New York Knicks as an assistant coach.
Kentucky head coach John Calipari is very excited to have Flint joining his staff.
"Bru is not only a terrific coach, he's like my brother," Calipari said. "You're not going to find anyone that says a bad word about him. He forms great relationships with players because he listens, has a terrific personality and can relate to anyone."
Flint was an assistant under Calipari at UMass from 1989-96. The pair were instrumental in taking the UMass program from perennial also-ran to the top of the college basketball landscape. That included an appearance in the 1996 Final Four, where UMass lost to the eventual national champion, Kentucky.
When Calipari departed Amherst for the NBA, Flint was named as his successor at UMass. Flint spent five years as the head coach there, compiling an 86-72 record, with two NCAA tournament appearances.
Flint was hired as the head coach at Drexel in 2001 and he would spend 15 years in that position in his native Philadelphia. He won 245 games at Drexel, including a 29-7 team in 2011-12, when the Dragons won the Colonial Athletic Association title. Flint was named CAA Coach of the Year four times, earning the honor in 2002, 2004, 2009 and 2012.
Ironically, Flint was a participant in one of the more notable games in Kentucky basketball history. In 2009, while coaching Drexel, Flint was on the wrong end of a game that saw Kentucky win its 2,000th game in program history, becoming the first program to do so. It was also a chance for Flint to coach against Calipari, someone he considers a very good friend and a mentor.
"It wasn't tough to play him because they gave us a lot of money," Flint said with a laugh. "I will say this, they beat us by like 50. I knew we were in trouble because that was for the 2,000th win. I'm in the hotel getting dressed, it's like 5 o'clock, I think the game was at 7. And the building was three-quarters full. And I was like, oh brother, it's going to be one of those nights."
After parting ways with Drexel in 2016, Flint took a year off, something that, in hindsight, he is very glad he did.
"After Drexel, I sat out for a year. I think I prepared myself to be an assistant coach," Flint said. "I think that year sitting out gave me time to reflect and prepare myself for the changes that might have been coming."
After that one-year hiatus, Flint spent the past three years at Indiana as an assistant coach under Archie Miller. Flint appreciates the fact that he is going from one tradition-rich program at Indiana to another at Kentucky.
"Things change and I've been fortunate to not only just to come to Kentucky, but to go to Indiana, then to Kentucky, two of the better basketball programs in the country," Flint said.
For Flint, the move is a chance to join both Calipari and his staff, all of whom Flint knows well.
"It's been a blessing, because it's family," Flint said. "Not just Cal, but Tony (Barbee), Robes (John Robic), even Joel Justus. His teams played against my teams at Drexel when he was at UNCW. Everybody says, how's the transition going to be? It's going to be easy because I'm going back to being with guys I've been with for a long time."
After being Calipari's assistant at UMass, then succeeding him, Flint never really considered a career path that would have the two working together again.
"That's 30 years ago. That's a long time to be apart," Flint said. "I didn't think I'd work for him again. I didn't think I would be an assistant coach again."
As for Calipari, Flint says he's somewhat different now, but he's still the same Cal.
"Honestly, he's a lot less crazy than he was in his days at UMass. I think he's calmed down some," Flint said with a hearty laugh. "A lot of things are the same, that's why he's had so much success. One thing about Cal, he's always open to changing and doing things differently. But he stays with his principles."
As for the new squad that Flint will be coaching, he is aware of some of the players that make up the 2020-21 Kentucky roster.
"I know a few guys because I tried to recruit them," Flint said. "Lance Ware, Isaiah Jackson, Keion Brooks Jr., Terrence Clarke. I've watched (Brandon) Boston a little bit. Those guys, I tried to recruit a little bit. They're long, they're athletic, good skill level. So, I know a little bit about them."
There's little doubt that those players, and the rest of the team, will enjoy being around the infectious Flint, as long as they can get past the nickname Bruiser.
What should we expect from @bruflint14?

Let's hear @MarcusCamby23, the 1996 @NABC1927 and @NaismithTrophy national player of the year, tell it. pic.twitter.com/w4pOK9YAE9

— Kentucky Basketball (@KentuckyMBB) August 24, 2020