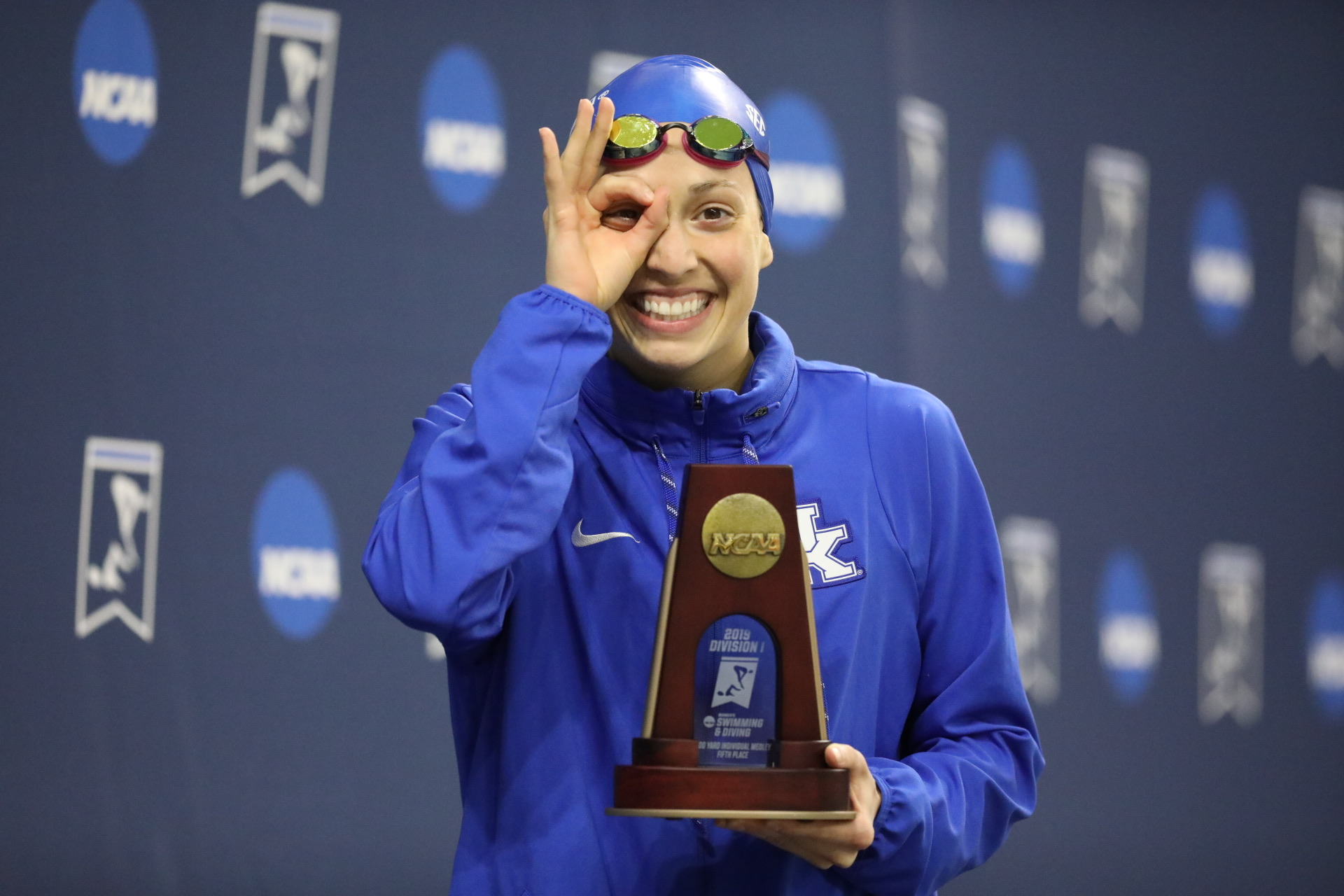 August 21, 2020 - 09:00 AM
Seidt Leaves UK as One of the All-Time Greats
When Asia Seidt was being recruited to swim at the University of Kentucky, she never realized just how good of a swimmer she could be. Luckily for Seidt, her coaches saw something special in the Louisville native. And that led to a career the likes of which no UK swimmer has ever had before.
"I never thought I'd be able to achieve what I've achieved over the past four years, and I specifically remember a phone call with Lars (Jorgensen)," Seidt said. "He was recruiting me, and he said, 'I'm going to make you the best student-athlete and person that you can be.' And, I was like, yeah, whatever, you're just a coach saying that. But coming in freshman year, he pushed me to limits I never thought I could do."
It turns out that those limits were very high. By the time Seidt was finished at Kentucky, she was the most decorated swimmer in school history. She is a 21-time All-American, a four-time SEC Champion and a holder of nine UK school records.
Seidt seems somewhat amazed at her transformation, in and out of the pool, during her four years in Lexington.
"I would say my personal growth is something that I am so blessed to have received and strengthened over my four years," Seidt said. "I used to be a lot more reserved, a lot more quiet. I joke around with my coaches (now). Freshman year they actually told me I really wasn't allowed to be around recruits because I would not speak, I would just keep to myself, and so they're like, you need to take a step back and learn how to be more of a leader, and I think just growing confidence in myself has been a huge help. I think I've been able to see my growth over the past four years."
In addition to being outstanding in the pool, Seidt was even more of a standout in the classroom. She maintained a perfect 4.0 GPA while majoring in kinesiology. For her honors in and out of the water, Seidt was named the 2019-20 Southeastern Conference H. Boyd McWhorter Scholar-Athlete of the Year award winner.
Seidt credited the UK athletic department for helping her to maintain her lofty standards.
"I would say it's the resources at UK, that was definitely one of the big things," Seidt said. "I came into my freshman year, and they're really good about getting you into their routine. We have resources at CATS, our academic facility, and then the coaches are really good about – it's this whole system that Kentucky has. Our coaches talk to our advisors, our advisors talk to our strength and conditioning coaches, our teachers are somehow intermingled in all of that. I don't know how they all do it, but they're incredible at that, and if you're not doing so well in the classroom or something, then I was able to go to my advisor and ask for more help."
And while all of the memories that Seidt created at UK will stay in her memory forever, the way her career ended was a letdown. As Seidt and her team were preparing for the NCAA Swimming and Diving Championships, the coronavirus pandemic was forcing the NCAA to cancel events. That included what would have been Seidt's final meet.
Ultimately, that scenario would lead to Seidt retiring from the sport of competitive swimming.
"Obviously, everything was canceled four days before the NCAA championships, so I went straight from there (Lexington) down to a trip with the NCAA girls just to get our minds off of everything and to start preparing for Olympic trials," Seidt said. "We just had a week off just to recuperate and understand and process what was going on, but still had plans on going to trials. I was training for it as best as I could on land, I guess you could say. All the pools were closed, but about a month later they canceled trials and postponed it a year. I was still planning on swimming then, but things just got harder and harder. Pools weren't opening, and uncertainty kept growing. The whole world didn't know what was going on."
That led to the decision to give up the sport she's participated in for basically her entire life.
"I spent a lot of time on the phone with my coaches and talking with my family, and just going into June I guess I kind of realized, just with my schedule and graduate school, and the uncertainty of if the Olympics were going to happen next year, I decided it was best to just move on," Seidt said. "As hard as it was, I can't say I've completely moved on yet. I got back to Lexington a couple of weeks ago, and it's just weird being here and not swimming. I've never just been here for, you know, just school, so it's hard seeing them all go back to practice. It is definitely something I've continued to process, for sure."
Now, Seidt has her sights set on earning her master's degree in physical therapy, something she literally stumbled upon during her UK career.
"There's a lot of things that go into it, but I think the thing that finally made me decide, I wanted to do medical, for sure, but I actually was just being clumsy and tripped and fell on UK's campus and hurt my shoulder," Seidt said. "I dislocated it and fractured the bone, so I was in PT for quite a while, and I think that officially made me decide. I met some great physical therapists through that, and as silly as it sounds, God made me a sign to my career, so that was a positive side."
Due to her lengthy list of accomplishments, Seidt is now a nominee for the NCAA Woman of the Year, one of the highest honors in the country. For Seidt, just being nominated is quite an accomplishment.
"You know, it's hard to put into words. The past four years have been absolutely incredible," Seidt said. "A lot of people will ask me, 'You're from Louisville, why did you decide to go to Kentucky?' I think it was the most incredible experience, and I wish I could put anyone through it, and I wish everyone could have the chance to just step foot on this campus and meet these people. It's been incredible, and just to have that support was the reason I was able to even be in contention for this award, and it's crazy to see the other people nominated. It's such an elite group of athletes, and it's truly such an honor to just be in the field with those people."
 
Seidt's transformation from a freshman who barely spoke into a candidate for NCAA Woman of the Year is an amazing story fitting someone who is the true definition of a student-athlete.