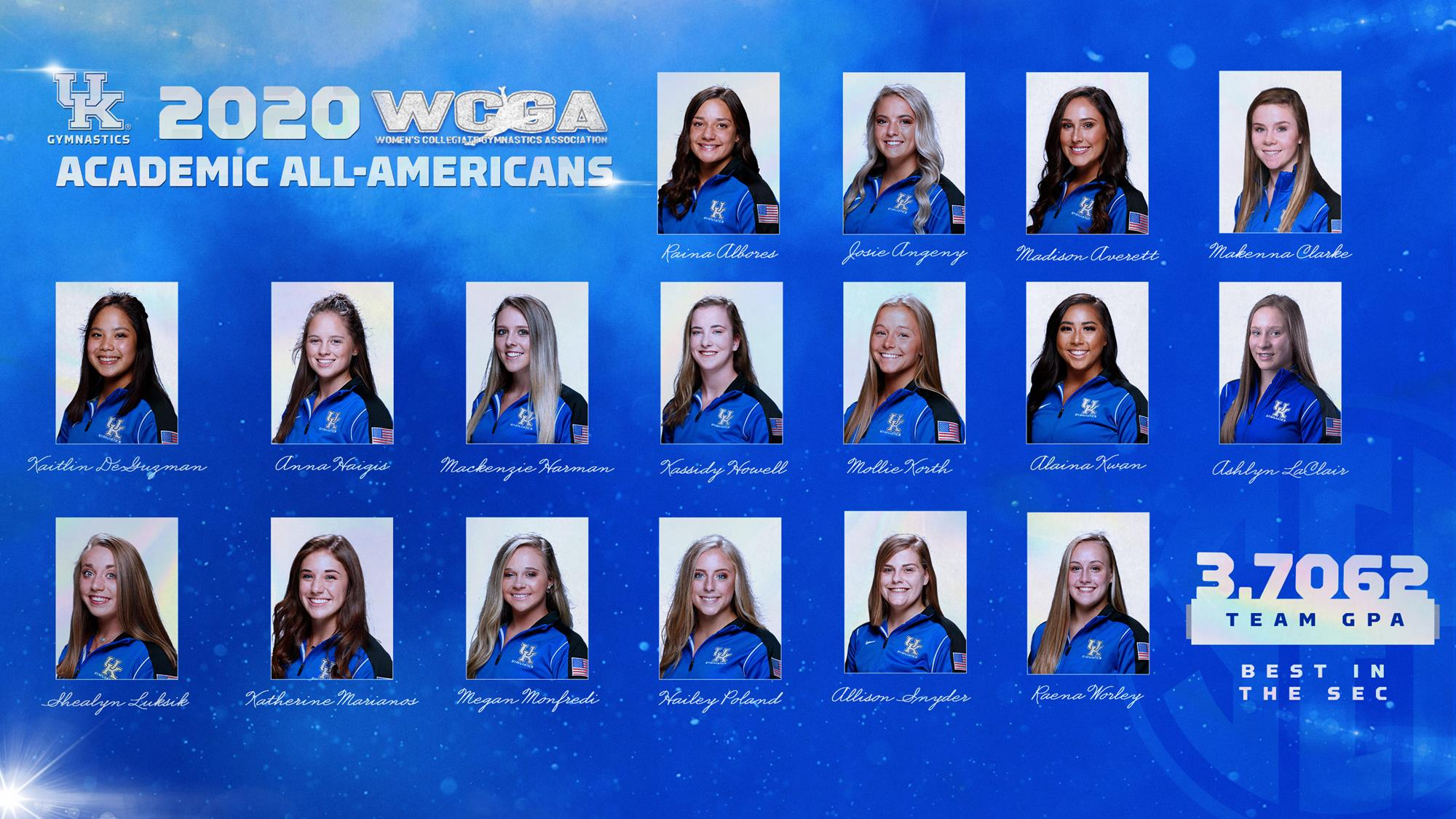 August 11, 2020 - 01:45 PM
UK Gymnastics Earns 17 WCGA Scholastic All-America Nods
LEXINGTON, Ky. – Despite on-floor competition being cut short in the regular season, Kentucky gymnastics has continued to dominate on a national level for its work in the 2019-20 school year. Seventeen Wildcats were recognized as Scholastic All-Americans by the Women's Collegiate Gymnastics Association on Tuesday, while the team posted an overall GPA of 3.7062.
 
Kentucky led all Southeastern Conference institutions with both the most WCGA Scholastic All-America selections and the highest team GPA.
 
Nearly 81% of Kentucky's 2020 roster qualified for WCGA Scholastic All-America status, which requires an individual GPA of 3.5 or better. Seniors Mollie Korth, Alaina Kwan, Katherine Marianos and Hailey Poland, juniors Madison Averett, Mackenzie Harman, Megan Monfredi and Allison Snyder, sophomores Josie Angeny and Anna Haigis, as well as freshmen Raina Albores, Makenna Clarke, Kaitlin DeGuzman, Kassidy Howell, Ashlyn LaClair, Shealyn Luksik and Raena Worley were each bestowed the honor.
 
Kentucky's 17 WCGA Scholastic All-America selections were tied for seventh-most in the country, while its 3.7062 team GPA ranked 18th.
 
For the latest on the Kentucky gymnastics team, follow @UKGymnastics on Twitter, Facebook and Instagram, as well as on the web at UKAthletics.com.