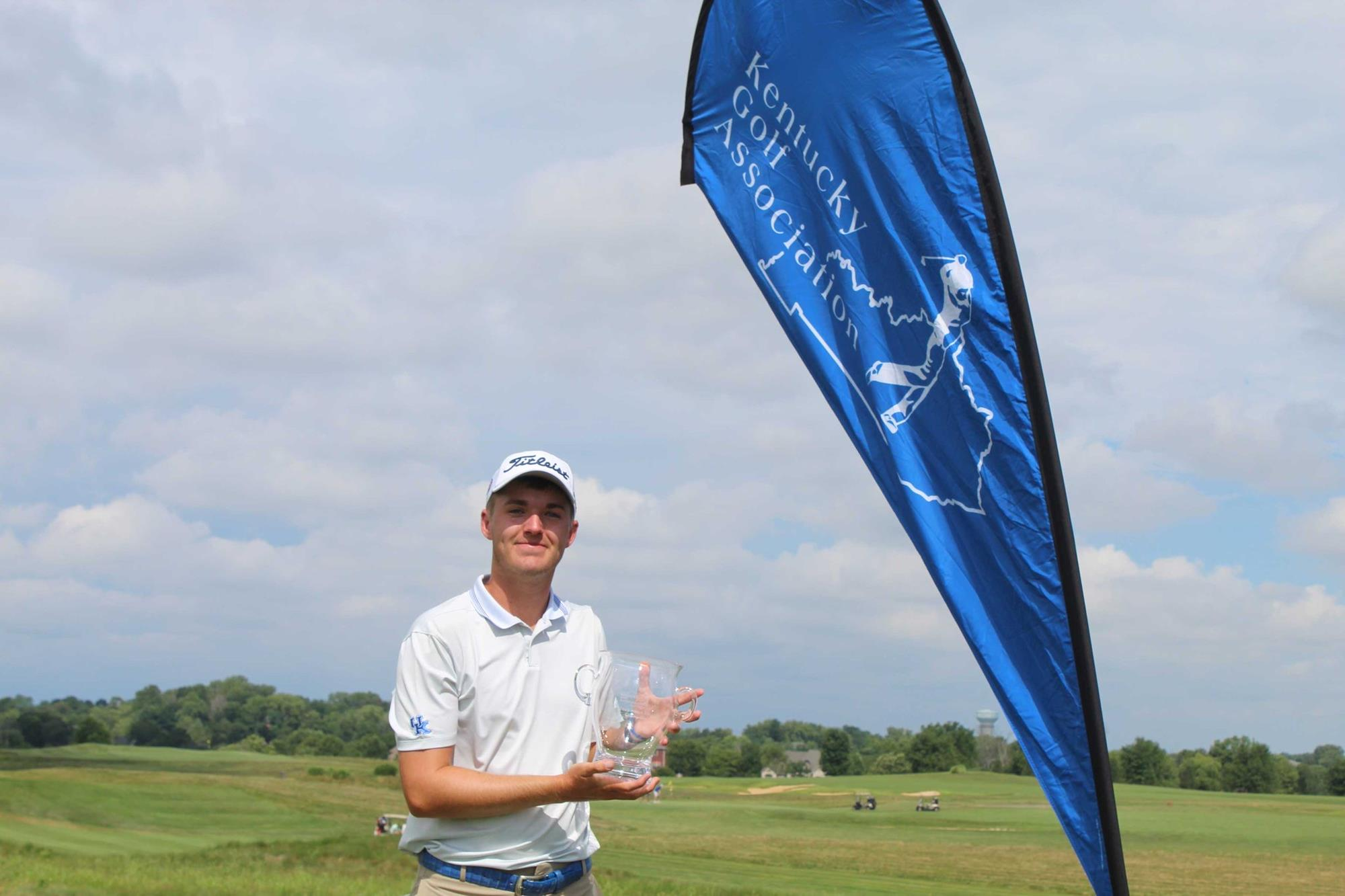 Kirchdorfer Wins Kentucky Match Play Championship
PROSPECT, Ky. – Kentucky men's golfer Jay Kirchdorfer captured the 2020 Kentucky Match Play Championship played at the Nevel Meade Golf Club on Friday with a 1UP decision over the tournament's top seed in Joshua Rhodes.
 
Kirchdorfer's win came in come-from-behind fashion as he overcame a 3UP deficit at the turn for the win. His comeback effort began when he reached the green from the tee at the par-four 10th. That generated momentum and he took the next three holes to gain an 1UP advantage through 13. His lead swelled to 2UP after winning the 15th, but Rhodes didn't go quietly. He got the hole back at the 16th and the players halved the 17th. Kirchdorfer carried his 1UP advantage into the 18th and overcame adversity off the tee to earn a bogey. Rhodes suffered a similar fate with an errant tee shot and it was all the breathing room Kirchdorfer would need to complete the win.
 
"I knew Josh was playing good golf on the front and I struggled at the beginning," Kirchdorfer said in an interview with Golf House Kentucky. "I knew on the 10th though that I could pump one on the green and I did to about 40 feet. That got me rolling and birdies on 11 and 12 really brought me back into it. I felt pretty calm and comfortable during the back nine, but after missing short putts on the 14th and 16th, during the 17th hole I was thinking 'Man, I should have this put away by now.'"
 
The Louisville, Kentucky, native entered the field of 32 as the No. 10 seed. In his round of 32 matchup, he defeated Patrick Brooks 2&1. A 4&2 decision in the round of 16 was followed by a 3&2 result in the quarterfinals. He moved into the championship match with a 2&1 finish. Kirchdorfer knocked off the No. 23, No. 7, No. 2, No. 6 and the overall No. 1 seed en route to claiming the trophy.
 
This marks the second straight week a Wildcat golfer has claimed a local event. Jacob Cook won the Lexington City Championship on Sunday with teammate Cooper Parks finishing as the runner-up. Cook competed in this week's match play tournament and notched a hole-in-one at the par-three fifth hole with a pitching wedge. He went on to win that match, but fell by a 2&1 score in the round of 16.
 
Kirchdorfer played in three events during his pandemic-induced shortened redshirt freshman season. He shot a collegiate career-low round of 72 during the final round of the Steelwood Collegiate to propel him into a tie for 19th. It marked his best finish to date as a Wildcat.
 
For the latest on the Kentucky men's golf team, follow us on Twitter, Facebook, Instagram and on the web at UKathletics.com.