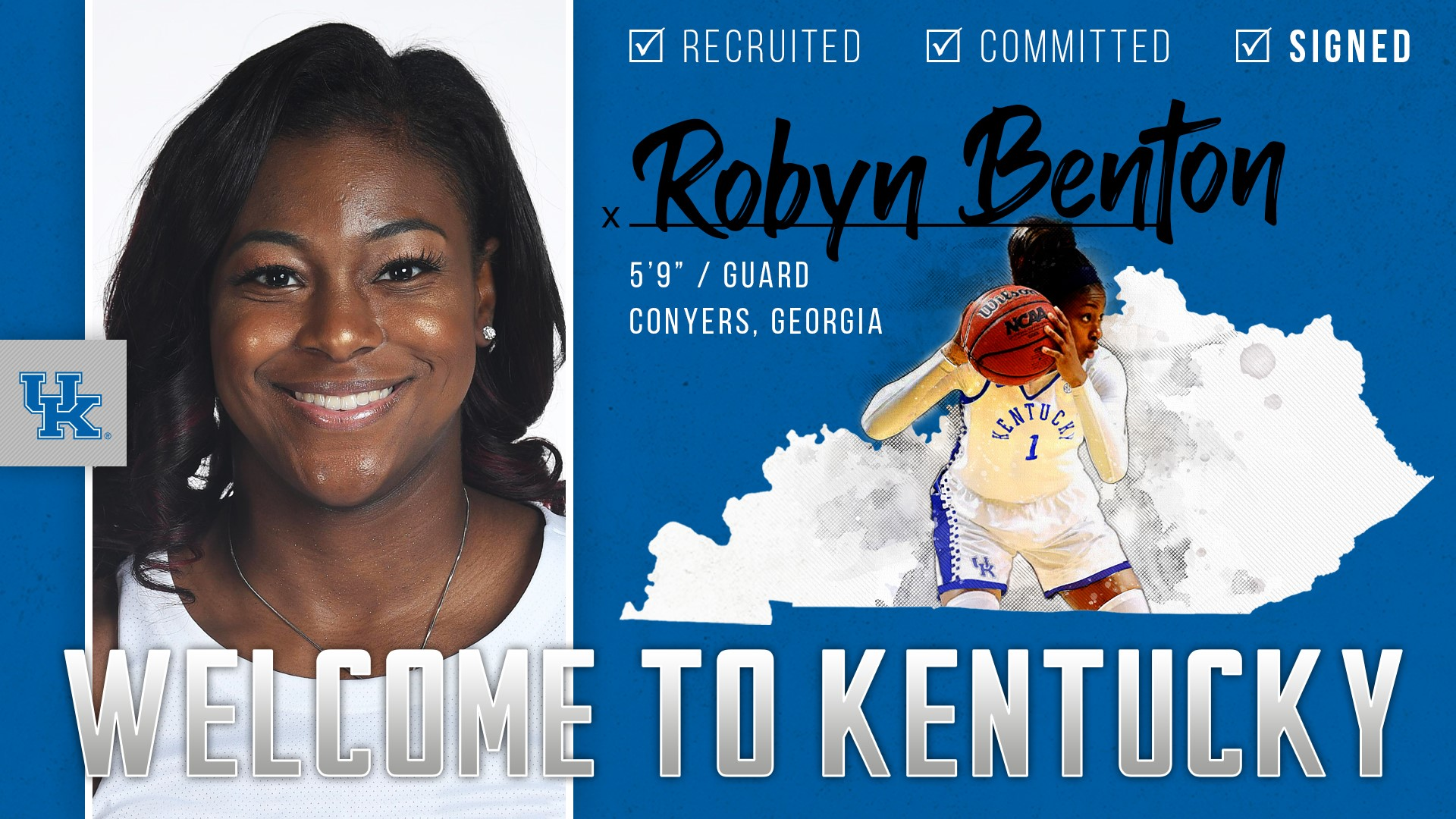 April 15, 2020 - 03:35 PM
Robyn Benton Transfers to Kentucky
LEXINGTON, Ky. – Robyn Benton, who was an All-Southeastern Conference Freshman Team performer at Auburn before averaging double-digit points per game as a sophomore, has elected to transfer and signed with the Kentucky women's basketball program. Benton will have to sit out the 2020-21 season due to NCAA transfer rules.
 
"Robyn is a fantastic player that really is going to fit in perfectly here at Kentucky," UK head coach Matthew Mitchell said. "When you look at her production the last two seasons, she has shown an ability to score at a high level and has some defensive intangibles that you cannot teach averaging nearly two steals per game. Most of all, she comes from a fantastic family and is a terrific person away from basketball and we are overjoyed to welcome her to Big Blue Nation."
Benton will transfer to Kentucky after playing 52 career games at Auburn the last two seasons, earning All-SEC Freshman Team honors in 2018-19. As a rookie, she played in 32 games and averaged 5.8 points per game while going 35-of-94 from long range and 24-of-34 from the free-throw line with 34 steals. A key moment during her freshman season was making the game-winning shot and free throw with 8.6 seconds left vs. Vanderbilt, earning her SEC Freshman of the Week honors. In her collegiate debut, she scored 16 points and hit three 3s vs. Grambling State while she had 14 points and was 4-of-5 from 3 against Oklahoma and went a perfect 5-of-5 from long range against Elon.
 
Last season, Benton upped her numbers even though she missed the first nine games of the season due to injury. The guard played in 20 games with 14 starts averaging 10.1 points per game with 27 3-pointers, 56 steals and 28 assists. Her best game came vs. Missouri where she posted a career-high 23 points hitting three 3s with four steals and went a perfect 6-of-6 from the free-throw line. Benton also scored 15 points at South Carolina, hitting two 3s with two steals, while she had 17 points against Ole Miss with three treys. In all, Benton scored 10 or more points in 11 games and hit at least one 3-pointer in 16 of her 20 games played.
 
Benton was a five-star recruit and ranked as the No. 17 overall player nationally by ESPN.com entering college. The outlet also tabbed Benton the No. 6 guard in the class after an impressive high school career at Greater Atlanta Christian. The guard was the GHSA Class AAA Player of the Year and an Atlanta Journal-Constitution First-Team All-State performer as a junior averaging 17 points and 5.7 rebounds per game. Benton also excelled in the club circuits helping her team to Nike National Girls Championship in 2016 and Nike National Girls EYBL Platinum Championship in 2017. Robyn is the daughter of Mary and Robert Benton and has two siblings, Inky Johnson, who played college football at Tennessee and Myla Benton.
 
The Wildcats will return a large portion of their production for 2020-21 even with the departure of five seniors. Kentucky will be led by three-time first-team All-America honoree Rhyne Howard, who finished second nationally in scoring last season with 23.4 points per game while she hit a school-record 84 3-pointers during the year. Also returning will be guard Chasity Patterson, who averaged 11.5 points in 19 games last season while guard Blair Green will also return after averaging 5.8 points per game. In the post, UK returns KeKe McKinney, who averaged 6.5 points and 4.7 rebounds, and Tatyana Wyatt, who averaged 5.5 points and 3.7 rebounds. Guard Emma King also returns after playing in 15 games last year.
 
Several players will return to the team but did not see time last year due to injury or NCAA transfer rules. Guard Kameron Roach headlines that list after she tore her Achilles at the end of her sophomore season and used last year to rehab and regain strength. Freshman post Deasia Merrill missed last season due to sustaining a season-ending knee injury and should provide UK depth in the post next year while 2019 Pac-12 Freshman of the Year Dre'una Edwards figures to have a big season for the Wildcats in 2020-21 after missing last season due to NCAA transfer rules. Edwards transferred to UK last May after an impressive rookie campaign at Utah.
 
The Wildcats will also welcome three impressive freshman to campus in MaxPreps Tennessee Player of the Year Treasure Hunt and all-state honorees Erin Toller and Niya Leveretter. Hunt, Toller and Leveretter signed National Letters of Intent to play at Kentucky back in November and make up a top-20 recruiting class in the nation according to ESPN.com. Hunt was picked to play in the exclusive Jordan Brand Classic and McDonald's All-American Game, while Leveretter and Toller were both honored as nominees for the McDonald's All-American Game.
 
For more information on the Kentucky women's basketball team, visit UKathletics.com or follow @KentuckyWBB on Twitter, Instagram and Facebook.