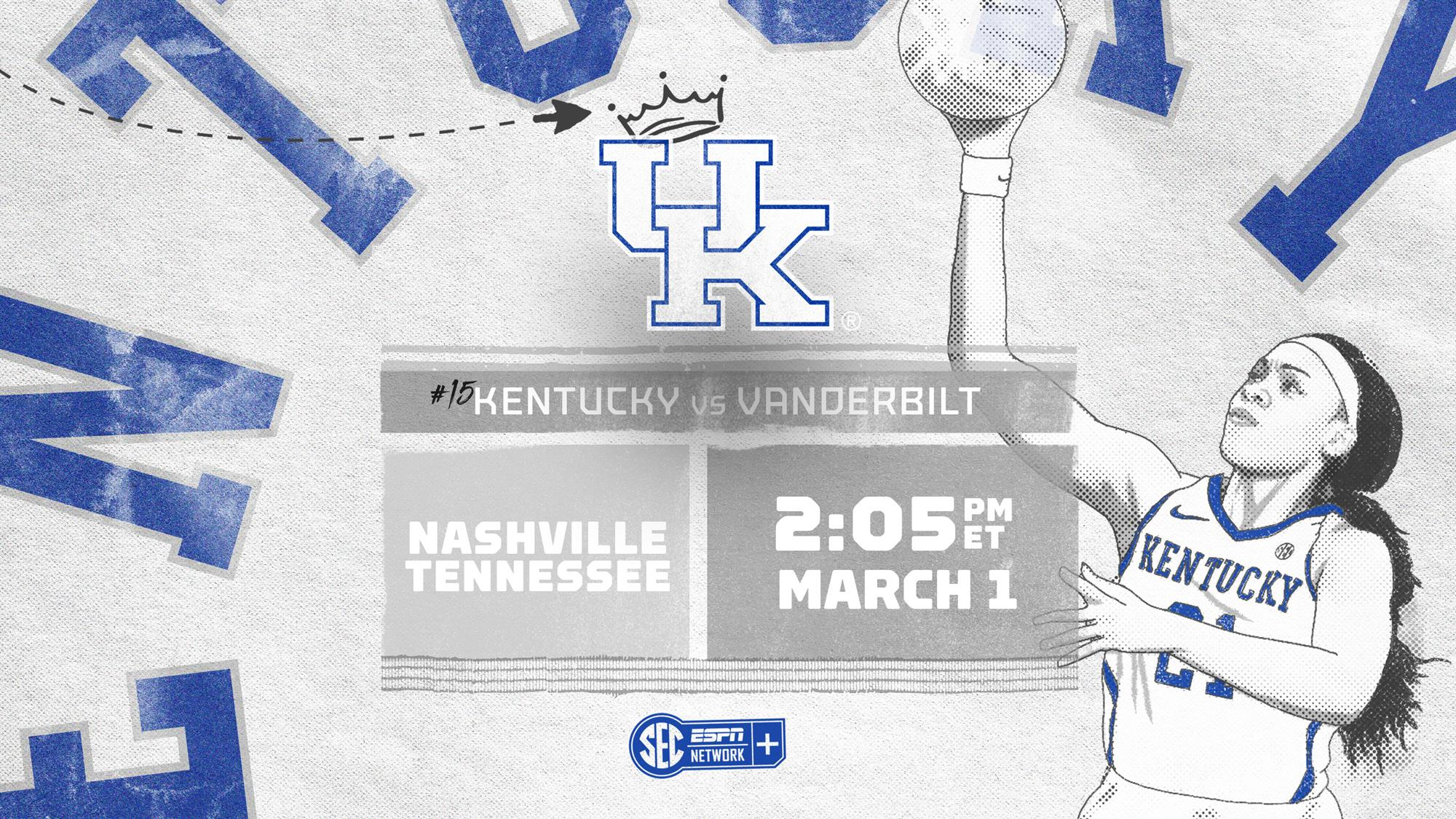 February 29, 2020 - 08:21 AM
No. 15 Kentucky Ends Regular Season Sunday at Vanderbilt
LEXINGTON, Ky. – The 2019-20 regular season will come to an end Sunday at 2 p.m. ET inside Memorial Gymnasium for the No. 15 University of Kentucky women's basketball team as the Wildcats look to lock up a top-four seed in next week's Southeastern Conference Tournament with a win over Vanderbilt. 
 
The game will be shown in its entirety online at SEC Network+ while SEC Network will be doing whip around coverage of all of Sunday's action. Fans who want to see the entire UK-VU game should rely on SEC Network+. Darren Headrick will have the call on the UK Sports Network on 630AM WLAP in Lexington. Live stats and free live audio will be available online at UKathletics.com.
 
Kentucky (20-6, 10-5 SEC) is coming off a strong performance Thursday night against Georgia, taking down the Bulldogs 88-77 inside Memorial Coliseum. The win secured another 10-win league season for the Wildcats under head coach Matthew Mitchell. UK is currently tied for third in the league standings with Texas A&M and will secure a top-four seed in next week's SEC Tournament with a win Sunday. Arkansas, LSU and Tennessee are behind UK at 9-6 in the league.
 
Sophomore guard Rhyne Howard led Kentucky in the game against the Bulldogs, scoring 25 points, hitting five 3s in the game with two assists and two steals. Senior guards Sabrina Haines and Jaida Roper also scored in double-figures in the game with Haines earning 15 points while Roper scored 14 and went 11-of-11 from the free-throw line. Fellow senior post Ogechi Anyagaligbo scored 10 points in the game with four rebounds.
 
Howard leads Kentucky and is second in the nation in scoring this season at 23.2 points per game adding a team-best 6.4 rebounds per game. The native of Cleveland, Tennessee has hit a team-high 72 3-pointers and leads the Wildcats with 56 steals. Junior guard Chasity Patterson is averaging 11.6 points per game with 27 assists and 22 steals, while Haines is the third Wildcat averaging double-figures at 10.3 points per game with 4.1 rebounds per game. Haines ranks high nationally and leads UK in 3-point field-goal percentage.
 
Vanderbilt enters the weekend with a 13-15 record, including a 9-6 mark at home and 3-12 mark in league play. The Commodores are averaging 66.7 points per game this season hitting 42.1 percent from the field and 29.0 percent from 3. VU is averaging 2.6 3-pointers per game with a +3.8 rebounding margin and -1.1 turnover margin.
 
Four Vanderbilt players are averaging double-figures this season paced by Brinae Alexander who played in the first seven games of the year before sustaining an injury. Koi Love is averaging 13.2 points per game with 6.2 rebounds per game while Mariella Fasoula is averaging 13.0 points and 6.5 rebounds per game. Chelsie Hall is the final Commodore in double-figures at 10.7 points and 4.1 rebounds per game.
 
Vanderbilt leads the all-time series in games played against Kentucky, 24-28 including a 14-9 mark in games played in Nashville. Kentucky has won three of the last four meetings with the lone setback being a 70-55 loss at Vanderbilt on Jan. 15, 2018. UK had won four straight in Nashville prior to the 2018 meeting. Vandy dominated the series in the early 2000s winning 15 of 15 to start the century but the Wildcats have won 12 of the last 14. Mitchell is 13-5 against Vanderbilt during his UK tenure.
 
For more information on the Kentucky women's basketball team, visit UKathletics.com or follow @KentuckyWBB on Twitter, Instagram and Facebook.