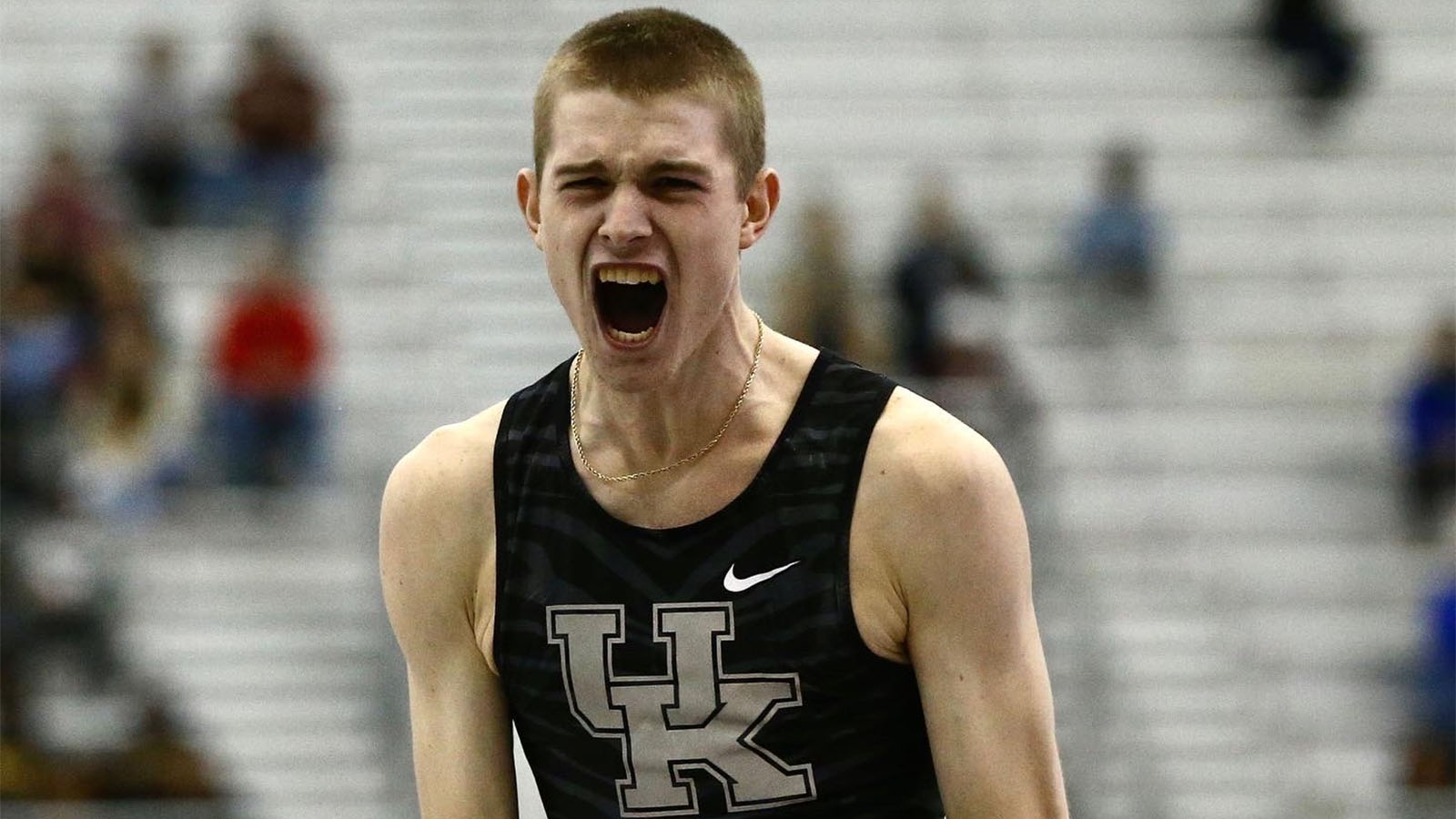 February 29, 2020 - 01:08 AM
Matt Peare Wins SEC Pole Vault Title, Two Other Cats Medal on Day One of SEC Championships
COLLEGE STATION, Texas – Kentucky earned three medals on the first day of the 2020 SEC Indoor Championships, headlined by Matthew Peare winning the men's pole vault with a mark of 17-11.00 (5.46m), which is a school record. 
 
Nicole Fautsch finished second in the women's shot put with a mark of 53-6.25 (16.31m) while Joshua Sobota took third in the men's shot put with a 64-5.75 (19.65m) which earned the Wildcats three medals on day one.
 
Molly Leppelmeier and Charles Lenford Jr. scored in the women's and men's shot put competitions as Leppelmeier finished fifth with a mark of 52-3.75 (15.94m) while Lenford Jr. finished eighth with a mark of 59-8.25 (18.19m). 
 
Abby Steiner ran a 22.73 in the women's 200m to advance to the final. That time is good for No. 2 in the NCAA this season and No. 3 in school history. Additionally, Dajour Miles (23.38) and Celera Barnes (23.44) also qualified for the final.
 
Brennan Fields qualified for the final of the men's mile with a time of 4:11.24 while Joseph Jardine sits in 11th through four events in the men's heptathlon on 2,769 points. He'll finish up on Saturday with the 60-meter hurdles, pole vault and the 1,000m.
 
Langston Jackson and Lance Lang qualified for the men's 60m dash final with times of 6.63 and 6.72 while Steiner (7.33), Celera Barnes (7.34) and Shadajah Ballard (7.36) qualified for the women's 60m dash final with their times.
 
Dwight St. Hillaire (47.18) and Alexis Holmes (52.77) qualified for the men's and women's 400m finals while Tai Brown's 7.81 locked him into the men's 60m hurdles final.
 
Jackson, Khance Meyers and Cameron Council all qualified for the men's 200m final with times of 20.96, 21.01 and 21.02. 
 
The second and final day of the SEC Indoor Championships begins at 11 a.m. ET with the 60m hurdles in the men's heptathlon.
 
Follow along with the Cats on Facebook, Instagram, Twitter and on the web at UKathletics.com.