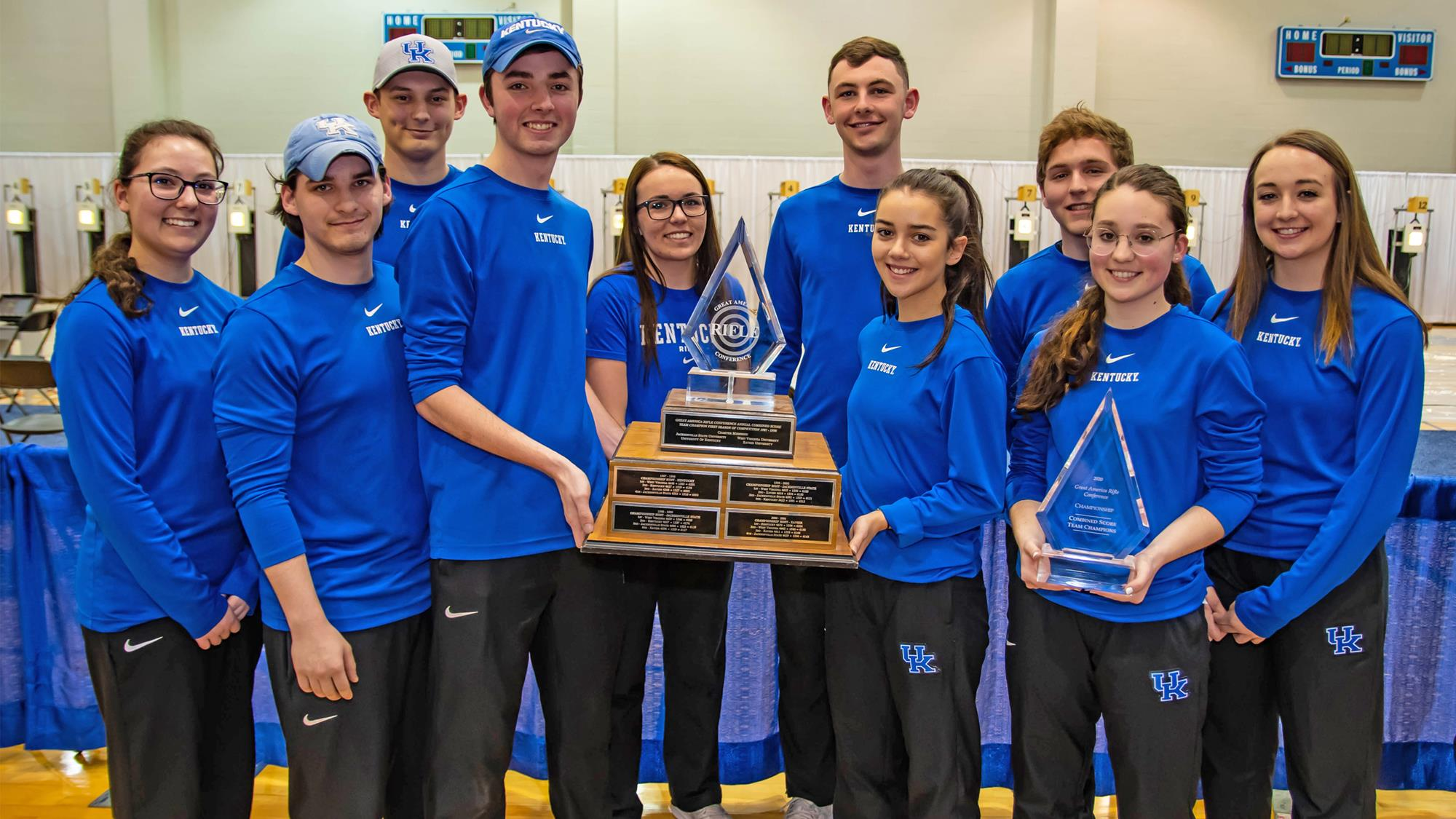 MEMPHIS, Tennessee – The No. 1 University of Kentucky rifle team earned its first Great America Rifle Conference Championship since 2009 Saturday when it posted an aggregate team score of 4711 at the two-day event. 
 
After leading the event at the conclusion of competition Friday with a smallbore score of 2326, the Wildcats secured the title Saturday by earning its second-highest air rifle team score of the year of 2385. West Virginia finished second with an aggregate of 4693 while Akron finished third at 4683. UK's smallbore and air rifle scores were tops in both disciplines at the event.
 
On the individual side, the Wildcats swept the podium with sophomore Will Shanner finishing first while sophomore Ruby Gomes was second and freshman Mary Tucker was third. Tucker, who finished second in smallbore Friday, was the top aggregate individual at the event at 1189 while Shaner was second at 1180. Tucker was also the top smallbore standing performer at 195 while Shaner was the top smallbore prone performer at 200.
 
Junior Hailee Sigmon and freshman Emmie Sellers were also in the air rifle lineup for UK with Sigmon firing a 592 while Sellers posted a 589. Several Wildcats competed well as individuals as freshman Jaden Thompson scored 588 while sophomore Richard Clark scored a 583, sophomore Mitchell Nelson a 580 and junior Mason Joachim a 571.
 
Earlier this week, UK qualified for its 26th NCAA Rifle Championships which will be hosted inside Memorial Coliseum on March 13-14. Tickets are available online at UKAthletics.com/NCAARifle. Individual and team competitions in smallbore three-position (60 shots) will be held Friday, March 13, and individual and team competitions in air rifle (60 shots) will be held Saturday, March 14. The overall team champion will be determined by combining the smallbore and air rifle team total scores into one aggregate score for each institution.
 
For the latest on the Kentucky rifle team, follow @UKRifle on Twitter, Instagram and Facebook, as well as on the web at UKathletics.com.