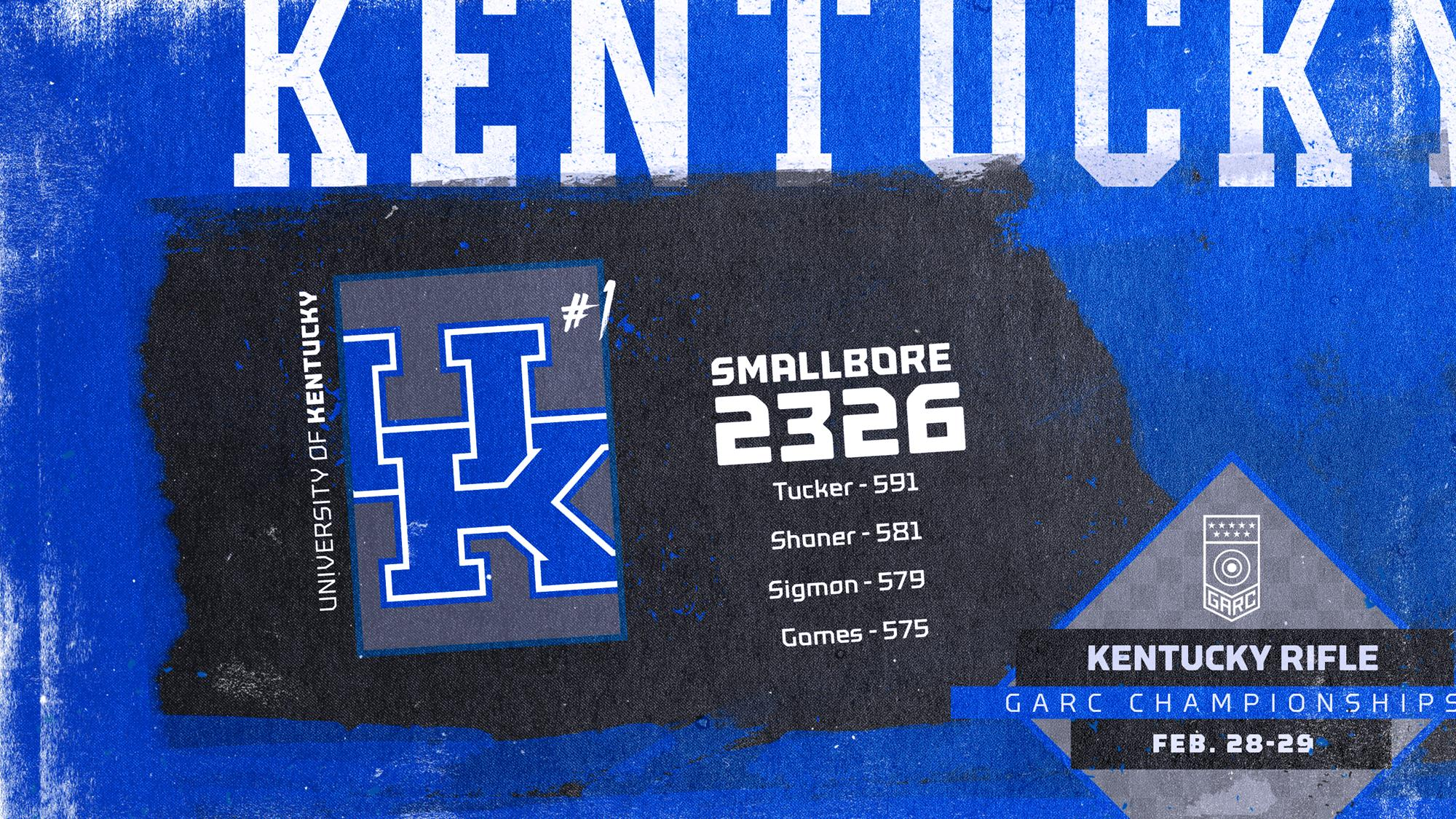 MEMPHIS, Tennessee – Freshman Mary Tucker claimed a silver medal in smallbore as the No. 1 University of Kentucky rifle team posted a team smallbore score of 2326 to lead the field after the first day of competition at the Great American Rifle Conference Championships in Memphis, Tennessee on Friday.  
 
The two-day event began Friday with all teams and competitors competing in smallbore across three relays with eight individuals then facing off in a finals format. The event concludes Saturday with air rifle relays, which will also conclude with an eight-finalist final. Competition is scheduled to begin at approximately 9 a.m. ET Saturday with live stats available ukathletics.com.
  
Tucker led the field following the team portion of smallbore by shooting a 591 in the discipline, earning her spot in the eight-person final. The native of Sarasota, Florida scored a 454.3 in the smallbore final to finish just behind gold medalist Emily Cheramie of Nebraska at 460.2.
 
The Wildcats as a team scored a 2326 in smallbore to lead the field heading into air rifle. Tucker's 591 paced the Wildcats on Friday while sophomore Will Shaner was second at 581. Junior Hailee Sigmon fired a 579 while the UK rotation was completed by sophomore Ruby Gomes at 575. Sophomore Richard Clark was in the smallbore rotation and fired a 573 while several Wildcats competed well as individuals with freshmen Jaden Thompson and Emmie Sellers scoring a 581 and 578, respectively, while freshman Mason Hamilton scored a 570. Junior Mason Joachim and sophomore Mitchell Nelson each scored a 567.
 
West Virginia is just behind the Wildcats heading into the final relays after earning a 2323 in smallbore followed by Navy at 2318, Akron at 2315, Nebraska and Ole Miss at 2313, host Memphis at 2311, Army at 2304 and NC State at 2298.
 
Kentucky entered the weekend after a strong regular season in which UK set a new school record team aggregate score and earned its first GARC Regular-Season Championship since 2013. The Wildcats are looking for their first GARC Championship title since 2009.
 
Earlier this week, UK qualified for its 26th NCAA Rifle Championships which will be hosted inside Memorial Coliseum on March 13-14. Tickets are available online at UKAthletics.com/NCAARifle. Individual and team competitions in smallbore three-position (60 shots) will be held Friday, March 13, and individual and team competitions in air rifle (60 shots) will be held Saturday, March 14. The overall team champion will be determined by combining the smallbore and air rifle team total scores into one aggregate score for each institution.
 
For the latest on the Kentucky rifle team, follow @UKRifle on Twitter, Instagram and Facebook, as well as on the web at UKathletics.com.