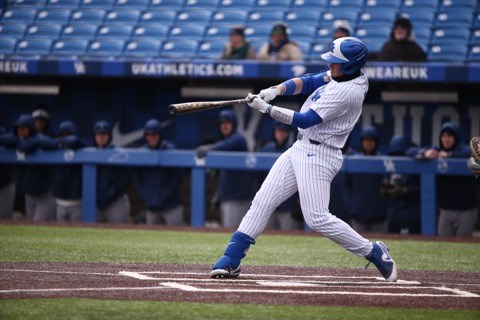 LEXINGTON, Ky. – All good things must come to an end.
 
Kentucky baseball's school-record 127-game scoring streak was snapped on Friday in an 8-0 loss to UNC Wilmington at Kentucky Proud Park. It was the first time since 2016 the Cats had been shutout in a nine-inning game, a span of 203 contests.
 
UNCW starter Zarion Sharpe was brilliant for the Seahawks and lowered his season earned run average to 0.96 in three starts. He kept the Cats off balance with a steady mix of pitches and changes in speed, then wriggled out of trouble whenever the Cats (5-4) mounted a serious threat. The Cats were 0-for-11 with runners on base and hitless in six at bats with runners in scoring position.
 
Meanwhile, UNCW benefitted from some baseball luck to grab an early lead it would not relinquish. The first two batters of the game reached on infield singles and came around to score on a groundball through the infield. The Seahawks tacked on a single run in the fourth an then hit a pair of two-out solo home runs in the sixth to stretch the lead to five.
 
There were bright spots for the injury-depleted Cats, who were missing outfielders Cam Hill and Jaren Shelby, as well as leadoff hitter Elliott Curtis. Freshman infielder Chase Estep collected his first multi-hit game and continued to look like he belongs on the field, while sophomore infielder Austin Schultz extended his reached base safely streak to 22 consecutive games.
 
 
SCORING
Top 1st – Noah Bridges beat out an infield chopper to open the game. Matt Suggs beat out a second infield chopper, Suggs advanced to third when ball got away at 1B. Cole Weiss singled through the right side, scoring Bridges and advancing Suggs to third. Jac Croom singled to CF, scoring Suggs. UNCW 2, UK 0.
 
Top 4th – Kip Brandenburg singled to LF and moved to third on Trevor Marsh's single to CF. A wild pitch scored Brandenburg. Bridges walked. UNCW 3, UK 0.
 
Top 6th – Suggs hit an opposite field home run to RF. Weiss homered to RF. UNCW 5, UK 0.
 
Top 9th – Suggs and Weiss walked and moved up on a SAC bunt. Croom doubled down the LF line, scoring Suggs and Weiss. Croom advanced to third on fielding error by LF. Ron Evans hit a SAC fly, scoring Croom. UNCW 8, UK 0.
 
 
NOTES
Kentucky's school-record 127-game scoring streak came to an end. It was the third-longest active streak in the country entering the game. The Cats had scored in 203 consecutive nine-inning games dating to the 2016 season.
The defeat snapped a 27-game winning streak against non-Power Five opponents.
Sophomore INF Austin Schultz has reached base safely in 49 of the past 51 games and 22 consecutive contests.
Freshman INF Chase Estep went 2-for-3 on the day.

The two hits were a career-high for the Corbin, Kentucky native.
He has hits in three of his past four games.
 
ON DECK
The Cats look to get back on track in the middle game of the UNC Wilmington series on Saturday, Feb. 29 at 1 p.m. ET. The game will be aired on SECN+. The radio call will be on the UK Sports Network.