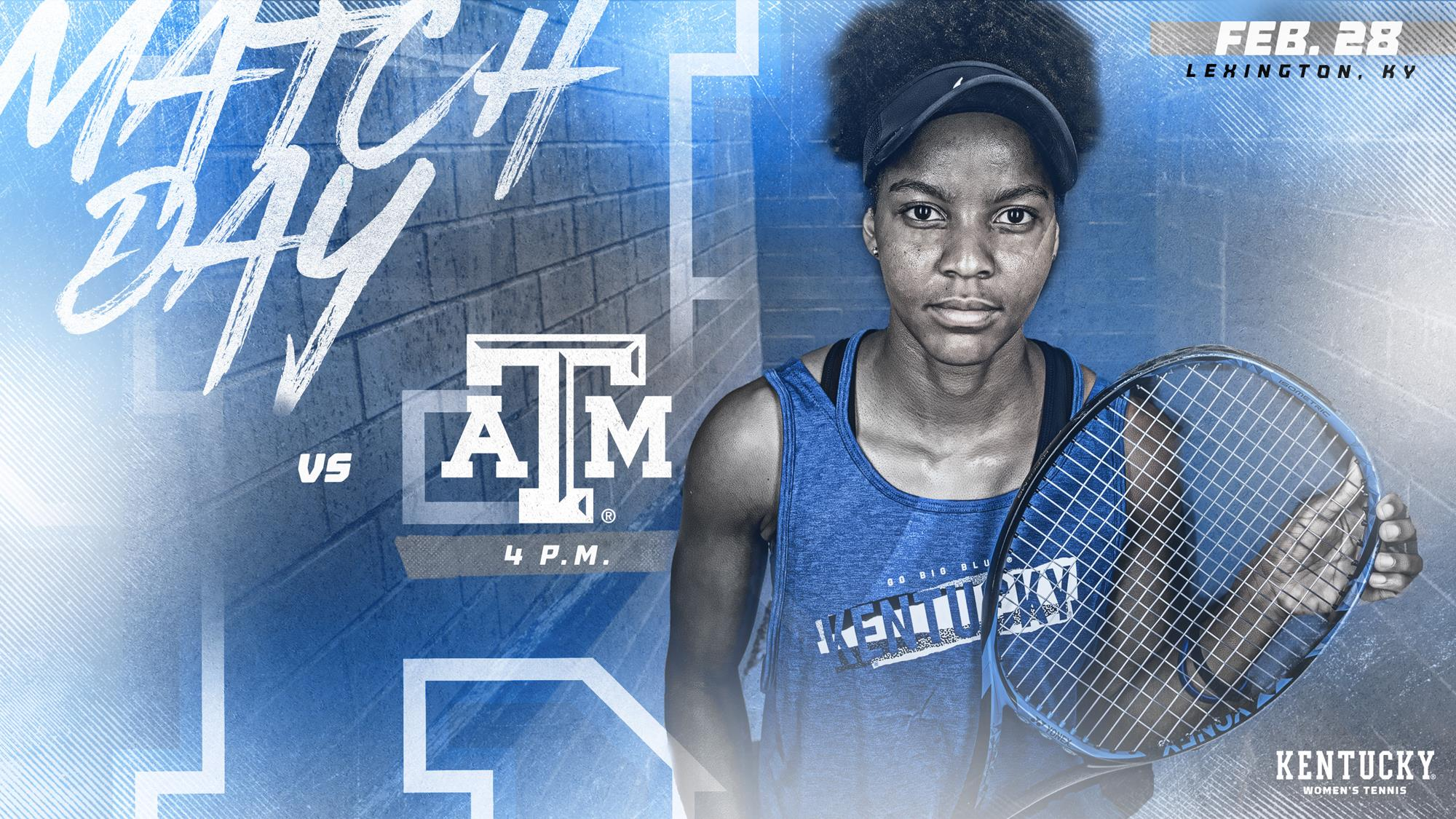 February 27, 2020 - 11:33 AM
Kentucky Women's Tennis Begins Conference Schedule, Hosts Texas A&M Friday night
LEXINGTON, Ky. – The University of Kentucky women's tennis team will begin its Southeastern Conference schedule on Friday, Feb. 28 by playing host to Texas A&M at 4 p.m. inside the Hilary J. Boone Tennis Center. The Wildcats hold a 7-4 record entering the conference schedule, including boasting a perfect 4-0 mark at home.
 
Admission is free and fans are encouraged to attend. Free pizza will be available to fans, while supplies last. Free parking options include the three small E-lots adjacent to the facility one hour prior to first serve. Spectators may also pay to park in the Sports Center Garage (PS No. 7) on the corner of Complex Drive and Sport Center Drive. The cost of parking is $2 per hour, with a $16 per exit maximum.
 
Live scoring will be available here.
 
The Wildcats are 40-23 (.635) in singles matches this season and 15-11 (.635) in doubles matches this season. UK is at its best when it performs well in the doubles competition, owning a 7-0 record in dual matches when it earns the doubles point.
 
Kentucky will enter a familiar doubles and singles lineup for its conference opener, with Akvile Paražinskaite reporting to the No. 1 singles court. The redshirt senior has played No. 1 singles all season, owning a 3-5 record on the court.
 
UK's two nationally ranked players will follow behind Paražinskaite, as No. 118 Lesedi Jacobs will take the second court and No. 97 Carlota Molina will take the third court. Rounding out the singles lineup, Carla Girbau will be the fourth singles player, Diana Tkachenko will be the fifth singles player and Anastasia Tkachenko will be the sixth singles player.
 
The doubles lineup will feature Paražinskaite and Girbau on the first court, D. Tkachenko and Molina on the second court and A. Tkachenko and Jacobs on the third court.
 
The Wildcats lead the all-time series between the two teams, 12-7.
 
Texas A&M has had an impressive season so far, putting together a 10-2 record. The Aggies haven't played a true away match all season, but they boast a 6-2 mark competing at neutral sites. The conference foe has one ranked tandem on the team in No. 34 Lucia Quitero and Jessica Anzo. The duo is 12-2 overall, including 4-2 during dual matches, playing mostly on the No. 2 doubles court.
 
Three Aggies have played on the No. 1 singles court this season, while Tatiana Makarova takes the honor this week. The junior has put together a 9-0 singles record, competing on the first, second and third singles courts. She has a 2-0 record on the first singles court.
 
For the latest on the Kentucky women's tennis program, follow @UKWomensTennis on Twitter and on Instagram, on Facebook and on the web at UKathletics.com.