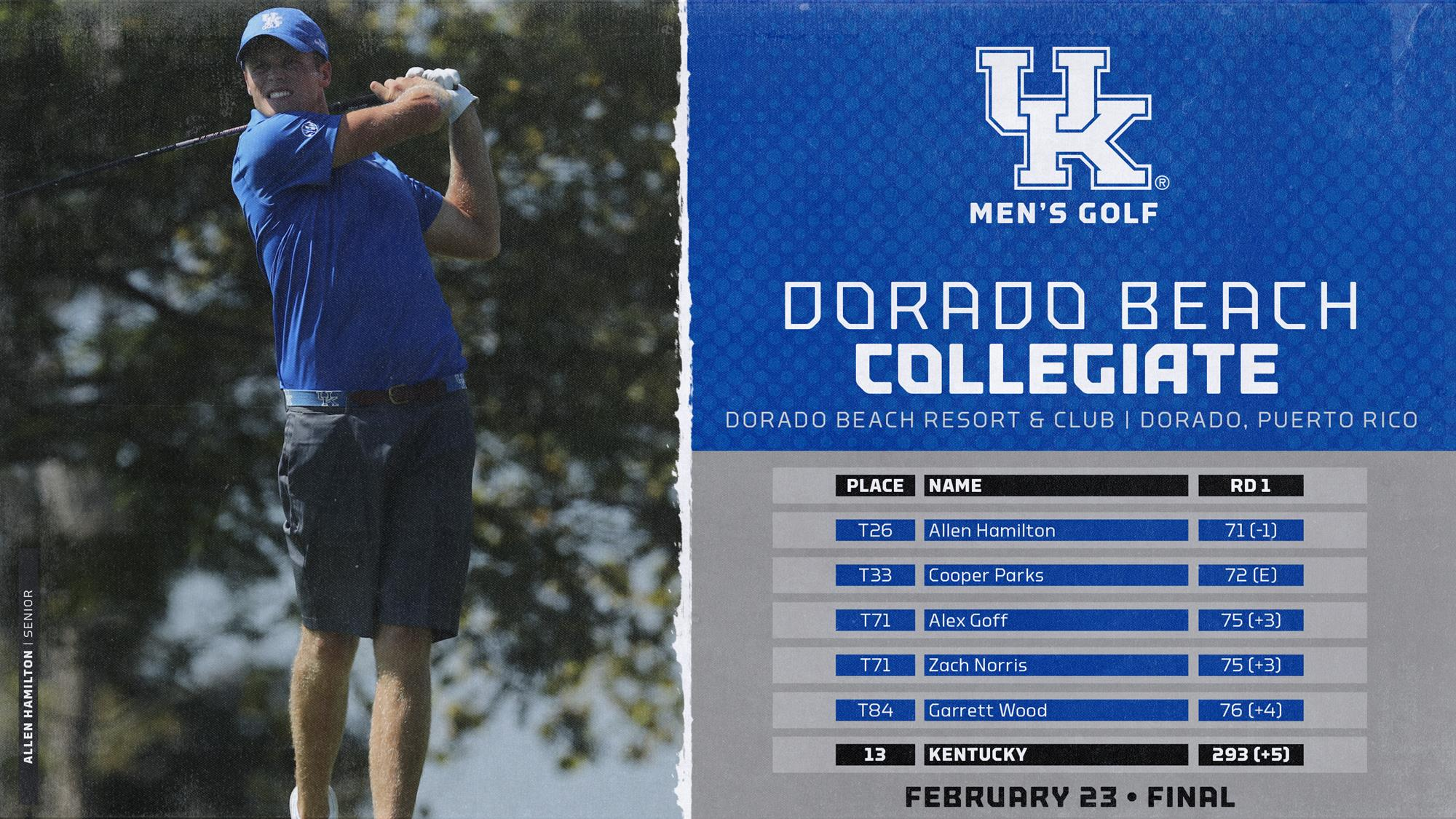 February 23, 2020 - 02:19 PM
Hamilton's Under-Par Round Leads Way at Dorado Beach Collegiate
DORADO, Puerto Rico – Senior Allen Hamilton's 1-under 71 led the Kentucky men's golf team on the opening day of play at the TPC Dorado Beach Collegiate on Sunday. Freshman Cooper Parks earned an even-par 72 as the Wildcats concluded the round in 13th with a team score of 5-over par.
 
The Wildcats are in the middle of things with two rounds to play. Louisville is the clubhouse leader at 19-under par, but a tightly bunch field leaves 11 of 15 teams within 12 strokes of one another. Kansas is second at 12-under, UNC Greensboro is third at 9-under par, Virginia Tech (-8) and Rutgers (-5) round out the top five.
 
Hamilton concluded round one at 1-under par and in a tie for 26th on the individual leaderboard. With a shotgun start, he began his round at the par-three eighth hole. He moved to under par with a birdie at the 10th. The Louisville, Kentucky, native picked up another birdie at the 14th, but he endured bogeys at the 13th, 15th and 18th. After making the turn on the course's front nine, Hamilton's round really picked up. He birdied the par-four first and got back to under par for the round with another birdie at the par-five sixth hole. Today's under-par scorecard marked the seventh such round of the season for Hamilton. He's in search of his third top-20 finish of the year.
 
Parks concluded the day tied for 33rd following an even-par 72. His round featured seven birdies to combat three bogeys and a pair of double-bogeys. Parks has generated four par-or-better rounds during his freshman campaign.
 
Sophomore Zach Norris and redshirt freshman Alex Goff logged rounds of 75 and are tied for 71st overall. Junior Garrett Wood fired a round of 76 and concluded the day tied for 84th to round out UK's starting five.
 
Playing as individuals, junior Jacob Cook carded a round of even par, while senior Matt Liston and freshman Jackson LaLonde both scored rounds of 1-over-par. Cook is tied for 33rd, while Liston and LaLonde are tied for 48th. Redshirt freshman Jay Kirchdorfer shot 74 and ended the day in a tie for 58th. LaLonde's round of 73 is a career-low score for the Lexington, Kentucky, native.
 
Round two gets underway on Monday at 7:30 a.m. ET. Live stats will be available via golfstat.com.
 
The Sugarcane Course is the most challenging of the two Plantation courses at the Caribbean golf resort. Despite boasting larger fairways and greens, the course features more forced carries and deeper bunkers. The back nine is surrounded by newly created rivers and lakes and offers a much different look.
 
For the latest on the Kentucky men's golf team, follow us on Twitter, Facebook, Instagram and on the web at UKathletics.com.