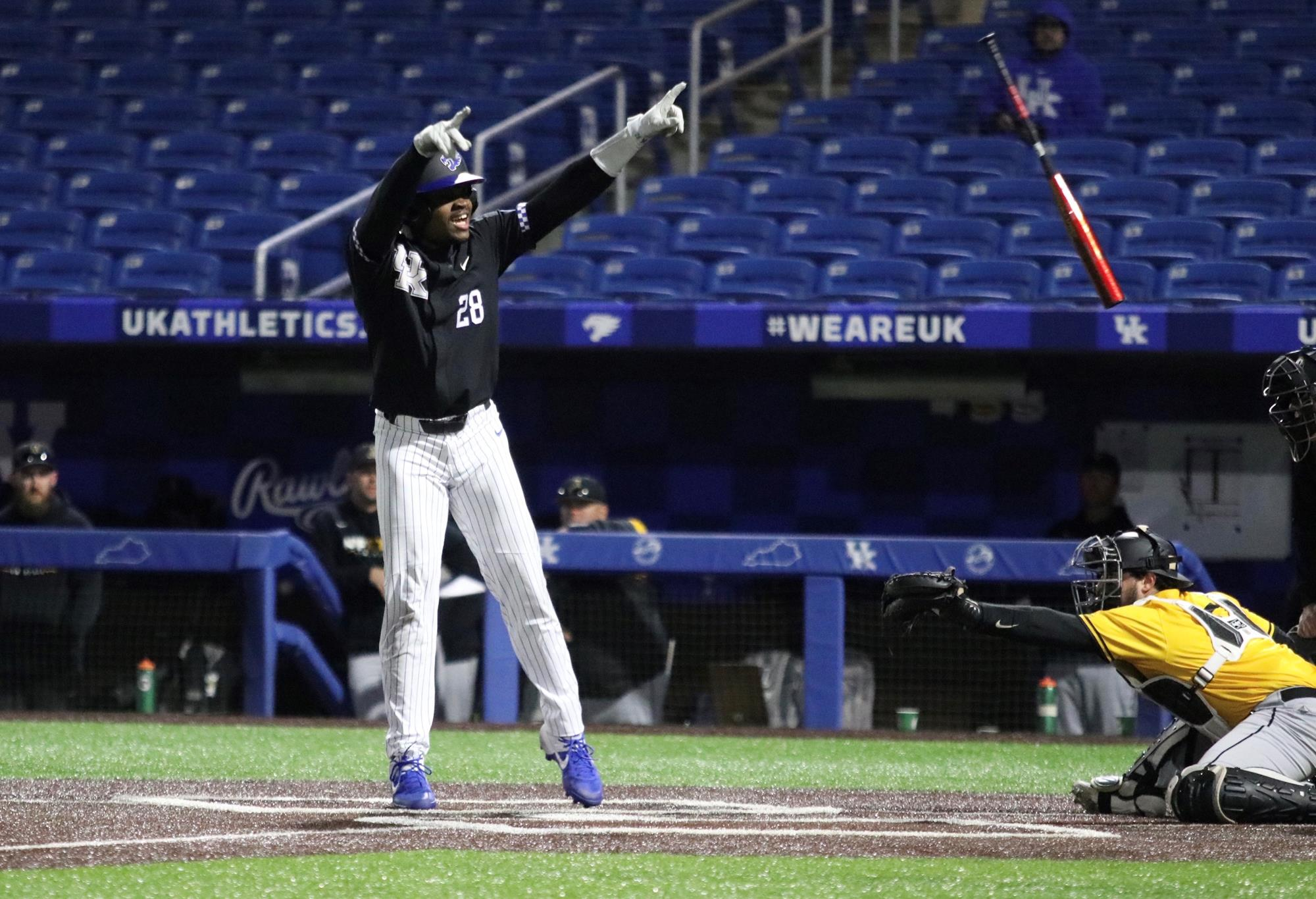 LEXINGTON, Ky. – Oraj Anu walked it off on Sunday. Literally.
 
The Kentucky baseball team completed a weekend sweep of Appalachian State with an 8-7 15-inning marathon victory, capping a perfect 4-0 start to its 15-game homestand at Kentucky Proud Park. It was the Wildcats' 26th consecutive win over non-Power Five conference opponents, the longest such current streak in the Southeastern Conference.
 
The Cats (4-3) finally sent the crowd of 2,392 home happy when Anu drew a four-pitch walk to force home Matt Golda in the bottom of the 15th inning after loading the bases on Golda's walk, Trae Harmon's hit by pitch and T.J. Collett's intentional walk. It capped a wild afternoon that saw the Cats fall behind 5-0, rally for a 7-6 lead before the Mountaineers tied the score with a two-out RBI double in the ninth.
 
UK had chances to win it in the 12th, 13th and 14th innings but saw the winning run stranded at third base all three times, including twice on tremendous diving plays by the Appalachian State second baseman that extended the game. Breydon Daniel also nearly won it for the Cats in extras but his drive down the left field line was ruled to have landed inches foul.
 
Still, the weekend was a rousing success and a coming out party for Harmon, who clobbered home runs in all three games, including a game-tying two-run shot on Sunday. The sophomore now has four home runs on the season and has teamed with sophomore Austin Schultz, who also homered on Sunday and drove in nine runs this week, to provide the bulk of UK's offense thus far.
 
Sophomore left-hander Cole Daniels earned the win with three innings of no-hit relief work, capping six innings of extra baseball that saw Appalachian State put just two runners on base.
 
The Cats will return to the field on Tuesday at 4 p.m. ET against Tennessee Tech to open a five-game week.
 
 
SCORING
Top 3rd – Luke Allison doubled to LCF, moved to third on Peyton Idol's single to RF and scored on a Bailey Welch SAC fly. Kendall McGowan drew a two-out walk. Robbie Young singled on a flare to LF, scoring Idol. Phillip Cole singled up the middle, scoring McGowan. APP. STATE 3, UK 0.
 
Top 4th – Jack Lipson hit a leadoff double down the LF line, moved to third on Allison's groundout and scored on Idol's SAC fly. Welch reached second on a two-out dropped fly ball and scored on a Luke Drumheller single to LF. APP. STATE 5, UK 0.
 
Bottom 4th – Austin Schultz homered to LF. APP. STATE 5, UK 1.
 
Bottom 5th – Breydon Daniel was hit by a pitch. John Rhodes hit a pinch hit double down the LF line, scoring Daniel from first. Rhodes advanced to third on a throwing error on relay throw home. Matt Golda singled through the left side, scoring Rhodes. Trae Harmon homered to LF, scoring Golda. UK 5, APP. STATE 5.
 
Bottom 7th – Golda homered to LF. UK 6, APP. STATE 5.
 
Top 8th – Tyler Leek reached on an infield single, moved to second on an errant pickoff throw and scored on Lipson's soft single to LF. UK 6, APP. STATE 6.
 
Bottom 8th – Schultz was hit by a pitch and stole second. Daniel was intentionally walked. Coltyn Kessler walked to load the bases. Zeke Lewis hit a SAC fly to CF, scoring Schultz. UK 7, APP. STATE 6.
 
Top 9th – Drumheller singled through the right side, advanced to second on a wild pitch and scored on Young's two-out double to LCF. UK 7, APP. STATE 7.
 
Bottom 15th – Golda walked, Harmon was hit by a pitch and T.J. Collett was intentionally walked to load the bases. Oraj Anu walked, scoring Golda. UK 8, APP. STATE 7.
 
 
NOTES
Kentucky extended the school-record by scoring in its 126th consecutive game and 202 of the past 203 dating to the 2016 season. The lone shutout came in a seven-inning game. It is the fourth-longest active streak in the country.
The Cats now have won 26 straight games against non-Power Five opponents, the longest streak in the SEC.
Sophomore INF Austin Schultz has reached base safely in 47 of the past 49 games and 20 consecutive contests.

He had nine RBI in four games this week.
Schultz connected on his second home run of the season, a solo shot in the fourth inning.
Sophomore 1B/OF Trae Harmon homered in all three games of the series.

He has four homers on the season.
Five of his seven hits on the season have gone for extra bases.
Junior INF Matt Golda went 4-for-6 with three runs, two RBI, a walk and a home run.

The home run was the first of his UK career and gave UK a lead in the seventh inning.
Golda reached base eight times and scored five runs in the series.
 
ON DECK
The Cats open a five-game week at Kentucky Proud Park vs. Tennessee Tech on Tuesday, Feb. 25 at 4 p.m. ET. The game will be aired on SECN+. The radio call will be on the UK Sports Network.