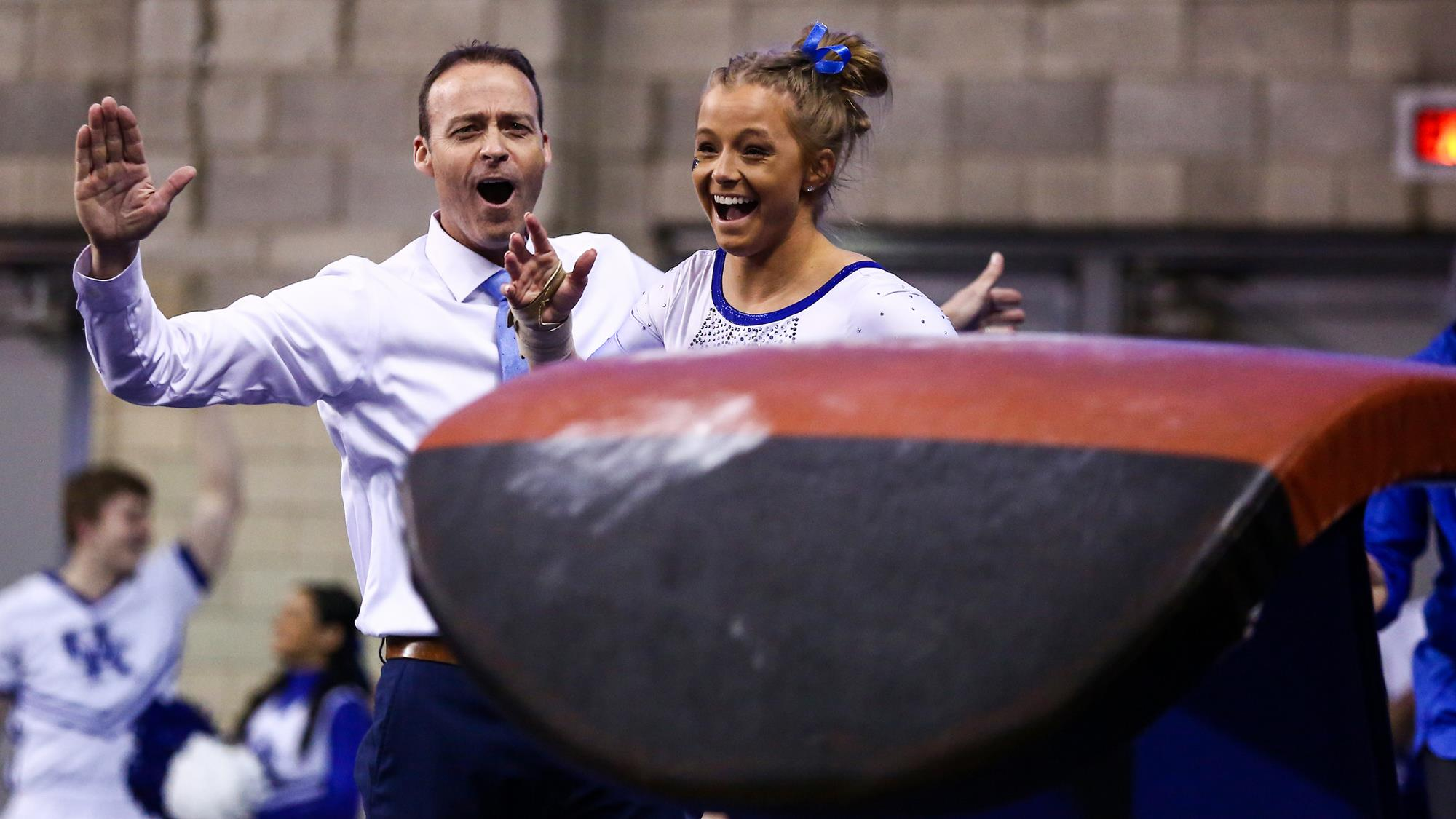 February 22, 2020 - 01:23 AM
No. 12 UK Posts Three Strong Rotations in Loss to No. 11 UGA
LEXINGTON, Ky. – Despite trailing on just one of four events as a team, No. 12 Kentucky (6-4, 3-3 Southeastern Conference) fell 197.050-196.825 to No. 11 Georgia (8-5, 2-2 SEC) on Friday at Memorial Coliseum.
 
Senior Mollie Korth led the Wildcats with two event wins on the night and earned the best score of her storied career on the opening rotation.
 
"Tonight was simply life in SEC gymnastics," said head coach Tim Garrison, who was honored prior to the meet for surpassing the 100-win mark on his UK career. "We had three strong events and struggled on one. When your opponent has a good day, you lose. We are a good team, but to take the next step, we will need to compete at a high level on all four events consistently."
 
Kentucky opened the night with a 49.375 on vault, led by career highs from its top two scorers. Korth, an eight-time All-American in total who has earned the distinction three times on the apparatus, was awarded a perfect 10.0 from one judge and a 9.95 from the other for a 9.975 consensus. The native of Cambridge, Wisconsin, became the fifth athlete in program history to record a vault routine of 9.975 or better. Korth was complemented by sophomore Josie Angeny, whose career-high 9.875 proved to be a top-five vault on the night.
 
Georgia would go on to match Kentucky's team vault score, but the Wildcats led 98.675-98.575 at the end of the first two rotations. Kentucky provided three of the top four individual scores of the night on uneven bars, highlighted by a 9.900 apiece from Korth and sophomore Cally Nixon, which equaled a career high for the latter. Freshman Raena Worley finished right behind the pair with a season-best 9.875.
 
Kentucky suffered a setback on balance beam, however, that relinquished its lead once and for all. The Cats' 48.750 was their lowest beam performance of the season, despite a career-high 9.900 and second-place finish overall from senior Hailey Poland.
 
Kentucky bounced back with a strong showing on floor, outscoring the Bulldogs 49.400-49.225. Korth and Ella Warren tied for the best scores on the event with a couple marks of 9.925, matching a career high for Warren and a season high for Korth.
 
Warren was the Wildcats' lone all-around performer, totaling 38.450 by night's end.
 
"We have work to do in training, but tonight wasn't about preparation," Garrison said. "We tightened up and lost some of our competitive edge. The only real chance we have to address this issue is in competition. Next week at Alabama will be another great opportunity to prove we can compete with the best. Once we get it right, look out."
 
Kentucky is scheduled to return to competition with its latest start time of the season at No. 8 Alabama (4-4-1, 3-2 SEC). The Wildcats and Crimson Tide are set to battle Friday, Feb. 28 at 8:30 p.m. ET on SEC Network. Kentucky defeated Alabama 197.200-196.800 in Lexington last season.
 
To purchase tickets for the 2020 season, visit UKAthleticsTix.com. For the latest on the Kentucky gymnastics team, follow @UKGymnastics on Twitter, Facebook and Instagram, as well as on the web at UKAthletics.com.