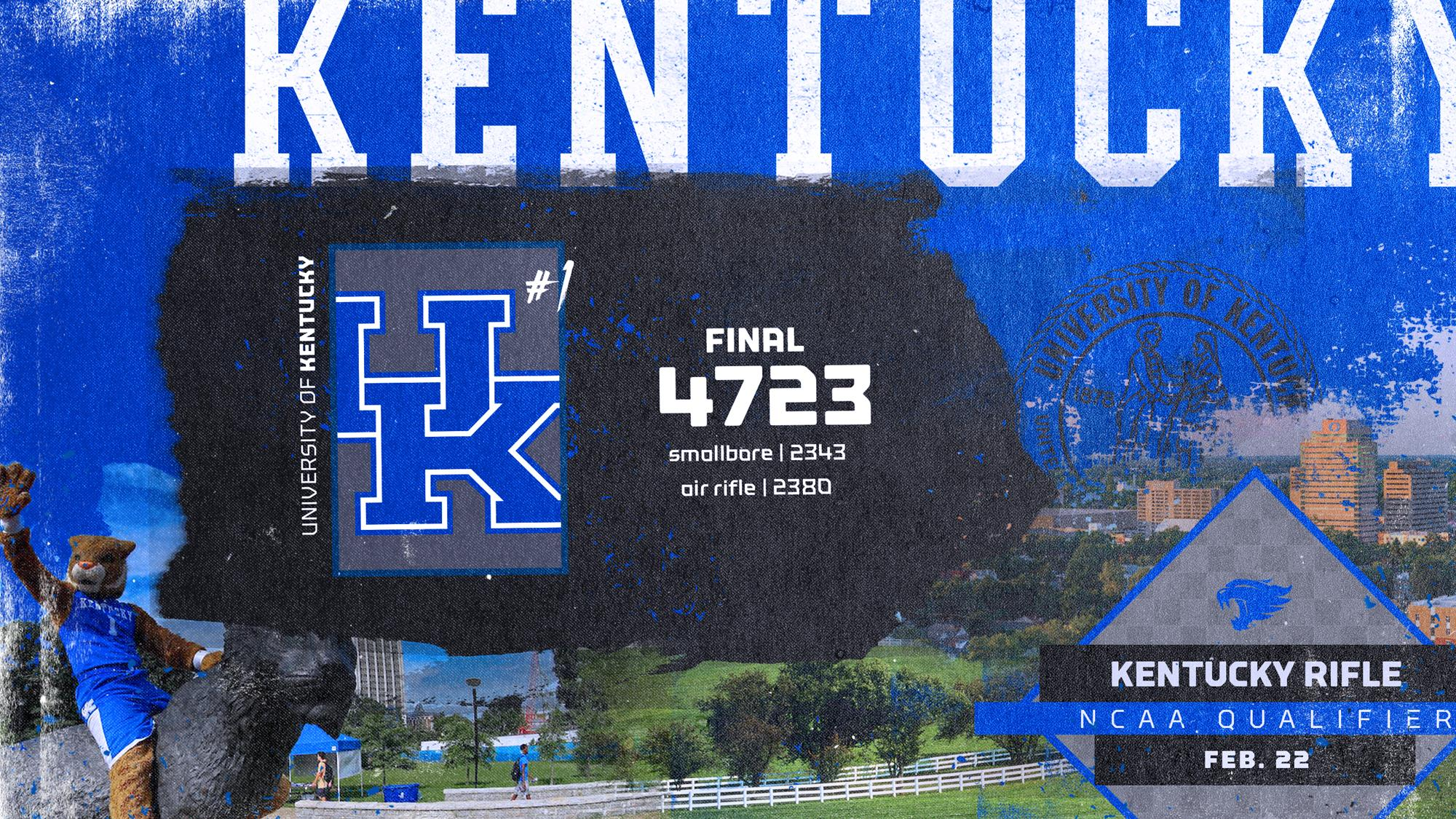 LEXINGTON, Ky. – The No. 1 University of Kentucky rifle team put together another impressive performance Saturday during its NCAA Qualifier with Morehead State, earning a team aggregate score of 4723 inside the UK Rifle Range. The Eagles posted a 4642 at the qualifier.  
 
"I am so proud of the way the group handled themselves as they worked through some tough spots today," UK head coach Harry Mullins said. "They worked very well as a group and it was a total team effort to get this number. I feel that we are working in the right direction and are all excited for the next couple of weeks."
 
Saturday's NCAA qualifying score is the last factor determining the field for the 2020 NCAA Rifle Championships. Each team's three score aggregate average – the score based on each team's highest three regular season scores fired at three different locations – has already been recorded. This weekend's qualifier score will be added to that average. The teams with the eight highest combined scores will qualify for the NCAA Championship.
 
Between relays Sunday, the UK rifle program celebrated Senior Day for senior Ian Foos from Bellevue, Ohio. Foos has had a great four-year career for the Wildcats earning Collegiate Rifle Coaches Association All-America honors as a freshman. He owns a career-best smallbore score of 578, while his career-best air rifle is 589. On Saturday, Foos shot a 556 in smallbore and 579 in air rifle for an aggregate score of 1135. 
 
Kentucky, which claimed the Great American Rifle Conference Regular-Season Championship last weekend, started the match with a 2343 in smallbore, marking its second-highest smallbore score of the season. UK also scored a 2343 on Feb. 1 against Memphis while its season-best was the 2344 it scored at Army on Jan. 19. The Wildcats concluded the match with a 2380 in air rifle which was their sixth air rifle score this season at 2380 or better.
 
Freshman Mary Tucker was the top performer for the Wildcats, earning a 592 in smallbore and 599 in air rifle for an aggregate score of 1191. Tucker is one of four athletes in the NCAA to fire a 599 in air rifle this season and she is the only one to accomplish the feat multiple times as Saturday was her fourth 599 in the discipline. The rookie's 1191 aggregate marked her fifth score of 1191 or better this season as she owns the top five individual aggregate scores in the NCAA this season.
 
Junior Hailee Sigmon posted her best aggregate score of the season at 1184 after a season-best mark in both events. Sigmon started with a 586 in smallbore followed by a personal-best 598 in air rifle. Sophomore Ruby Gomes started her day with a season-best 580 in smallbore and followed that with a 595 in air rifle for an aggregate score of 1175. This was the third 595 or better in air rifle for Gomes this season and her third aggregate of 1175 or better. Fellow sophomore Richard Clark also set a season-best in smallbore at 585 and finished the match with a 588 in air rifle for an 1173 aggregate.
 
Freshmen Jaden Thompson and Emmie Sellers had great matches. Thompson was in the smallbore lineup for Kentucky and fired a 576 while she earned a 589 in air rifle for an aggregate of 1165. Sellers was in the air rifle lineup and posted a 588 while she participated in the second relay in smallbore and posted a 568 for a 1156 aggregate.
 
Junior Mason Joachim scored a season-high 589 in air rifle during the second relay while he also earned a 566 in smallbore and a 1155 aggregate. Sophomore Mitchell Nelson scored a 577 in smallbore and 582 in air rifle for an aggregate score of 1159 while sophomore Mason Hamilton scored a 574 in smallbore and 583 in air rifle for a 1157 aggregate.
 
The Wildcats will travel to Memphis, Tennessee next weekend for the annual GARC Championships, which will be held Feb. 28-29. Kentucky will play host to the 2020 NCAA Championships in Memorial Coliseum on March 13-14. Tickets are available online at UKAthletics.com/NCAARifle.
 
For the latest on the Kentucky rifle team, follow @UKRifle on Twitter, Instagram and Facebook, as well as on the web at UKathletics.com.