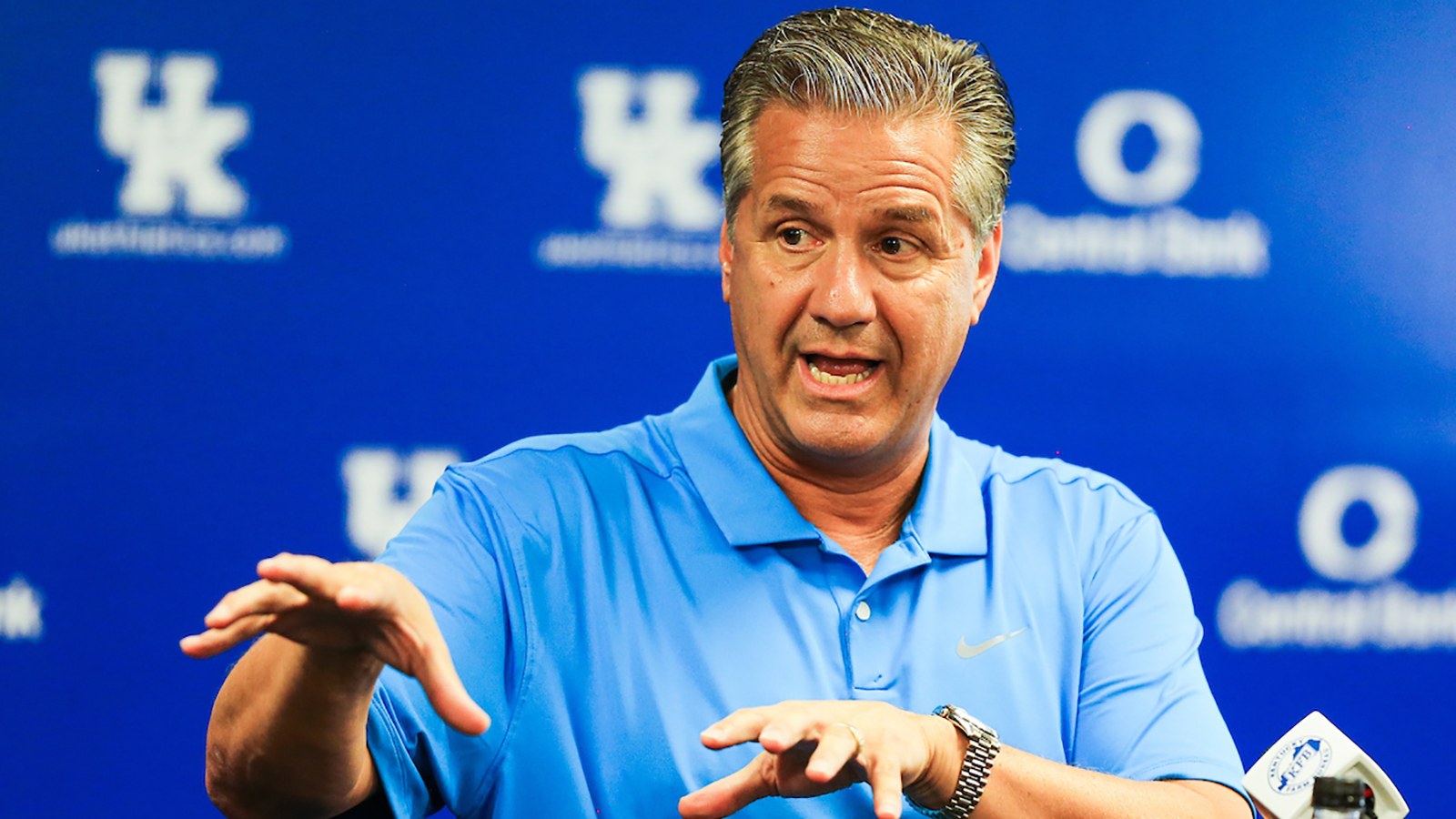 February 21, 2020 - 10:11 AM
Kentucky Basketball Previews Florida
UK ATHLETICS COMMUNICATIONS & PR
MEN'S BASKETBALL
KENTUCKY at KENTUCKY PREGAME MEDIA
FEB. 21, 2020
JOE CRAFT CENTER – LEXINGTON, KY.
 
Head Coach John Calipari
 
On Ashton Hagans' injury status …
"Neither he nor Nick (Richards) practiced yesterday. That's why I went in (to the locker room first). I wanted to see (them). We'll see. They're day-to-day, both of them."
 
On the team dealing with a lot of adversity this year and if there is a comfort knowing that if Hagans and Richards cannot play …
"How about if both of them can't play? We've got Ben (Jordan). We have Ben who can go out there and throw strikes [media laughs]."
 
On playing Florida twice down the stretch and how the schedule has worked out …
"Watching tape of them too, they're good. There was a couple games that they lost that I watched that they had and they kind of let go. They've got some size, their guard play. They've got some veterans. They're good. They're good. I think the league puts us together with certain games at the end of the season that come into play late. Florida and us and the other games we play. Our schedule down the stretch is ridiculous, but it is what it is. And we're beat up. The biggest thing I'm hearing is there are people out there that feel sorry for us [said sarcastically]. They're having parties in other parts of the league right now. It's just how it is."
 
On if this would be easier if he just recruited "machines and robots" …
"Yeah. I need a couple machines. I'll tell you what, we had one of our best practices with six guys yesterday. We went like a full practice, which is our Thursday. The day before I'm thinking, maybe I should back up a little bit. Not because of the injuries; because I didn't know whether they'd practice or not. Just that it's this late. We went two hours and something yesterday, and we went."
 
On why it was one of the best practices of the season …
"Because they competed, got better, they had great body language. We went from one thing to the other. We got better yesterday. And you're just trying to tell them, 'Let's not waste any time.' Today is going to be the short version. It's the day before a game. We got next Thursday and we've got the next Thursday. We've got two practices like that and then the season's over, which is crazy. But that's what it is"
 
On usually cutting back on practice this time of year …
"Only one day a week that we can go and that's Thursday because we don't play till Saturday and we got done on Tuesday."
 
On if he waits to see how practice goes or has an idea in his mind about practice time …
"We still have guys that are getting better. I mean, I need EJ (Montgomery) in those competitive, conditioning. We just need him to keep growing. We need Keion (Brooks Jr.). We need Johnny (Juzang) in those. So I've got a lot of young guys, and there have been times where I've back up in the last two or three weeks and we go an hour and 15. There was a time in 2014 we went three hours because that team needed it. We had five freshmen starting and I had started backing up and we got worse. I said, 'That's it,' and we went to three-hour practices, which are hard for me to get through. This is play it by ear, next man up. Like yesterday, I walked out feeling good. But again, we're playing a really good team and we could be undermanned. I don't know yet, but these guys are day-to-day."
 
On who would play point guard if Hagans can't …
"Probably Tyrese and Immanuel. Both of them."
 
On what he will look for if Richards practices today …
"Just watch him practice. He may walk off and say, 'You know what I can't go. Then you know what? Probably can't go. If he feels good, he'll let me know. These kids, the one thing they do and I trust is that they know their bodies. Their body says no, they'll say no. Don't want anybody playing hurt, playing 70% You might as well not play."
 
On Maxey and Quickley have learned the last two games when Hagans being out at end of the last two games when Hagans was out …
"It shows us they have a long way to go. Shows us both defensively and decision making. You know, we have a ways to go. Now, what happened at the end of the LSU game where we went up 15 without him, then they pressed and I had the wrong kind of guys in there and it affected both Immanuel and Tyrese. We went to the three guards. We ended up playing pretty good down the stretch, but some of this is me feeling like playing guys in positions I haven't played. I mean, who do you start if Ashton doesn't start, Ashton doesn't play?
 
On the news of the one-time transfer rule and if he would be comfortable taking mid-major transfers …
"I'm not comfortable with that because of what it does to mid-major schools. I could be convinced like I was with Nate (Sestina) based on, 'We have no graduate program. He can't come back here.' A coach saying to me, 'I want this for him.' I stated my case about the transfer. Transfers not sitting out – just go where you (want) – it's an advantage for us. We're not lying to kids. We're not telling them you're going to do this, that and the other. My question would be, are they going to be able to leave at midseason? Can we rebuild our team if we know we're not quite good enough at midseason and play right away? And what does it do to mid-major schools where they invest in a kid and after his freshman year he says, 'You know what, thanks for all your help, now I'm going here.' What does it do to those schools? I mean, there is unintended consequences to all this stuff. You want to talk about level playing field and this is unfair advantage, wait a minute, that is damaging to programs if you're not sure And I said it, if anybody tampers, that head coach should be fired. You tamper with another guy's program, you should be fired. 'Well, it was my assistant.' Too bad, you should have known. You've gotta do something if you're going to let these kids leave, and they should be able to if they were not told the truth, if they were told, This is the way it's going to be,' and its nothing like that. Then kids should be able to leave. But there is consequences to that.
UK ATHLETICS COMMUNICATIONS & PR
MEN'S BASKETBALL
FLORIDA at KENTUCKY PREGAME MEDIA
FEB. 21, 2020
JOE CRAFT CENTER – LEXINGTON, KY.
 
Kentucky Players
 
#5, Immanuel Quickley, So., G
 
On Ashton Hagans' status for Saturday …
"I'm not sure. I just know from what everybody else knows that he took a hard spill. I think it started from, I can't remember what game it was, he took a hard spill on his back and I think it hurt him more at LSU. So, we hope we can get him back. But if not, we've just got to be ready to go."
On what Hagans brings to the team …
"His defense, his leadership, his toughness plays. He makes winning plays down the stretch, whether it's offense or defense. Getting guys shots, things like that. Just that toughness he brings on a day in, day out basis."
On how the team is different without Hagans …
"I think we're the same in a lot of ways. Being able to be versatile, offensively and defensively. Differently, he's more of a drive first, we probably shoot more jumpers than he does, but just as effective. He can make plays off the dribble. I think we can make plays as well. We just have to make up for that toughness and that defensive stuff that he brings, those winning plays, we've got to make up for that."
On how good it felt to see shots dropping at LSU …
"It's always good when shots fall. It opens up everything else offensively and then it also helps on defense. It's harder to get stops when you're constantly running back on defense after every missed shot. But if the ball goes in, you can set your defense up and things like that."
On Nick Richards' status …
"From what I know, Nick is pretty good. I think he's practicing today. We'll see how things go and we'll move from there."
On what Richards means to this team …
"Just a 7-footer who can do everything. Not every team can say they've got somebody like that. Can block shots, I think he had six or seven blocked shots (against LSU). That's not even counting the shots that he changed that he didn't block. His presence in the middle is huge for us offensively and defensively."
On what he knows about Florida …
"Florida is a really good team. Just from my experience, since I'm a sophomore, I played against them a good amount of times last year. They played us tough both times, really well coached, they've got a lot of talented players, players that I played against in high school as well. It's going to be a good game. They're really tough, really skilled."
On how this team has faced adversity this season …
"Adversity, this team has been really good this year. We've had a lot of stuff, there were a lot of injuries early in the season, we overcame that. Just little things, nicks and bruises and stuff like that. We've been able to overcome that stuff. If Ashton can't play, we're going to try to bring everything that he usually brings and try to add bits and pieces from every player to round up what he brings."
 
#4, Nick Richards, Jr., F
On his ankle …
"I think my ankle's pretty good. I'm just going day by day, getting treatment on it every day, listening to my trainer and that's basically it."
 
On the odd circumstances of his injury …
"I couldn't believe it. I don't think that's ever happened to anybody, but what are you going to do about it?"
 
On his All-America campaign …
"I think it was pretty fun. To have the whole entire team involved in it, it's just something that we enjoy doing. The media guys, they enjoy having fun with us, just promoting us, stuff like that."
 
On the idea that there's an All-America campaign for him and how far he has come …
"I just think it's a blessing. All the hard work that I've been doing over the years is paying off, but at the same time I just couldn't be here without my teammates and my coaches and all the people who have been in my circle since day one."
 
On whether he will practice today …
"Yeah, I am. I'm practicing today. We're just going to see how it feels in practice and then we'll figure it out from there."
 
On how painful the injury was …
"It was pretty painful. When I watched the video, I was really surprised that I didn't break my ankle, actually. During the game, it had a lot of pain and right after the game I just started getting treatment on it trying to hopefully fix it."
 
 
On the prospect of playing without him or Ashton Hagans …
"I think the only thing we're going to have problems with—the bench, there's not really that many guys on the bench. Overall, I actually think that we're going to be the same team. Guys are going to live up to the moment. They always step up for their roles. I don't think there will be any issues when it comes to how we play."
 
On the adversity they have faced this year …
"A lot actually. Not just with injury, but just with guys just trying to be consistent, just trying to stay in the right frame of mind. But, you know, that's just the basketball season. Every basketball team has their own adversity that they go through. It's just who figures it out and who's the team that's able to keep going, push through it is going to the better team."
 
On Leah Edmond dusting her trophies in the video she posted about his All-America campaign …
"I thought that was pretty funny."
 
On if there was a moment this season when he realized he was one of the best big men in the country …
"Honestly, I wasn't really thinking about trying to be the best at my position. I was just trying to get as many wins as possible. I know I said before the season I wanted to be the best big man, but I'm just trying to go out there and play my best and just try to get as many wins as possible for my team, try to get a good seeding for March and just try to win the tournament."