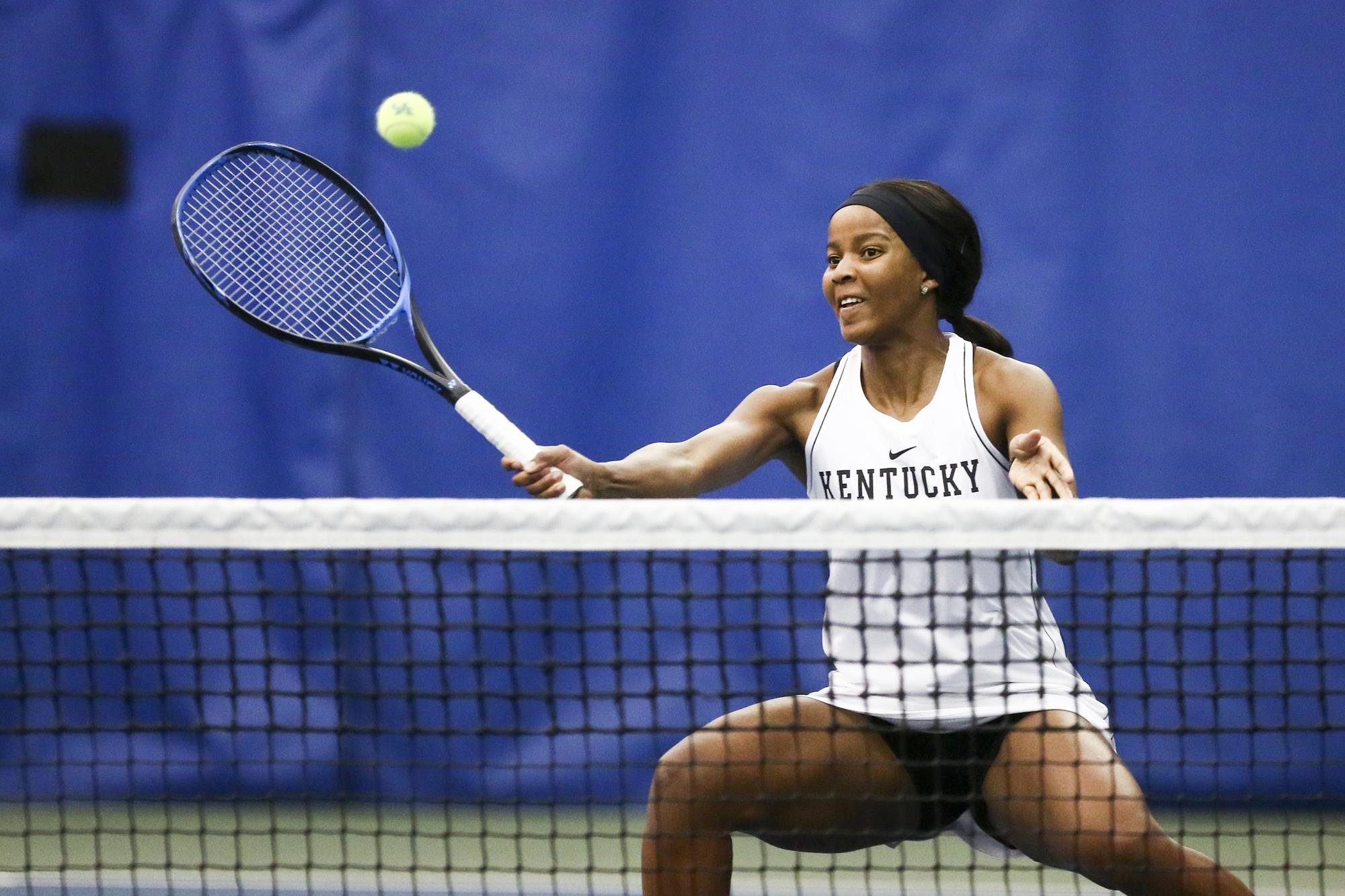 February 21, 2020 - 08:43 PM
Kentucky Women's Tennis Loses at No. 6 Ohio State
COLUMBUS, Ohio – The University of Kentucky women's tennis team dropped its match against No. 6 Ohio State, 4-1, in Columbus, Ohio on Friday night. The Wildcats move to a 7-3 record overall, including a 3-2 mark on the road.
 
Kentucky put forth a competitive start to the dual match, leading two of three doubles courts midway through the doubles competition. However, Ohio State put together a pair of runs to seal the deal on the second and third courts, clinching the doubles point for a 1-0 lead ahead of the singles competition.
 
Ohio State's Shiori Fukuda and Luna Dormet defeated UK's Diana Tkachenko and Carlota Molina on the second court, 6-2. Moments after, OSU's Danielle Wolf and Isabelle Boulais ousted Kentucky's duo of Lesedi Jacobs and Anastasia Tkachenko on the third court, 6-4.
 
Kentucky's Akvile Paražinskaite and Carla Girbau gave a gutsy performance on the first court, edging the 53rd-best doubles team in the nation, Kollie Allen and Irina Cantos Siemers, midway through the match. It ended in a tie at 5-5 after Ohio State clinched the doubles point. It was just the second time the two have teamed up this season, owning a 1-0 record together in 2020.
 
The Buckeyes used the early moment to their advantage in the singles competition, recording the first singles win on the fourth court. Allen defeated sophomore Girbau in a swift 6-1, 6-1 decision, giving Ohio State a 2-0 lead.
 
Meanwhile, senior Anastasia Tkachenko put together an impressive match on the sixth court, giving the Wildcats hope. She defeated Dormet, 6-2, 6-2. The senior is a competitive singles player, boasting an impressive 9-1 record in singles action this season and a 16-3 mark through both fall and spring sessions.
 
Ohio State quickly closed the competition though, recording a pair of wins on the first and fifth courts. No. 11 Fukuda powered past Paražinskaite in a 6-3, 6-3 decision on the first court, then No. 54 Siemers ousted Diana Tkachenko, 6-4, 6-4.
 
Kentucky held leads on the second and third courts before they retired. No. 97 Molina, a freshman, led Boulais, 6-4, 3-2. Molina is the only Wildcat undefeated in singles this season, boasting a perfect 8-0 record. No. 118 Jacobs also held a lead over No. 60 Wolf, 7-6 (3), 2-3.
 
Next on the Schedule
The Kentucky women's tennis team is back in action tomorrow, Saturday, Feb. 22, competing against No. 25 Arizona State in Columbus, Ohio, at noon.
 
For the latest on the Kentucky women's tennis program, follow @UKWomensTennis on Twitter and on Instagram, on Facebook and on the web at UKathletics.com.