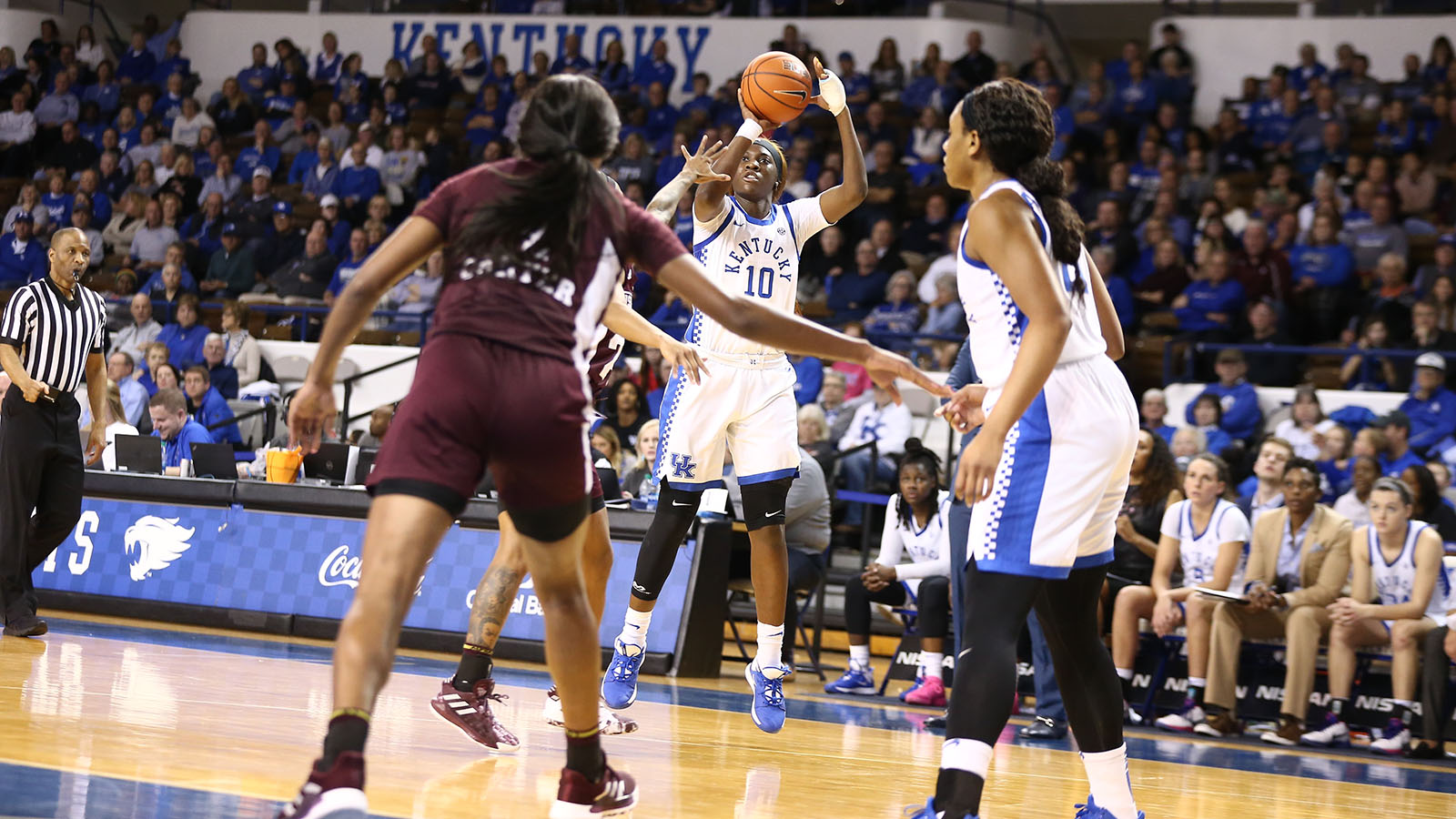 February 21, 2020 - 05:03 PM
Confident, Improved Cats Hope for Better Result Against South Carolina
When the Kentucky women's basketball last met South Carolina, the result was not one that the Wildcats remember fondly. On Jan. 2 in Columbia, the Gamecocks jumped out to an 11-2 lead and never looked back, beating the Wildcats 99-72.
Kentucky head coach Matthew Mitchell was less than pleased with his team's effort on that night in Columbia.
"The first thing is that we have to compete much harder," Mitchell said. "That was a really disappointing night for us and South Carolina has shown throughout the entirety of the conference season up to this point that they are an excellent team and they played fantastic that night and have continued to do that. We did not take care of the things that we can control in our effort and our energy, we were not very tough that night."
But Mitchell thought that game helped his team turn a corner that has helped the Cats through the conference campaign.
"That was a big compliment that I would pay the team is that we worked hard after that to address those issues and didn't run from those and I think we have toughened up since then," Mitchell said. "I think the thing that we have to do is bring the proper competitive spirit to the game and do all the little things that we have to do to win a basketball game no matter who we are playing."
The Cats, now ranked 14th in the nation, gained a great deal of confidence by beating fifth-ranked Mississippi State 73-62 last Sunday at Memorial Coliseum. And Mitchell thought the home crowd played a part in the victory.
"I thought last Sunday versus Mississippi State, which was a big game for us and we needed a win, same thing this Sunday because we need every win we can get and this obviously would be helpful in so many ways in the conference race and national landscape," Mitchell said. "I thought the energy in the Coliseum was very helpful and extremely powerful last Sunday."
Kentucky continued its solid play on Thursday night, pounding Ole Miss 94-52 in Oxford. Five Cats scored in double figures, led by Rhyne Howard, who had 21 points. The Cats are now 20-5 on the season and 9-4 in the SEC with three regular season games left to play.
Now, with the top-ranked Gamecocks coming to Memorial Coliseum for a 2 p.m. ET tip on Sunday, Mitchell hopes that the lessons learned in January, added to the Cats' confidence, can produce a much different result this time around.