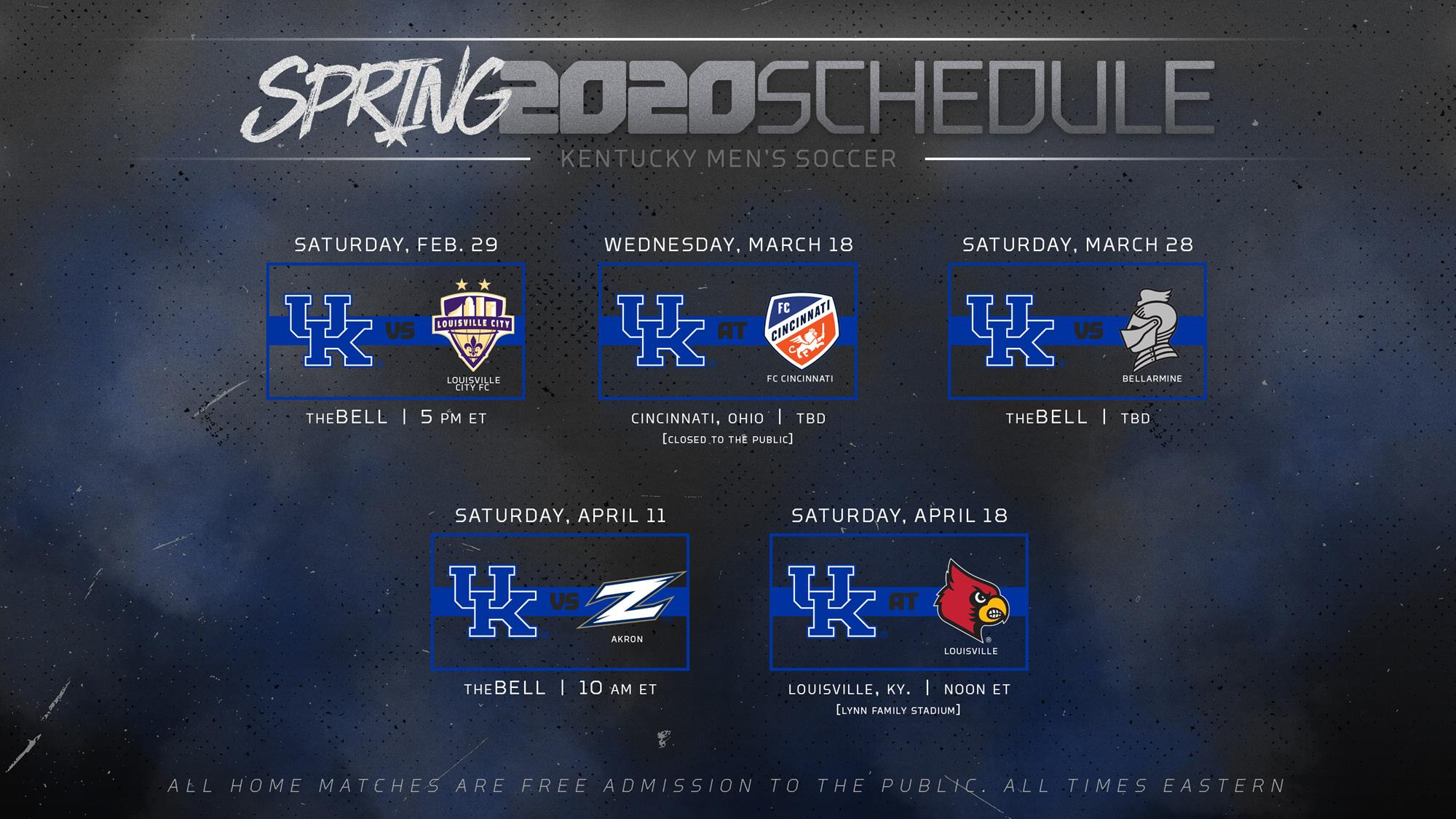 February 19, 2020 - 05:00 PM
UK Men's Soccer Announces Spring 2020 Slate
LEXINGTON, Ky. – After a 13-5-3 (4-2-1 Conference USA) finish in the second round of the NCAA Championship last fall, the Kentucky men's soccer program is set to return to action this spring with three matches at home and two on the road over the next few months.
 
The Wildcats will face two professional clubs and three collegiate sides in exhibition play. Each match that takes place at Wendell & Vickie Bell Soccer Complex is free to the public.
 
Kentucky is scheduled to kick things off at The Bell versus Louisville City FC on Saturday, Feb. 29 at 5 p.m. ET. Lou City, victor of the United Soccer League Championship in both in 2017 and 2018, most recently completed its fifth season in the second-tier league of the United States soccer league system with a third consecutive finals appearance.
 
Kentucky will then hit the road for a friendly battle with the reserves of FC Cincinnati on Wednesday, March 18 in a scrimmage that will be closed to the public. Major League Soccer's 24th club is coming off its inaugural season competing at the highest level of professional soccer in the country.
 
The Cats return home soon after, facing NCAA in-state foe Bellarmine on Saturday, March 28. The Knights will make the 80-mile trip from Louisville to Lexington after a 16-1-5 campaign last fall in the program's final go-round as a Division II institution. Bellarmine is set to become the eighth men's soccer team in the Atlantic Sun Conference next season.
 
On Saturday, April 11, Kentucky will host Akron at 10 a.m. Last fall, the Zips were ranked as high as No. 2 in the country before ending the season with a 6-10-2 record.
 
The Wildcats will conclude the spring on the road versus rival Louisville on Saturday, April 18 at noon. The match will take place at the state-of-the-art Lynn Family Stadium, scheduled to open earlier that same month. Kentucky enters the contest looking to avenge a 3-0 loss to the Cardinals last September.
 
For the latest on the Kentucky men's soccer team, follow @UKMensSoccer on Twitter, Facebook and Instagram, as well as on the web at UKAthletics.com.