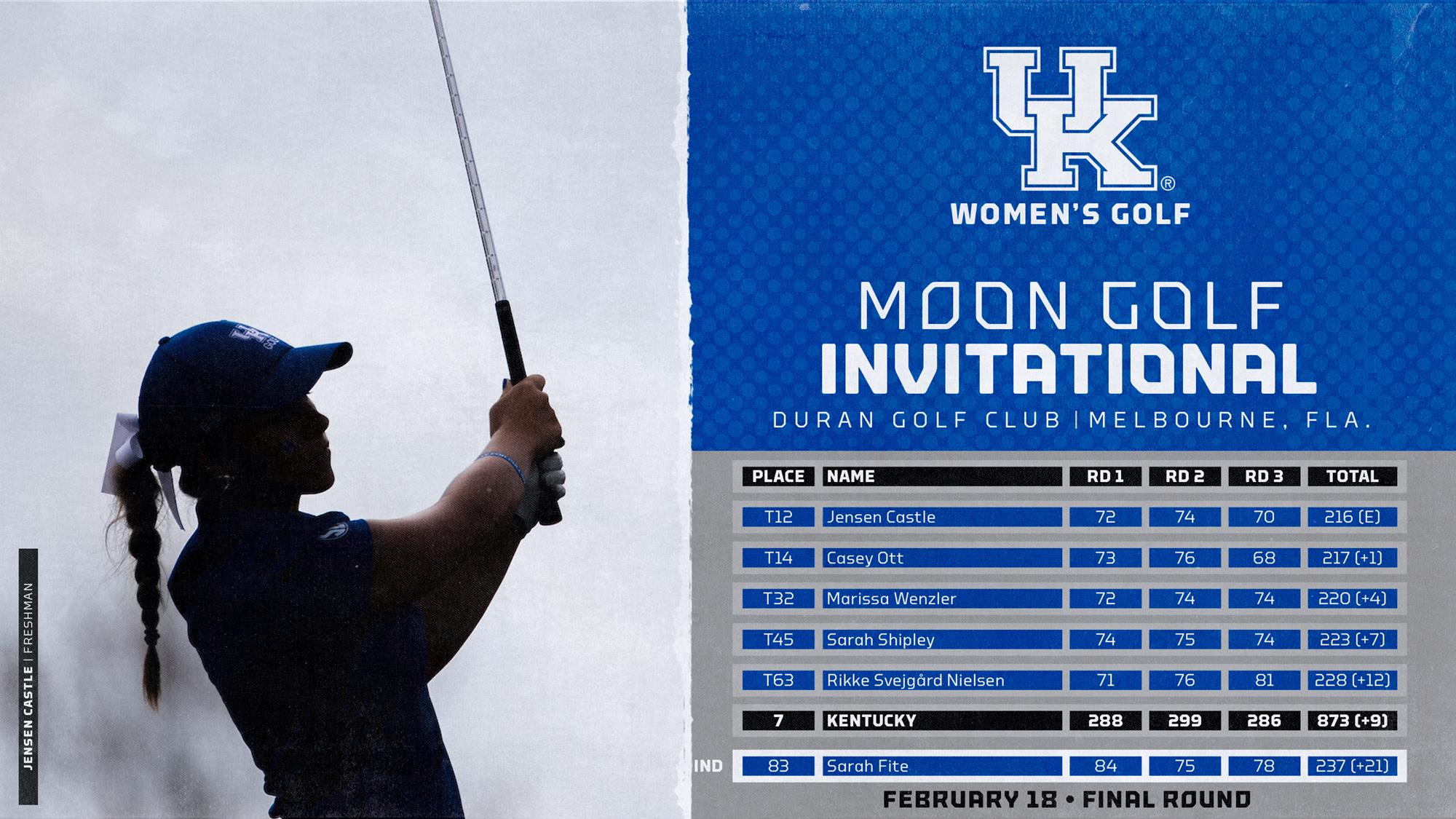 February 18, 2020 - 06:09 PM
Ott, Castle Finish Strong at the Moon Golf Invitational Final Round
MELBOURNE, Fla. – The Kentucky women's golf team, led by another steady performance from freshman Jensen Castle and a spectacular 4-under-par round from junior Casey Ott, shot the third-best round of the day and finished in seventh place at 9-over par to close out the Moon Golf Invitational.
 
The 21st-ranked Wildcats were unable to come back and threaten for the lead after a rough second round, but they managed to move up two spots in Tuesday's conclusion with a 2-under-par 286 at the Duran Golf Club (par 72, 6,256 yards) in Melbourne, Florida.
 
No. 12 Ole Miss, with a 4-under-par final round, held off Augusta for the title at the University of Louisville's annual spring tournament. Furman's Natalie Srinivasan rallied to leapfrog a teammate and claim the individual title at 10-under par.
 
After a four-month winter break following a historic fall season that included two team championships, a runner-up showing and record-pace individual numbers, UK competed twice in a week-and-a-half span to knock off the offseason rust.
 
With Kentucky placing fifth at last week's Lady Puerto Rico Classic and several individuals showing signs of their fall form, Kentucky head coach Golda Borst expressed confidence in her team as it looks ahead to a busy March and April slate.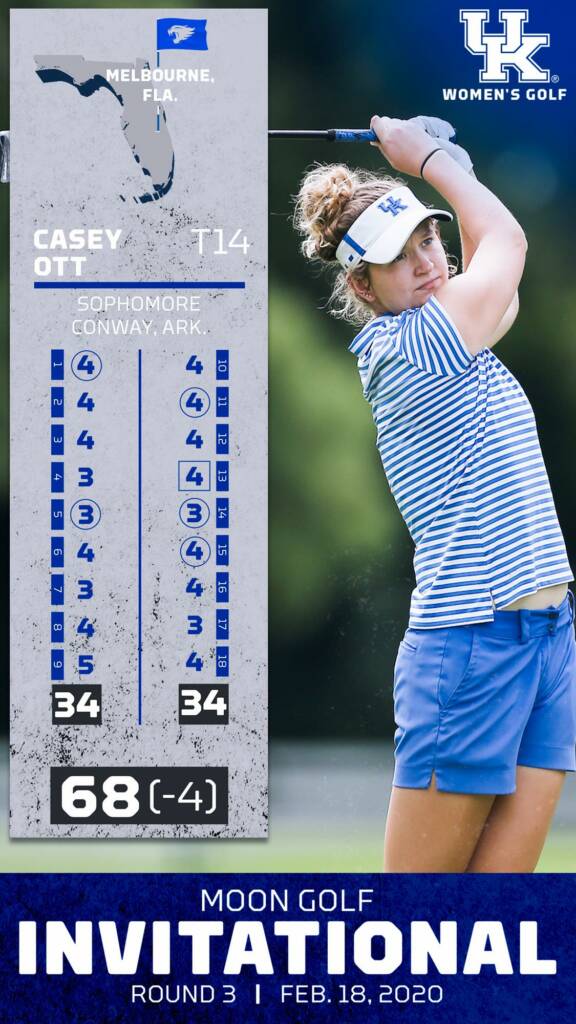 "We didn't have the finish that we were looking for this week, but there are lots of positives to take from it," Borst said. "Just like last week in Puerto Rico, we were close to a low final round; just couldn't put it all together in the end.
 
"We led the field in birdies but need to figure out why we are making so many big numbers. If we are able to limit our mistakes, then we are right there at the top of the leaderboard."
 
Kentucky's 286 on Tuesday was its fourth-best round of the season. It wouldn't have been possible without the return of Ott.
 
After leading the Wildcats in the fall with three top-10 showings, Ott has been trying to shake off the rust with a 56th-place showing last week at the Lady Puerto Rico Classic and rounds of 73 and 76 in the first two rounds this week in Melbourne.
 
Consider it shaken off after Tuesday's round.
 
Ott delivered a reminder of her potential with five birdies, just one bogey and 12 pars. She jumped up 33 spots in the final round to finish in a tie for 14th, her fourth top-20 performance of the season in six events.
 
"It was great to see Casey go low today," Borst said. "She rolled in some putts early and her iron game got better as the day went on so she just kept giving herself opportunities."
 
Castle returned to the top 20 after missing out for the first time in her collegiate career last week in Puerto Rico. Kentucky's leader in stroke average was steady in all three rounds with scores of 72-74-70.
 
The highest-ranked signee in program history, Castle tied for 12th place with a total of 216, even par, and recorded her 10th and 11th rounds of par or better this week. Her final round featured four birdies.
 
Freshman Marissa Wenzler was floating in and around the top 20 for most of the tournament but was undone late in her final round with a double bogey to card a 74 in the third round. She finished in a tie for 32nd at 4-over par.
 
Senior Sarah Shipley tied for 45th with a three-round total of 7-over par. She bogeyed three of her first holes in the final round but steadied the ship with 1-under play the rest of the day.
 
Rikke Svejgård Nielsen couldn't capitalize on the early spring momentum she had built. After tying for eighth place last week and shooting a 71 in the first round, the junior tumbled down the leaderboard in the final two rounds with a 76 and an 81. She tied for 63rd at 12-over par.
 
Junior Sarah Fite, playing as an individual this week, placed 83rd at 21-over par.
 
Eight of the 16 teams in this week's field, including the 21st-ranked Wildcats, were in Golfstat's top-50 rankings to start the week and three were in the top 25.
 
After a fast and furious start to the spring, the Wildcats will be off until mid-March when they begin a stretch of three tournaments in four weeks.
 
"I'm glad that we have a three-week break," Borst said. "We've got a competitive group and I'm looking forward to us having some time to practice and compete at home."
 
For the latest on the Kentucky women's golf team, follow the team on Twitter, Facebook, and Instagram, as well as on the web at UKathletics.com.