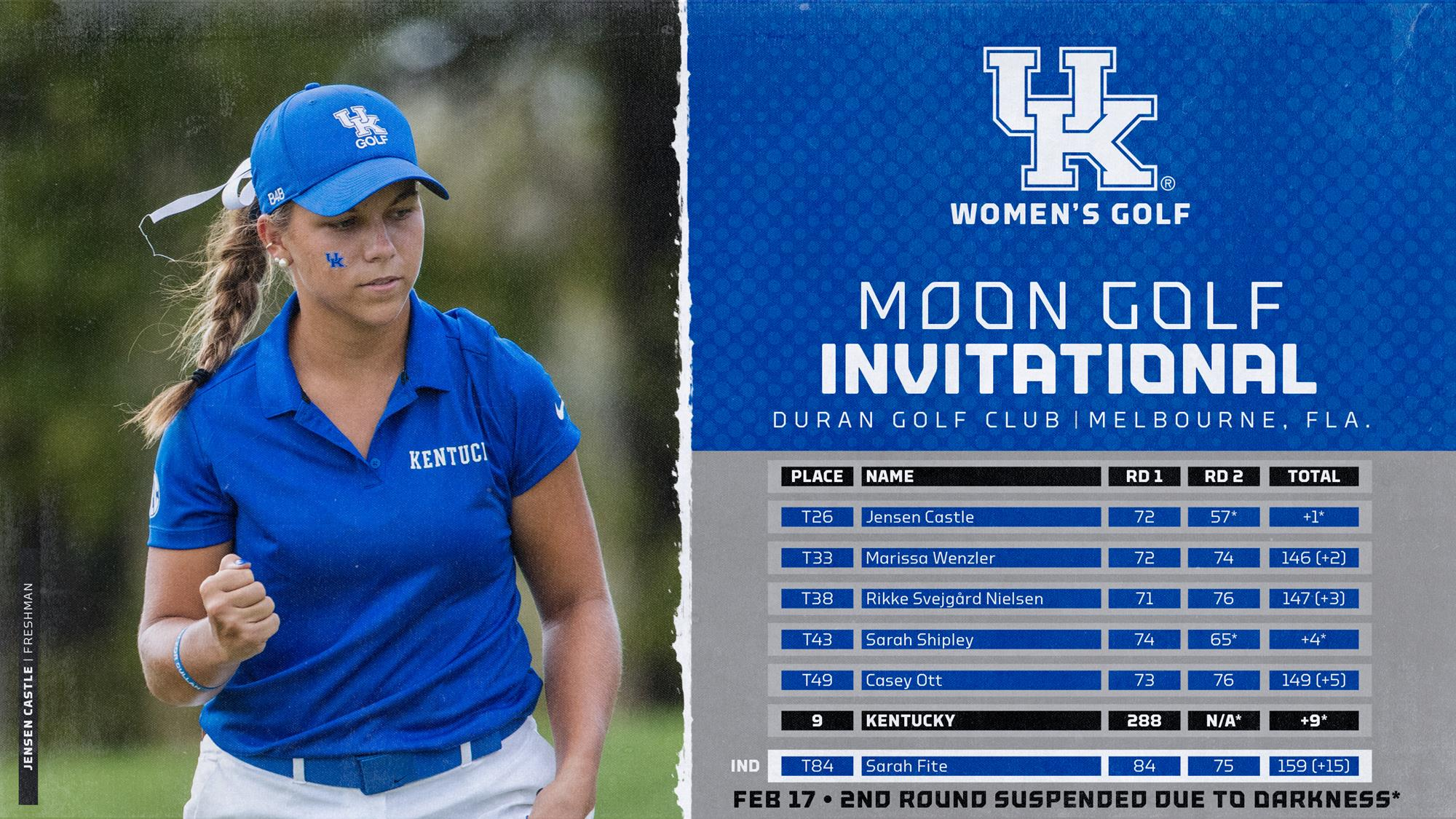 February 17, 2020 - 09:46 PM
Wildcats Down but Not Out After Day One at Moon Golf Invitational
MELBOURNE, Fla. – The opening marathon of Monday's Moon Golf Invitational was a bit of a rollercoaster ride for the Kentucky women's golf team.
 
The Wildcats spent the early part of the day in first place, stayed within striking distance in fourth place after an even-par first round, but are currently in ninth near the end of the second round, which was suspended with a few holes left due to darkness.
 
Still within 10 shots of the lead, the UK players hope they have one more swing in momentum – this one up the leaderboard – heading into Tuesday's finale at the Duran Golf Club (par 72, 6,256 yards) in Melbourne, Florida.
 
All five players competing for Kentucky's team score shot 74 or better in the first round but those numbers dipped off for the second half of Monday.
 
The final day of competition will tee off Tuesday at 8:30 a.m. with a shotgun start. Live scoring will continue to be available at  GolfStat.com.
 
"Today was a long day but I feel like we got off to a pretty solid start even though we gave some shots back late in our first round," UK head coach Golda Borst said. "The team did a good job of capitalizing on their opportunities and I think they did a good job of limiting their mistakes early in the day.
 
"The second round didn't go the way we wanted it to and we made too many small mistakes. We need to be able to finish strong, stay disciplined and keep our momentum all the way through a round. We know we are better and will get back to work tomorrow."
 
There's a four-way tie atop the leaderboard nearing the end of the second round. Host Louisville, No. 12 Ole Miss, North Carolina and Seminole State are all knotted at 1-under par with three other schools just three shots behind.
 
The individual leaderboard isn't quite as close. Furman's Anna Morgan has a comfortable four-shot lead at 8-under par.
 
The closest Wildcats are Kentucky's star freshmen, Jensen Castle and Marrisa Wenzler.
 
Castle was the most consistent UK player on the course Monday. She reached 1-under par on a couple of occasions over the first two rounds but bogeyed two of her final four holes before running out of daylight.
 
The highest-ranked signee in program history, Castle failed to finish in the top 20 last week for the first time in five tries this season in Puerto Rico but has a chance to get back on track as she's currently tied for 26th.
 
Entering the Moon Golf Invitational with back-to-back top-20 performances, Wenzler showed no signs of slowing down Monday. Her first round featured four birdies to counter three bogeys and a double bogey, and the second round was going just as smoothly until a triple bogey on her second-to-last hole of the day put her at 2-over par.
 
Wenzler, who managed to get all 36 holes in, has recorded four rounds of par or better over the last seven rounds, dating back to the Cardinal Cup. She's placed in the top 20 in each of the last two tournaments but, in a tie for 33rd, will need to make up ground Tuesday to make it three consecutive.
 
Coming off an even-par eighth-place showing at last week's tournament, junior Rikke Svejgård Nielsen was tied for eighth after the first round. However, in a microcosm of Kentucky's afternoon round, the junior from Denmark struggled to a 76 in the second round. She's at 3-par overall, tied for 38th, despite seven birdies in the first 36 holes.
 
Senior Sarah Shipley has recorded seven red numbers on her scorecard thus far with two holes still to play in her second round. She's at 4-over par for the tournament, tied for 43rd.
 
Sophomore Casey Ott rounded out the Kentucky team scoring with a completed two-round total of 5-over par, highlighted by a 73 in the first round. She's tied for 49th place.
 
Junior Sarah Shite is competing as an induvial and is tied for 84th at 15-over par. After opening with an 84, she bounced back with a 75 in the afternoon.
 
Kentucky is coming off a fifth-place showing at last week's Lady Peurto Rico Classic. In five team events this season, the Wildcats have claimed two championships, a runner-up finish and four top-five finishes.
 
This week's field has proven to be a stiff test. Eight of the 16 teams, including the 21st-ranked Wildcats, are in Golfstat's top-50 rankings and three are in the top 25.
 
For the latest on the Kentucky women's golf team, follow the team on Twitter, Facebook, and Instagram, as well as on the web at UKathletics.com.