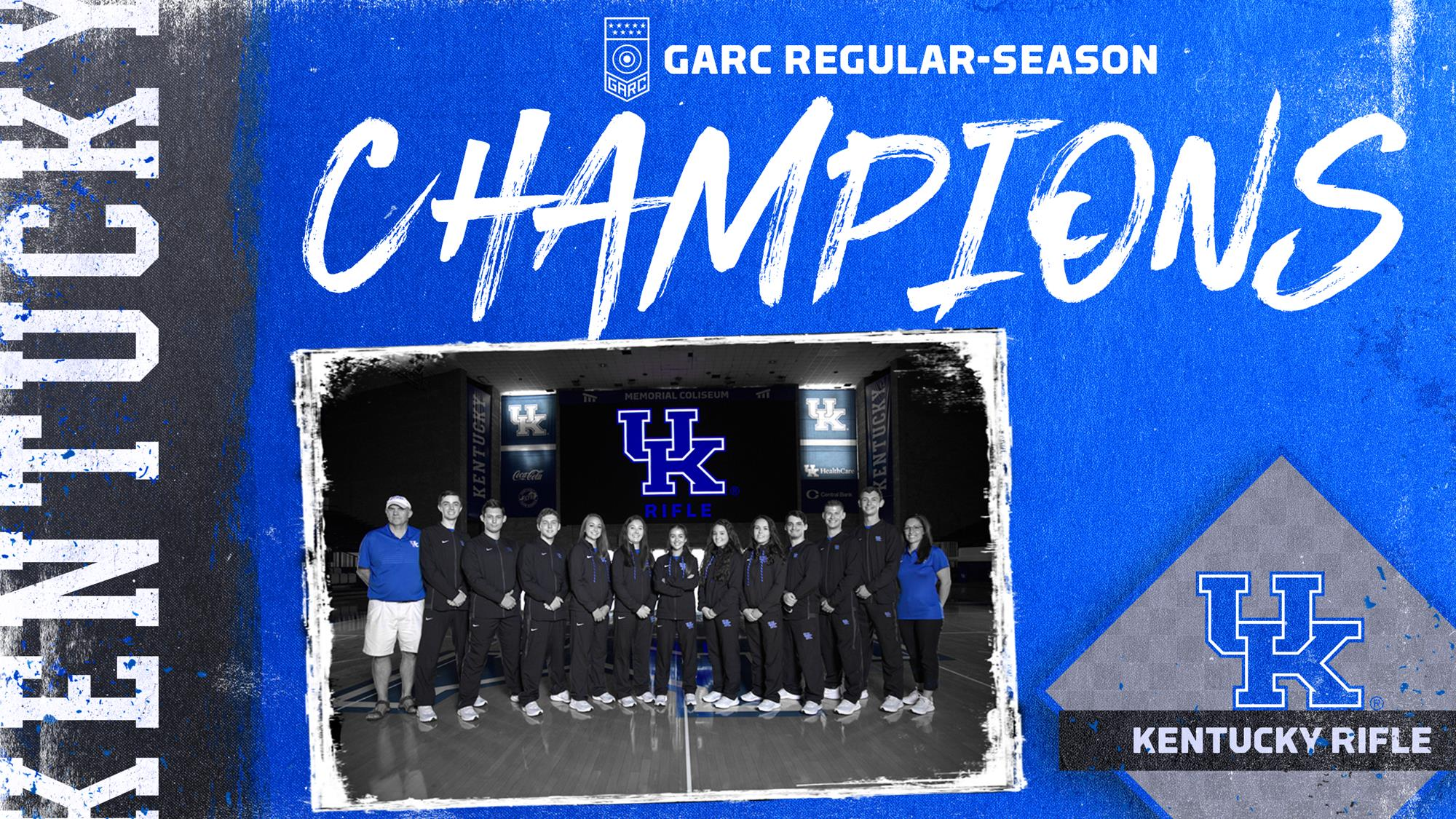 LEXINGTON, Ky. – For the seventh time since its inception, and the first since 2013, the top-ranked University of Kentucky rifle team has claimed the Great American Rifle Conference regular-season championship after earning a 4723-4712 win at No. 3 West Virginia on Saturday.
 
Kentucky's 4723 score Saturday was its third best of the season behind its school-record and nation-leading 4734 score at Army in January and its 4724 score vs. Memphis back on Feb. 1. The Wildcats now have three of the top five team aggregate scores in the nation this season.
 
"I am very happy for the team," Kentucky head coach Harry Mullins said. "They worked so hard today. Will (Shaner) and Mary (Tucker) were just outstanding in their performance. Seeing them continue to move in this direction is exciting. I am very proud of them and the effort they gave today."
 
As a team, the Wildcats earned a 2340 in smallbore and 2383 in air rifle to earn the high team aggregate score. The high smallbore score was UK's fifth team score of 2340 or above in smallbore this season while the strong air rifle score was UK's second-best mark this year behind its school-record air rifle score of 2390 in January at Army. West Virginia scored a 2335 in smallbore and 2377 in air rifle for an aggregate of 4712.
 
Individually, freshman Mary Tucker and sophomore Will Shaner were the top two performers at the match as both tied their top aggregate scores of the season at 1193 and 1190, respectively. Tucker scored a match-best 594 in smallbore while she and Shaner tied with 599s in air rifle. Tucker's 594 smallbore score was her second-best mark of the season while she has scored three 599s in air rifle. Shaner's 591 in smallbore tied his third best smallbore score of the year while his 599 in air rifle was a season-best mark. So far this season there have been 16 aggregate scores in the NCAA of 1186 or better with Tucker earning nine of those while Shaner claims five of those scores.
 
Sophomore Richard Clark scored 578 in smallbore and 589 in air rifle for an aggregate of 1167, while junior Hailee Sigmon earned a 577 in smallbore and 587 in air rifle for a 1164 aggregate score. Sophomore Ruby Gomes completed the lineup with a 569 in smallbore and 596 in air rifle – tying her second-best mark this season – for an aggregate score of 1165. Freshman Emmie Sellers earned a 565 in smallbore and a 596 in air rifle, which was her top score of the season in the discipline. Fellow freshman Jaden Thompson scored a 570-588-1158 while sophomore Mitchell Nelson went 570-585-1155 and senior Ian Foos posted 565-577-1142. Junior Mason Joachim scored a 567 performing in smallbore only while freshman Mason Hamilton earned a 574 performing in air rifle only.
 
Kentucky will be back in action next weekend when it hosts an NCAA Qualifier on Saturday, Feb. 22 at the UK Rifle Range.
 
This season's GARC Championships will be in Memphis, Tennessee, on Feb. 28-29. Kentucky will play host to the 2020 NCAA Championships in Memorial Coliseum on March 13-14. Tickets are available online at UKAthletics.com/NCAARifle.
 
For the latest on the Kentucky rifle team, follow @UKRifle on Twitter, Instagram and Facebook, as well as on the web at UKathletics.com.