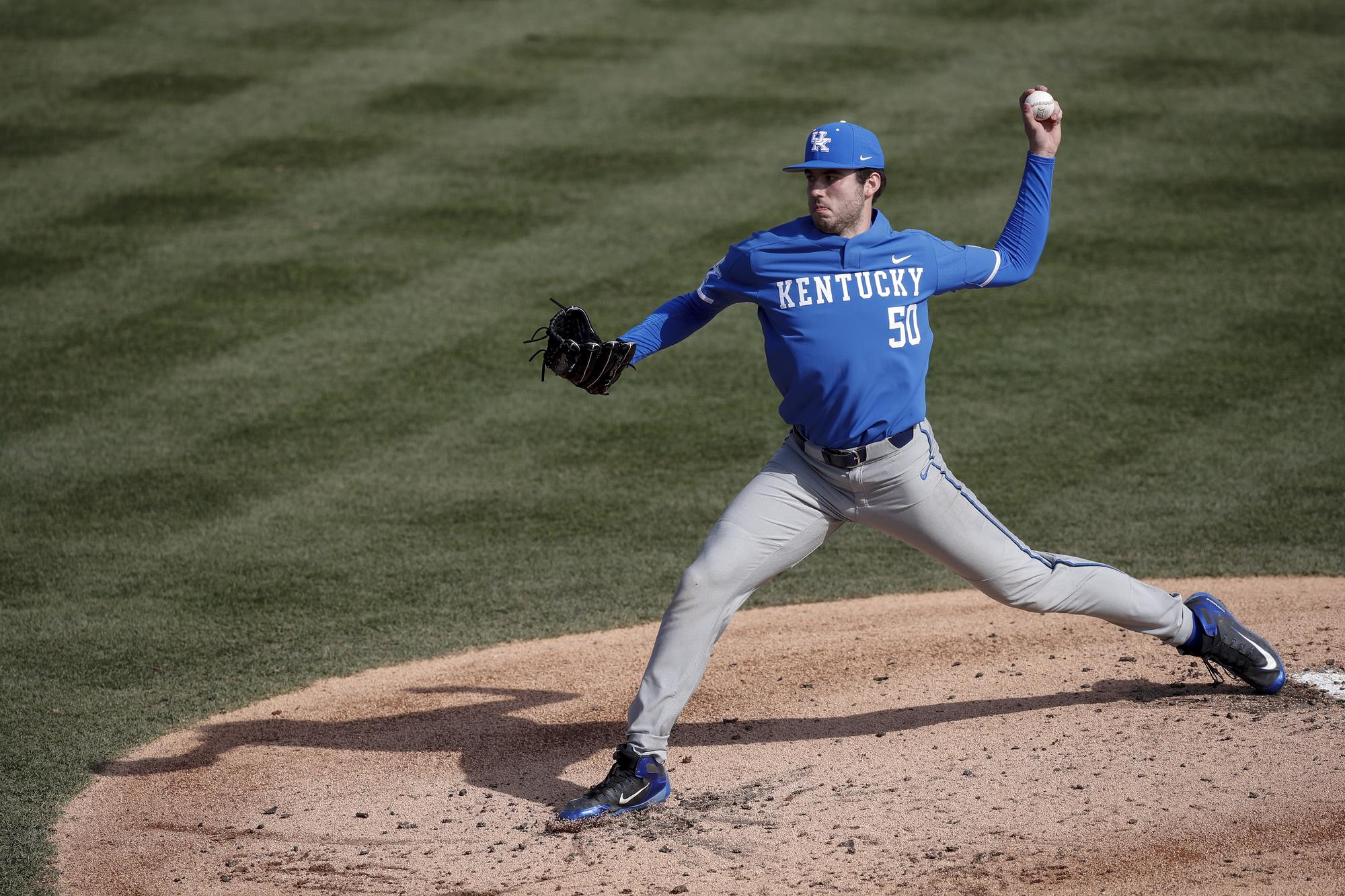 FORT WORTH, Texas – Kentucky starting pitcher Mason Hazelwood delivered a sterling 2020 debut on the mound but a seventh-inning rally pushed TCU to a 7-1 victory on a sunny Saturday afternoon at Lupton Stadium.
 
Hazelwood, a junior left-hander making just the fifth weekend start of his career, allowed just one hit and an unearned run in four-plus innings, showing command of both sides of the plate until tiring in the fifth inning. The only run he allowed was, in part, his own doing after an errant pickoff throw to first allowed a TCU runner to advance to third and score on a two-out throwing error.
 
The Cats (0-2) took an early lead in the second inning when sophomore infielder Austin Schultz reached on an error, stole second base and then raced around to score on sophomore outfielder Cam Hill's clean single to left field. The duo has combined for both of the Cats' runs in the first two games with Hill driving in Schultz both times.
 
The game remained tense in the middle innings, with senior first baseman T.J. Collett pulling a would-be two-run home run foul by inches. Freshman right-hander Cole Stupp made his collegiate debut by entering for Hazelwood with two-on and nobody out in the fifth inning, then retired three straight Horned Frog hitters, including freezing the No. 2 batter in the lineup with a fastball to end the threat. Stupp also worked around a lead-off error in the sixth to put up a second scoreless inning.
 
TCU broke the game open in the seventh when the bottom of the order set the table with a walk, double and a single that all turned into runs. Meanwhile, the Cats were unable to find the timely hit for the second consecutive day despite mounting several opportunities of their own.
 
 
SCORING
Top 2nd – Austin Schultz reached on a two-out error, stole second and scored on Cam Hill's single to LF. UK 1, TCU 0.
 
Bottom 3rd – Phillip Sikes walked, advanced to third on an errant pickoff throw and scored on a two-out throwing error. UK 1, TCU 1.
 
Bottom 7th – Kurtis Byrne walked. Zach Humphreys pinch ran for Byrne and scored on Gary Rodgers' double into RCF gap. Sikes singled to RF. Porter Brown was hit by pitch to load the bases. Austin Henry singled through the left side, scoring Rodgers and Sikes. Hunter Wolfe doubled down the LF line, scoring Brown and Henry. TCU 6, UK 1.
 
Bottom 8th – Rodgers doubled and Sikes singled. Brown singled to RF, scoring Rodgers. TCU 7, UK 1.
 
 
NOTES
Kentucky has scored in 121 consecutive games and 197 of the past 198 dating to the 2016 season. The lone shutout came in a seven-inning game. The current streak is the second-longest in school history and fourth-longest active streak in the country.
Sophomore INF Austin Schultz has reached base safely in 42 of the past 44 games and 15 consecutive contests.

Both of Schultz's hits this season have gone for extra bases, including his double in the seventh inning.
Freshman INF/OF John Rhodes collected the first hit of his collegiate career with a line drive to LF in the eighth inning.
Junior LHP Mason Hazelwood pitched 4.0 innings, giving up an unearned run and just one hit. He walked three and struck out three.
Freshmen RHPs Cole Stupp and Zack Lee made their collegiate debuts on the mound.
 
 
ON DECK
The Cats return to the field on Sunday afternoon at 1:30 p.m. ET in the final game of the series. The game will be live streamed for free on GoFrogs.com. The radio call will be on the UK Sports Network.